A1 F – Geas doesn't give reductions, in Pala Leonessa it's Allianz who wins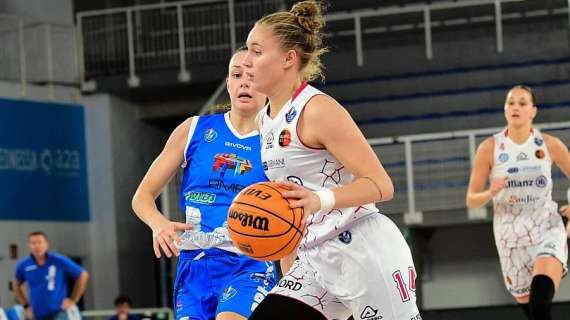 Allianz GEAS didn't hesitate and, after 10 minutes of steadiness, picked up the tempo, step by step widening the hole in entrance of Brixia to the ultimate 64 to 94. Nice contribution from all the women, 37 factors from the bench and a win for the workforce which makes it three wins from 4 video games on this wonderful begin to the season
Cheerful departure from Brescia who, as supervisor Zanotti had identified in the course of the week, are able to battle towards a rising Allianz. The Geas shut the primary quarter forward 20 to 26, going up within the second half of the interval. Sesto San Giovanni is step by step gaining confidence and fluency: Trucco is sort of good (there can be 14 with a single error when throwing from the pitch in the course of the sport, 19 on the finish), Moore and Dotto observe the his instance and Holmes begins to take action as properly. get to know your colleagues. On the lengthy break it's 34 to 47 for Geas, who within the first 5′ of the quarter conceded solely two factors to Brescia, the destiny of the night time is determined by the Johnson-Valli duo.
Within the second half, the music doesn't change: Geas seems for concord in assault and automatisms in protection, making the most of the chance and displaying fixed focus despite the fact that the distinction is widening. The rating has little to say, however each groups should be acknowledged for having revered their dedication till the tip: Brescia by no means giving up, combating with all of the balls; Geas making an attempt to get all the women on the sphere concerned, distributing minutes and possessions. Allianz will end with a wonderful 45% above the arc and 22 assists, internet additionally the dominance of the rebound, which implies 45 captured by the Rossoneri in comparison with the 36 of the native whites. We shut on an additional optimistic be aware: apart from Tava, who, given the expertise we're certain, won't want it, all the women of coach Zanotti scored, with 5 double digits (Dotto, Gorini, Moore, Holmes and Trick) . .
On the finish of the sport, that is the concept of ​​the coach Cinzia Zanotti: "The protection is the place to begin to win, however I'm additionally pleased with the calmness with which we expressed ourselves in assault. I am completely satisfied for the women to comprehend that everybody can play numerous minutes, then it is as much as me to rotate them in one of the simplest ways. As we speak with 37 factors from the bench, nice continuity of play adapting to the completely different opposing defenses and, aside from the final 5 minutes, we've got at all times proven the best depth and focus".
"We began a bit flat – Caterina Dotto's phrases – then we put extra strain on the protection, we recovered some balls and managed to make a flip. We all know that we're all vital and we should at all times be prepared, in the present day we did properly".
Brixia Basket Brescia – Allianz Geas Sesto San Giovanni 64-94
(20-26; 34-47; 44-70)
Brescia: Johnson 18, Tomasoni, Zanardi 13, Mbinar 3, De Cristofaro, Tempia, Pinardi 3, Scarsi 2, Scalvini 5 Rainis 7, Valli 10, McCray 3. All Zanardi
Geas: Dotto 13, Moore 17, Begic 7, Gorini 10, Holmes 15, Bestagno 2, Tava, Trucco 19, Panzera 8, Ramon 3. All Zanotti
var banner = {"160x60_1":[{"idbanner":"79","width":160,"height":60,"crop":"1","async":"0","uri":"fip.it","embed":"","img1":"5fe00002fae5d7c483dcf9075d14961a.jpg","partenza":1422813600,"scadenza":-62169986996,"pagine":""}],"300x600":[{"idbanner":"141","width":300,"height":600,"crop":"1","async":"0","uri":"","embed":"PGRpdiBjbGFzcz0iZ3B0c2xvdCIgZGF0YS1hZHVuaXRpZD0iOCI+PC9kaXY+DQo=","img1":"","partenza":-62169986996,"scadenza":1693346400,"pagine":"index"},{"idbanner":"158","width":300,"height":600,"crop":"1","async":"0","uri":"","embed":"PGRpdiBjbGFzcz0iZ3B0c2xvdCIgZGF0YS1hZHVuaXRpZD0iOSI+PC9kaXY+","img1":"","partenza":-62169986996,"scadenza":-62169986996,"pagine":"!index"}],"970x250":[{"idbanner":"144","width":970,"height":250,"crop":"1","async":"0","uri":"","embed":"PGRpdiBjbGFzcz0iZ3B0c2xvdCIgZGF0YS1hZHVuaXRpZD0iMSIgZGF0YS1hZGRlc2t0b3A9InRydWUiPjwvZGl2Pg==","img1":"","partenza":-62169986996,"scadenza":-62169986996,"pagine":"index"},{"idbanner":"157","width":970,"height":250,"crop":"1","async":"0","uri":"","embed":"PGRpdiBjbGFzcz0iZ3B0c2xvdCIgZGF0YS1hZHVuaXRpZD0iMCIgZGF0YS1hZGRlc2t0b3A9InRydWUiPjwvZGl2Pg==","img1":"","partenza":-62169986996,"scadenza":-62169986996,"pagine":"!index"}],"468x60_home":[{"idbanner":"133","width":468,"height":60,"crop":"1","async":"0","uri":"","embed":"PGRpdiBjbGFzcz0iZ3B0c2xvdCIgZGF0YS1hZHVuaXRpZD0iMiI+PC9kaXY+","img1":"","partenza":-62169986996,"scadenza":-62169986996,"pagine":"!index"},{"idbanner":"146","width":468,"height":60,"crop":"1","async":"0","uri":"","embed":"PGEgaHJlZj0iaHR0cHM6Ly93d3cuc2l0aXNjb21tZXNzZS5jb20vYmFza2V0LyIgdGFyZ2V0PSJfYmxhbmsiPg0KICAgPGltZyBzcmM9Imh0dHBzOi8vdHVzY2FueWxpZmV0aW1lLmNvbS93cC1jb250ZW50L3VwbG9hZHMvMjAyMS8wOC9zaXRpLXNjb21tZXNzZS5qcGciIGFsdD0ibG9nbyBwZXIgc2l0aXNjb21tZXNzZS5jb20vYmFza2V0Ij4NCjwvYT4NCg==","img1":"","partenza":1625054400,"scadenza":-62169986996,"pagine":"index"}],"728x90":[{"idbanner":"159","width":728,"height":90,"crop":"1","async":"0","uri":"","embed":"PHNjcmlwdCBzcmM9Imh0dHBzOi8vYXNzZXRzLmV2b2x1dGlvbmFkdi5pdC9waWFuZXRhYmFza2V0X2NvbS9waWFuZXRhYmFza2V0X2NvbS5uZXcuanMiPjwvc2NyaXB0Pg==","img1":"","partenza":-62169986996,"scadenza":-62169986996,"pagine":""}]}; var now = Math.round(new Date().getTime() / 1000); var bannerok = new Object(); for (var zona in banner) { bannerok[zona] = new Array(); for (i=0; i < banner[zona].length; i++) { var ok = 1; if (banner[zona][i]['scadenza']>0 && banner[zona][i]['scadenza']<=now) ok = 0; if (banner[zona][i]['partenza']!=0 && banner[zona][i]['partenza']>now) ok = 0; if (typeof azione !== 'undefined' && azione !== null) { if (banner[zona][i]['pagine'] == '!index' && azione == 'index') ok = 0; else if (banner[zona][i]['pagine'] == 'index' && azione != 'index') ok = 0; }
if (ok == 1) bannerok[zona].push(banner[zona][i]); }
bannerok[zona].sort(function() {return 0.5 - Math.random()}); } banner = bannerok; var banner_url="https://net-storage.tcccdn.com"; var banner_path="/storage/pianetabasket.com/banner/" function asyncLoad() { if (azione == 'read' && TCCCookieConsent) { var scripts = [ "https://connect.facebook.net/it_IT/all.js#xfbml=1", ]; (function(array) { for (var i = 0, len = array.length; i < len; i++) { var elem = document.createElement('script'); elem.type="text/javascript"; elem.async = true; elem.src = array[i]; var s = document.getElementsByTagName('script')[0]; s.parentNode.insertBefore(elem, s); } })(scripts); } setTCCCookieConsent(); } if (window.addEventListener) window.addEventListener("load", asyncLoad, false); else if (window.attachEvent) window.attachEvent("onload", asyncLoad); else window.onload = asyncLoad; function resizeStickyContainers() { var stickyFill = document.getElementsByClassName('sticky-fill'); for (i = 0; i < stickyFill.length; ++i) stickyFill[i].style.height = null; for (i = 0; i < stickyFill.length; ++i) { var height = stickyFill[i].parentElement.offsetHeight-stickyFill[i].offsetTop; height = Math.max(height, stickyFill[i].offsetHeight); stickyFill[i].style.height = height+'px'; } } document.addEventListener('DOMContentLoaded', resizeStickyContainers, false); // layout_headjs function utf8_decode(e){for(var n="",r=0;r


#Geas #give #reductions #Pala #Leonessa #Allianz #wins