A1 F – PalaDozza has too many Virtus for Allianz Geas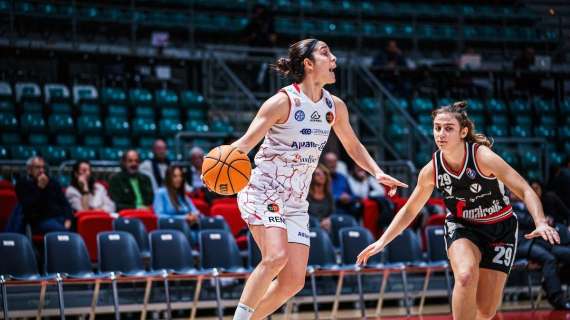 Within the great Pala Dozza, the Allianz Geas can not treatment the standard and physicality of the skipper, withstanding the influence for some time and yielding within the second half to a outstanding bodily distinction, difficult by the absence close to the basket of the ex of the day Begic. It ends 92 to 58 for Segafredo.
Gorini scores the primary two of the sport, Dojkic and Rupert unlock the Black Vu, whereas the beginning of Geas is on the sign of Gorini himself, with the purpose guard within the quantity six shirt in a position to rating the primary 7 factors of the sport. Allianz. At 2′ of the primary mini-interval, Geas is in contact: the 2 of two from the Moore line is value -1 to the Rossoneri. Simply earlier than the top of the quarter, Virtus revs up the engine and with two consecutive three-pointers Laska and Dojkic run away to 26 to 17. Within the second quarter Moore launches Geas' comeback, which with Panzera reaches -4. Zandalasini responds with class, scoring the triple of +7 and giving certainty to his teammates, particularly to Andrè, who places eight in a row and divides the sport in two: on the lengthy interval it's +14 Virtus Bologna, in 45 to 31. .
Within the second half, the taking pictures percentages of Allianz drop, which finds the primary basket of the second half after 4′ of play with Panzera, Virtus retains the tempo excessive and stretches. There's additionally house for Arturi a couple of minutes from the top of the third quarter, and instantly it's the basket of the captain of Geas, who thus finds basic minutes for his gradual return to the rotations. The fourth interval has little to say, with Virtus getting thirty factors to shut 92 to 58.
"We could not play our sport – commented Gorini on the finish of the sport – Virtus took away our rhythm and we suffered from their physicality. We take this defeat with out dissociating ourselves, we are going to take a look at the sport and analyze which elements we will enhance".
"Let's take into consideration the next, the phrases of coach Zanotti. Objectively proper now Virtus is on one other planet, Begic's absence did not assist us, however Ana must be again within the week, I selected to relaxation her as a precaution. It's clear that they began to make the basket instantly and it was troublesome for us to face up to this kind of physicality throughout the 40′, we entered into difficulties and will not categorical our sport as we wish, however we filed. and take into consideration the next."
VIRTUS SEGAFREDO BOLOGNA-ALLIANZ GEAS 92-58
(26-17; 19-14; 28-12)
Virtus: Rupert 6, Dojkic 17, Zandalasini 14, Parker 3, Laska 20, Del Pero 7, Pasa 5, Barberis 6, Andrew 14, Orsili, Cinili. All Ticchi
Geas: Moore 20, Gorini 16, Holmes 5, Trucco 4, Panzera 8, Dotto 2, Begic NE, Arturi 3, Crudo NE, Tava, Ramon. All Zanotti
var banner = {"160x60_1":[{"idbanner":"79","width":160,"height":60,"crop":"1","async":"0","uri":"fip.it","embed":"","img1":"5fe00002fae5d7c483dcf9075d14961a.jpg","partenza":1422813600,"scadenza":-62169986996,"pagine":""}],"300x600":[{"idbanner":"141","width":300,"height":600,"crop":"1","async":"0","uri":"","embed":"PGRpdiBjbGFzcz0iZ3B0c2xvdCIgZGF0YS1hZHVuaXRpZD0iOCI+PC9kaXY+DQo=","img1":"","partenza":-62169986996,"scadenza":1693346400,"pagine":"index"},{"idbanner":"158","width":300,"height":600,"crop":"1","async":"0","uri":"","embed":"PGRpdiBjbGFzcz0iZ3B0c2xvdCIgZGF0YS1hZHVuaXRpZD0iOSI+PC9kaXY+","img1":"","partenza":-62169986996,"scadenza":-62169986996,"pagine":"!index"}],"970x250":[{"idbanner":"144","width":970,"height":250,"crop":"1","async":"0","uri":"","embed":"PGRpdiBjbGFzcz0iZ3B0c2xvdCIgZGF0YS1hZHVuaXRpZD0iMSIgZGF0YS1hZGRlc2t0b3A9InRydWUiPjwvZGl2Pg==","img1":"","partenza":-62169986996,"scadenza":-62169986996,"pagine":"index"},{"idbanner":"157","width":970,"height":250,"crop":"1","async":"0","uri":"","embed":"PGRpdiBjbGFzcz0iZ3B0c2xvdCIgZGF0YS1hZHVuaXRpZD0iMCIgZGF0YS1hZGRlc2t0b3A9InRydWUiPjwvZGl2Pg==","img1":"","partenza":-62169986996,"scadenza":-62169986996,"pagine":"!index"}],"468x60_home":[{"idbanner":"133","width":468,"height":60,"crop":"1","async":"0","uri":"","embed":"PGRpdiBjbGFzcz0iZ3B0c2xvdCIgZGF0YS1hZHVuaXRpZD0iMiI+PC9kaXY+","img1":"","partenza":-62169986996,"scadenza":-62169986996,"pagine":"!index"},{"idbanner":"146","width":468,"height":60,"crop":"1","async":"0","uri":"","embed":"PGEgaHJlZj0iaHR0cHM6Ly93d3cuc2l0aXNjb21tZXNzZS5jb20vYmFza2V0LyIgdGFyZ2V0PSJfYmxhbmsiPg0KICAgPGltZyBzcmM9Imh0dHBzOi8vdHVzY2FueWxpZmV0aW1lLmNvbS93cC1jb250ZW50L3VwbG9hZHMvMjAyMS8wOC9zaXRpLXNjb21tZXNzZS5qcGciIGFsdD0ibG9nbyBwZXIgc2l0aXNjb21tZXNzZS5jb20vYmFza2V0Ij4NCjwvYT4NCg==","img1":"","partenza":1625054400,"scadenza":-62169986996,"pagine":"index"}],"728x90":[{"idbanner":"159","width":728,"height":90,"crop":"1","async":"0","uri":"","embed":"PHNjcmlwdCBzcmM9Imh0dHBzOi8vYXNzZXRzLmV2b2x1dGlvbmFkdi5pdC9waWFuZXRhYmFza2V0X2NvbS9waWFuZXRhYmFza2V0X2NvbS5uZXcuanMiPjwvc2NyaXB0Pg==","img1":"","partenza":-62169986996,"scadenza":-62169986996,"pagine":""}]}; var now = Math.round(new Date().getTime() / 1000); var bannerok = new Object(); for (var zona in banner) { bannerok[zona] = new Array(); for (i=0; i < banner[zona].length; i++) { var ok = 1; if (banner[zona][i]['scadenza']>0 && banner[zona][i]['scadenza']<=now) ok = 0; if (banner[zona][i]['partenza']!=0 && banner[zona][i]['partenza']>now) ok = 0; if (typeof azione !== 'undefined' && azione !== null) { if (banner[zona][i]['pagine'] == '!index' && azione == 'index') ok = 0; else if (banner[zona][i]['pagine'] == 'index' && azione != 'index') ok = 0; }
if (ok == 1) bannerok[zona].push(banner[zona][i]); }
bannerok[zona].sort(function() {return 0.5 - Math.random()}); } banner = bannerok; var banner_url="https://net-storage.tcccdn.com"; var banner_path="/storage/pianetabasket.com/banner/" function asyncLoad() { if (azione == 'read' && TCCCookieConsent) { var scripts = [ "https://connect.facebook.net/it_IT/all.js#xfbml=1", ]; (function(array) { for (var i = 0, len = array.length; i < len; i++) { var elem = document.createElement('script'); elem.type="text/javascript"; elem.async = true; elem.src = array[i]; var s = document.getElementsByTagName('script')[0]; s.parentNode.insertBefore(elem, s); } })(scripts); } setTCCCookieConsent(); } if (window.addEventListener) window.addEventListener("load", asyncLoad, false); else if (window.attachEvent) window.attachEvent("onload", asyncLoad); else window.onload = asyncLoad; function resizeStickyContainers() { var stickyFill = document.getElementsByClassName('sticky-fill'); for (i = 0; i < stickyFill.length; ++i) stickyFill[i].style.height = null; for (i = 0; i < stickyFill.length; ++i) { var height = stickyFill[i].parentElement.offsetHeight-stickyFill[i].offsetTop; height = Math.max(height, stickyFill[i].offsetHeight); stickyFill[i].style.height = height+'px'; } } document.addEventListener('DOMContentLoaded', resizeStickyContainers, false); // layout_headjs function utf8_decode(e){for(var n="",r=0;r


#PalaDozza #Virtus #Allianz #Geas