A1 F – San Martino: the Fila test in San Giovanni Valdarno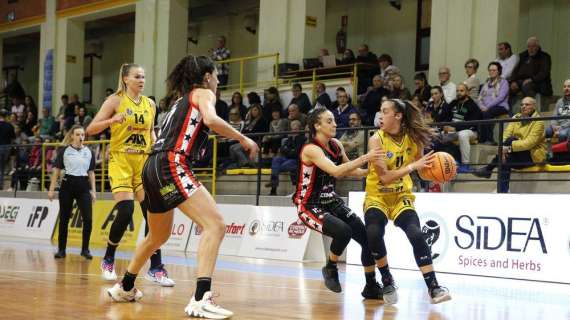 © photograph by Carlo Silvestri / Lupebasket
La Fila beat San Giovanni Valdarno, and for the Serventi ladies it's the fourth win within the final 5 video games. An thrilling problem for PalaLupe, with the visitors authors of a wonderful take a look at for 3 fractions, and Lupe courageous to play it even after which place the paw within the final, because it had already occurred in Ragusa per week in the past: the one 5 factors. (all from the road) conceded within the fourth quarter, after the 48 suffered within the first half, signify a big quantity to grasp a recreation that for its half San Martino closed with 83 factors scored (new season excessive) and 5 ladies in double. figures
1st trimester. There may be stability within the early phases, with the visitors who, regardless of the absence of Koizar and Whitted, attempt to maintain their noses in entrance with Garrick (5-9 in 4′). The Gialloneres responded by alternating the sport beneath the perimeter: within the sixth minute, Pastrello's counterattack ended a 9-2 break for 14-11, forcing coach Matassini into the primary timeout. Two extra bombs, signed by Milazzo and Pastrello, are additionally value +9 at 22-13, towards the response signed by the previous Milani. The Lupe, authors of an general 5/6 from the arc within the first interval, keep forward with the triple of 27-20 signed by Ianezic, in his first Lupa basket on the PalaLupe, however with the sport of Bove's three-pointer and Garrick's jumper go into the primary break with only one possession to spare: 27-25.
2ND QUARTER. Garrick's counter-attack allowed the visitors to have an effect within the twenty ninth, and shortly after the Australian's triple (already in double figures, and with out taking pictures errors) was value overcoming with 29-32. Pastrello is already in double figures, within the first of the season with no protecting masks and in his finest efficiency (19), however Garrick is frantic: his factors are 16 within the 31-37 of the 14′. Ianezic and Pastrello nonetheless reply from outdoors, after which it is at all times the latter who scores the tie at 39-39. Now the protection has turned a couple of lives round, and with Dedic comes the counter advance. The ultimate, nevertheless, belongs to Milani, writer of a wonderful efficiency of 11 factors: on the interval the rating reads 45-48.
third QUARTER. With Missanelli's triple, Bruschi additionally finds +6 initially of the second half (47-53), however San Martino responds, recovering a few valuable balls and re-tying at 56 with Milazzo's third bomb (25 '). The bonus, nevertheless, is achieved quickly, and Garrick continues hammering: once more she, having already reached 25 private, indicators the 57-63. With 4 consecutive factors from Dedic, Fila continues to be there, and on the final break, due to Verona's good flying tap-in, it's only one level behind, 65-66.
4th QUARTER. Dedic's free gamers (double double of 16+10 for her) give the benefit again to Lupe, who then with Russo's 2+1 recuperate the +6 (72-66 at 34′). Though they're compelled to concede to Washington for a blow to the thigh, it's time to chew the opponent for the Lupes, who with Milazzo discover +10 getting into the final 5′. In the meantime, Pastrello is the star of a few glorious defensive performs, whereas San Giovanni appears to be extinguished – the primary invited factors of the fourth interval will come after nearly 9′. In the meantime, Fila ran away, and within the closing there's additionally room for the thrill of the younger Sara Ferraro and Martina Tau, who make their absolute debut in A1.
Fila San Martino – Bruschi San Giovanni Valdarno 83-71
SAN MARTINO BASKETBALL: Washington 2 (1/5), Tau, Verona 2 (1/3, 0/1), Milazzo 17 (2/6, 4/8), Ianezic 6 (2/4 from three), Ferraro, Pastrello 19 (4/11, 3/5), Frigo, Russo 10 (3/5, 0/2), Kaczmarczyk 11 (3/9, 1/2), Arado, Dedic 16 (5/10, 0/2 ). ). Flocks of Minions.
POLISPORTIVA GALLI: Trasi 2 (1/2), Schwienbacher 4 (1/1, 0/2), Tassinari 14 (2/8, 1/4), Lazzaro, Fabbri ne, Milani 11 (2/4, 1/3 ). ), Missanelli 11 (0/2, 1/2), Bove 4 (1/2, 0/2), Garrick 25 (7/11, 3/6), Atanasovska. Herds. Matassini.
REFEREES: Barbiero from Milan, Lanciotti from Porto San Giorgio (FM) and Caruso from Milan.
PARTIALS: 27-25, 45-48, 65-66.
NOTES: Out for five fouls: Trasi (32′), Milazzo (39′). Technical foul: Matassini (35′). Doubles: San Martino 19/49, San Giovanni 14/30. Triples: San Martino 24/10, San Giovanni 19/6. Free throws: San Martino 15/19, San Giovanni 25/30. Rebounds: San Martino 45 (Dedic 10), San Giovanni 33 (Garrick 10). Help: San Martino 17 (Washington, Milazzo, Dedic and Kaczmarczyk 3), San Giovanni 7 (Schwienbacher and Missanelli 2).

var banner = {"160x60_1":[{"idbanner":"79","width":160,"height":60,"crop":"1","async":"0","uri":"fip.it","embed":"","img1":"5fe00002fae5d7c483dcf9075d14961a.jpg","partenza":1422813600,"scadenza":-62169986996,"pagine":""}],"300x600":[{"idbanner":"141","width":300,"height":600,"crop":"1","async":"0","uri":"","embed":"PGRpdiBjbGFzcz0iZ3B0c2xvdCIgZGF0YS1hZHVuaXRpZD0iOCI+PC9kaXY+DQo=","img1":"","partenza":-62169986996,"scadenza":1693346400,"pagine":"index"},{"idbanner":"158","width":300,"height":600,"crop":"1","async":"0","uri":"","embed":"PGRpdiBjbGFzcz0iZ3B0c2xvdCIgZGF0YS1hZHVuaXRpZD0iOSI+PC9kaXY+","img1":"","partenza":-62169986996,"scadenza":-62169986996,"pagine":"!index"}],"970x250":[{"idbanner":"144","width":970,"height":250,"crop":"1","async":"0","uri":"","embed":"PGRpdiBjbGFzcz0iZ3B0c2xvdCIgZGF0YS1hZHVuaXRpZD0iMSIgZGF0YS1hZGRlc2t0b3A9InRydWUiPjwvZGl2Pg==","img1":"","partenza":-62169986996,"scadenza":-62169986996,"pagine":"index"},{"idbanner":"157","width":970,"height":250,"crop":"1","async":"0","uri":"","embed":"PGRpdiBjbGFzcz0iZ3B0c2xvdCIgZGF0YS1hZHVuaXRpZD0iMCIgZGF0YS1hZGRlc2t0b3A9InRydWUiPjwvZGl2Pg==","img1":"","partenza":-62169986996,"scadenza":-62169986996,"pagine":"!index"}],"468x60_home":[{"idbanner":"133","width":468,"height":60,"crop":"1","async":"0","uri":"","embed":"PGRpdiBjbGFzcz0iZ3B0c2xvdCIgZGF0YS1hZHVuaXRpZD0iMiI+PC9kaXY+","img1":"","partenza":-62169986996,"scadenza":-62169986996,"pagine":"!index"},{"idbanner":"146","width":468,"height":60,"crop":"1","async":"0","uri":"","embed":"PGEgaHJlZj0iaHR0cHM6Ly93d3cuc2l0aXNjb21tZXNzZS5jb20vYmFza2V0LyIgdGFyZ2V0PSJfYmxhbmsiPg0KICAgPGltZyBzcmM9Imh0dHBzOi8vdHVzY2FueWxpZmV0aW1lLmNvbS93cC1jb250ZW50L3VwbG9hZHMvMjAyMS8wOC9zaXRpLXNjb21tZXNzZS5qcGciIGFsdD0ibG9nbyBwZXIgc2l0aXNjb21tZXNzZS5jb20vYmFza2V0Ij4NCjwvYT4NCg==","img1":"","partenza":1625054400,"scadenza":-62169986996,"pagine":"index"}],"728x90":[{"idbanner":"159","width":728,"height":90,"crop":"1","async":"0","uri":"","embed":"PHNjcmlwdCBzcmM9Imh0dHBzOi8vYXNzZXRzLmV2b2x1dGlvbmFkdi5pdC9waWFuZXRhYmFza2V0X2NvbS9waWFuZXRhYmFza2V0X2NvbS5uZXcuanMiPjwvc2NyaXB0Pg==","img1":"","partenza":-62169986996,"scadenza":-62169986996,"pagine":""}]}; var now = Math.round(new Date().getTime() / 1000); var bannerok = new Object(); for (var zona in banner) { bannerok[zona] = new Array(); for (i=0; i < banner[zona].length; i++) { var ok = 1; if (banner[zona][i]['scadenza']>0 && banner[zona][i]['scadenza']<=now) ok = 0; if (banner[zona][i]['partenza']!=0 && banner[zona][i]['partenza']>now) ok = 0; if (typeof azione !== 'undefined' && azione !== null) { if (banner[zona][i]['pagine'] == '!index' && azione == 'index') ok = 0; else if (banner[zona][i]['pagine'] == 'index' && azione != 'index') ok = 0; }
if (ok == 1) bannerok[zona].push(banner[zona][i]); }
bannerok[zona].sort(function() {return 0.5 - Math.random()}); } banner = bannerok; var banner_url="https://net-storage.tcccdn.com"; var banner_path="/storage/pianetabasket.com/banner/" function asyncLoad() { if (azione == 'read' && TCCCookieConsent) { var scripts = [ "https://connect.facebook.net/it_IT/all.js#xfbml=1", ]; (function(array) { for (var i = 0, len = array.length; i < len; i++) { var elem = document.createElement('script'); elem.type="text/javascript"; elem.async = true; elem.src = array[i]; var s = document.getElementsByTagName('script')[0]; s.parentNode.insertBefore(elem, s); } })(scripts); } setTCCCookieConsent(); } if (window.addEventListener) window.addEventListener("load", asyncLoad, false); else if (window.attachEvent) window.attachEvent("onload", asyncLoad); else window.onload = asyncLoad; function resizeStickyContainers() { var stickyFill = document.getElementsByClassName('sticky-fill'); for (i = 0; i < stickyFill.length; ++i) stickyFill[i].style.height = null; for (i = 0; i < stickyFill.length; ++i) { var height = stickyFill[i].parentElement.offsetHeight-stickyFill[i].offsetTop; height = Math.max(height, stickyFill[i].offsetHeight); stickyFill[i].style.height = height+'px'; } } document.addEventListener('DOMContentLoaded', resizeStickyContainers, false); // layout_headjs function utf8_decode(e){for(var n="",r=0;r


#San #Martino #Fila #test #San #Giovanni #Valdarno