A2 F – APU Delser Udine: Ecodent Verona makes manner for Benedetti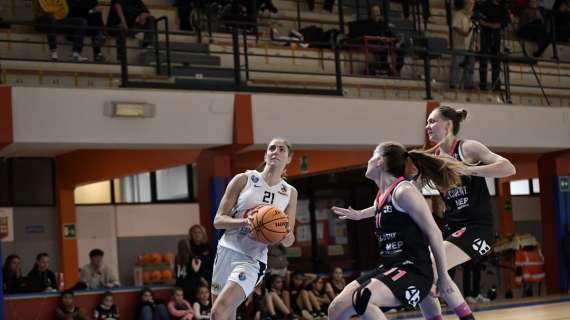 The WomenAPU Libertas Basket College Udine matches with the third consecutive victory within the league. Alpo Ecodent Verona pays the value, arriving on the pala Benedetti with out the Polish Sklepowicz and with Anna Turel, ex-turn, nonetheless out of motion because of the knee damage she suffered final spring, when she wore the Friulian shirt. Martina Rosignoli from Udine can also be very energetic within the Scaligero quintet, first offensive violin of coach Soave's workforce.
Delser begins on the appropriate foot: Giorgia Bovenzi prevails within the duel between scooters with the alternative Moriconi, the opposite ex-shift Martina Mosetti (additionally 6 rebounds and 4 recoveries) is efficient on each side of the sphere and the Volpi of coach Massimo Riga virtually instantly take a double-digit benefit.
Through the sport, Udine missed so much on free throws and missed straightforward baskets to measure beneath. Nonetheless, Delser has the benefit of being very environment friendly in protection, the place the bodily presence of Angelina Turmel (11 rebounds) within the middle of the world permits the winger to at all times be aggressive. Captain Eva Da Pozzo and her companions, though with out continuity, additionally discover the appropriate countermeasures additionally towards the zone protection proposed by the Venetians. And the second half flies with Delser reaching a really constructive end result.
With three wins in a row, the WomenAPU at the moment are second within the standings, behind Sanga Milano, the one workforce nonetheless unbeaten after 4 matches and privateer to palaBenedetti within the opening sport.
"I'm glad with the end result – the phrases of Massimo Riga on the finish of the match -: we performed towards a ladies's workforce, which within the earlier spherical had crushed Ponzano. We held Verona to 42 factors, after stopping Bolzano within the final 43. Saturday: in protection We're in. In assault we nonetheless miss too many very straightforward issues, so many errors from underneath measure cry out for revenge, in addition to numerous missed free kicks. We struggled with their zone protection at occasions. These are all components we must work on throughout the week. Within the singles, LIzzi had fun, Gregori's sport method was good, disgrace about some bodily issues for Ronchi – his 5 faults too they are often defined on this manner. I am joyful to have Mosetti again. We have now a whole lot of arrows within the quiver. : we have now to seek out the stability. In any case, we bought an vital end result, which supplies us conviction for the following sport, on the Coast. Masnaga."
Delser will commit on Sunday afternoon, November 6, at 6 p.m., on the ground of Limonta Costa Masnaga, which on the fourth day received on the ground of Alperia BC Bolzano.
Delser Udine-Ecodent Verona 65-42 (20-11, 42-25, 53-36)
WomenAPU LBS Delser Udine Bovenzi 10 (2/6, 1/3), Ronchi 9 (3/4, 1/5), Penna, Tumeo, Bacchini 2 (0/3, 0/3), Turmel 11 (5/8 ) ), Lizzi 6 (3/5), Pontoni 2 (1/3), DaPozzo 4 (2/7), Agostini 2 (1/2), Mosetti 11 (4/6, 1/3), Gregori 8 ( 2/3, 1/4). Coach: Massimo Riga
Alpo Ecodent Verona Fiorentini, Rosignoli 8 (2/7, 0/6), Tribouley (0/3), Moriconi 8 (0/8, 2/7), Soglia 10 (5/12, 0/3), Furlani, Vitari 9 (1/3, 2/5), Mancinelli 7 (2/6, 1/2), Franco (0/2); don't enter: Turel and Diene. Coach: Nicola Soave
Referees: Marzia Di Tommaso and Laura Caracciolo
NOTES Out for five fouls: Ronchi. Free throws: Delser 7/16, Ecodent 7/13. Spectators: about 300
var banner = {"160x60_1":[{"idbanner":"79","width":160,"height":60,"crop":"1","async":"0","uri":"fip.it","embed":"","img1":"5fe00002fae5d7c483dcf9075d14961a.jpg","partenza":1422813600,"scadenza":-62169986996,"pagine":""}],"300x600":[{"idbanner":"141","width":300,"height":600,"crop":"1","async":"0","uri":"","embed":"PGRpdiBjbGFzcz0iZ3B0c2xvdCIgZGF0YS1hZHVuaXRpZD0iOCI+PC9kaXY+DQo=","img1":"","partenza":-62169986996,"scadenza":1693346400,"pagine":"index"},{"idbanner":"158","width":300,"height":600,"crop":"1","async":"0","uri":"","embed":"PGRpdiBjbGFzcz0iZ3B0c2xvdCIgZGF0YS1hZHVuaXRpZD0iOSI+PC9kaXY+","img1":"","partenza":-62169986996,"scadenza":-62169986996,"pagine":"!index"}],"970x250":[{"idbanner":"144","width":970,"height":250,"crop":"1","async":"0","uri":"","embed":"PGRpdiBjbGFzcz0iZ3B0c2xvdCIgZGF0YS1hZHVuaXRpZD0iMSIgZGF0YS1hZGRlc2t0b3A9InRydWUiPjwvZGl2Pg==","img1":"","partenza":-62169986996,"scadenza":-62169986996,"pagine":"index"},{"idbanner":"157","width":970,"height":250,"crop":"1","async":"0","uri":"","embed":"PGRpdiBjbGFzcz0iZ3B0c2xvdCIgZGF0YS1hZHVuaXRpZD0iMCIgZGF0YS1hZGRlc2t0b3A9InRydWUiPjwvZGl2Pg==","img1":"","partenza":-62169986996,"scadenza":-62169986996,"pagine":"!index"}],"468x60_home":[{"idbanner":"133","width":468,"height":60,"crop":"1","async":"0","uri":"","embed":"PGRpdiBjbGFzcz0iZ3B0c2xvdCIgZGF0YS1hZHVuaXRpZD0iMiI+PC9kaXY+","img1":"","partenza":-62169986996,"scadenza":-62169986996,"pagine":"!index"},{"idbanner":"146","width":468,"height":60,"crop":"1","async":"0","uri":"","embed":"PGEgaHJlZj0iaHR0cHM6Ly93d3cuc2l0aXNjb21tZXNzZS5jb20vYmFza2V0LyIgdGFyZ2V0PSJfYmxhbmsiPg0KICAgPGltZyBzcmM9Imh0dHBzOi8vdHVzY2FueWxpZmV0aW1lLmNvbS93cC1jb250ZW50L3VwbG9hZHMvMjAyMS8wOC9zaXRpLXNjb21tZXNzZS5qcGciIGFsdD0ibG9nbyBwZXIgc2l0aXNjb21tZXNzZS5jb20vYmFza2V0Ij4NCjwvYT4NCg==","img1":"","partenza":1625054400,"scadenza":-62169986996,"pagine":"index"}],"728x90":[{"idbanner":"159","width":728,"height":90,"crop":"1","async":"0","uri":"","embed":"PHNjcmlwdCBzcmM9Imh0dHBzOi8vYXNzZXRzLmV2b2x1dGlvbmFkdi5pdC9waWFuZXRhYmFza2V0X2NvbS9waWFuZXRhYmFza2V0X2NvbS5uZXcuanMiPjwvc2NyaXB0Pg==","img1":"","partenza":-62169986996,"scadenza":-62169986996,"pagine":""}]}; var now = Math.round(new Date().getTime() / 1000); var bannerok = new Object(); for (var zona in banner) { bannerok[zona] = new Array(); for (i=0; i < banner[zona].length; i++) { var ok = 1; if (banner[zona][i]['scadenza']>0 && banner[zona][i]['scadenza']<=now) ok = 0; if (banner[zona][i]['partenza']!=0 && banner[zona][i]['partenza']>now) ok = 0; if (typeof azione !== 'undefined' && azione !== null) { if (banner[zona][i]['pagine'] == '!index' && azione == 'index') ok = 0; else if (banner[zona][i]['pagine'] == 'index' && azione != 'index') ok = 0; }
if (ok == 1) bannerok[zona].push(banner[zona][i]); }
bannerok[zona].sort(function() {return 0.5 - Math.random()}); } banner = bannerok; var banner_url="https://net-storage.tcccdn.com"; var banner_path="/storage/pianetabasket.com/banner/" function asyncLoad() { if (azione == 'read' && TCCCookieConsent) { var scripts = [ "https://connect.facebook.net/it_IT/all.js#xfbml=1", ]; (function(array) { for (var i = 0, len = array.length; i < len; i++) { var elem = document.createElement('script'); elem.type="text/javascript"; elem.async = true; elem.src = array[i]; var s = document.getElementsByTagName('script')[0]; s.parentNode.insertBefore(elem, s); } })(scripts); } setTCCCookieConsent(); } if (window.addEventListener) window.addEventListener("load", asyncLoad, false); else if (window.attachEvent) window.attachEvent("onload", asyncLoad); else window.onload = asyncLoad; function resizeStickyContainers() { var stickyFill = document.getElementsByClassName('sticky-fill'); for (i = 0; i < stickyFill.length; ++i) stickyFill[i].style.height = null; for (i = 0; i < stickyFill.length; ++i) { var height = stickyFill[i].parentElement.offsetHeight-stickyFill[i].offsetTop; height = Math.max(height, stickyFill[i].offsetHeight); stickyFill[i].style.height = height+'px'; } } document.addEventListener('DOMContentLoaded', resizeStickyContainers, false); // layout_headjs function utf8_decode(e){for(var n="",r=0;r


#APU #Delser #Udine #Ecodent #Verona #Benedetti