A2 Girls – Techfind accidents in La Spezia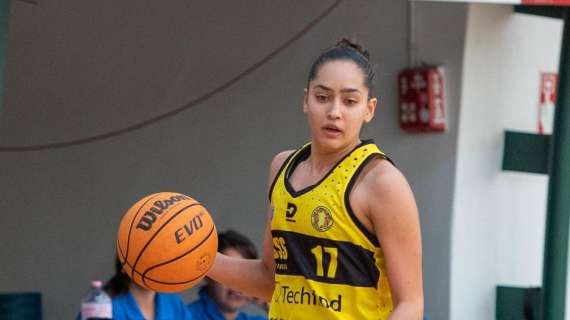 In Liguria Techfind remedied a defeat (63-49) however the heaviest card is the damage of Makurat, who solved the rupture of the Achilles tendon in coaching on Friday. The season is over for her. After the third day of the championship, the yellow and black stability is 2 defeats and one victory.
THE RACE – La Spezia, with out Castellani (injured), ranks Zolfanelli, Nerini, Colognesi, N'guessan and Guzzoni. Selargius is a quintet with Mura, Granzotto, Ceccarelli, Srot and Aispurua. After Srot's two free throws, La Spezia seals a 9-0 run, then Techfind is launched with Pandori and Pinna. In reality, the diminished rotations additionally make room for the kids within the kindergarten who conquer necessary minutes, however the capturing night is one to overlook for the entire group. Delboni and Zolfanelli observe theirs till the utmost benefit (22-9). Selargina's response comes with Granzotto, Srot and Ceccarelli, known as to work additional time after Makurat's defection. We go to the lengthy vary on 36-20.
Within the third interval the sport is extra fought, with captain Ceccarelli main the Sardinian response however the basketball group additionally finds necessary factors from the bench (53-32). The distinction is broad and even within the fourth interval the locals get the benefit. Righi additionally brings Valenti and Poddighe to the pitch: for the latter comes the primary factors of Serie A. La Spezia wins in opposition to Techfind 63-49 in a really troublesome night capturing (29% of the sphere in opposition to 45% of the Ligurians ), the place the Sardinians additionally suffered in rebounds (46 rt in opposition to 35). Of Techfind, Ceccarelli is the one one in double figures (12), 4 as a substitute of the Ligurians with greater than ten factors (Colognes, Zolfanelli, Guzzoni, Templari).
Coach Simone Righi says: "We had been very conditioned by the damage that occurred in Makurat through the week, I don't cover that it was a tough blow for the group. The journey was not simple both. By way of the sport, we did not begin with the proper power, we suffered from their aggression and power from the primary two quarters. They have been on each free ball and more practical than us one-on-one. Within the third quarter we tried to react however La Spezia had been good at managing the benefit. We've got to begin once more from the protection and the aggression that now we have proven within the final two quarters of the sport."
Spezzina: Nerini 0, Colognesi 10, Zolfanelli 10, N'guessan 6, Guzzoni 13, Templari 10, Castellani 0, Pini 4, Delboni 6, Guerrieri 2, Ratti 0, Amadei 2.
Techfind: Mura 4, Granzotto 9, Ceccarelli 12, Srot 8, Pandori 2, Pinna 9, Vargiu 0, Valenti 1, Poddighe 4, Aispurua 0. All. Righi.
Partial: 13-9, 23-11, 17-12, 10-17.
var banner = {"160x60_1":[{"idbanner":"79","width":160,"height":60,"crop":"1","async":"0","uri":"fip.it","embed":"","img1":"5fe00002fae5d7c483dcf9075d14961a.jpg","partenza":1422813600,"scadenza":-62169986996,"pagine":""}],"300x600":[{"idbanner":"141","width":300,"height":600,"crop":"1","async":"0","uri":"","embed":"PGRpdiBjbGFzcz0iZ3B0c2xvdCIgZGF0YS1hZHVuaXRpZD0iOCI+PC9kaXY+DQo=","img1":"","partenza":-62169986996,"scadenza":1693346400,"pagine":"index"},{"idbanner":"158","width":300,"height":600,"crop":"1","async":"0","uri":"","embed":"PGRpdiBjbGFzcz0iZ3B0c2xvdCIgZGF0YS1hZHVuaXRpZD0iOSI+PC9kaXY+","img1":"","partenza":-62169986996,"scadenza":-62169986996,"pagine":"!index"}],"970x250":[{"idbanner":"144","width":970,"height":250,"crop":"1","async":"0","uri":"","embed":"PGRpdiBjbGFzcz0iZ3B0c2xvdCIgZGF0YS1hZHVuaXRpZD0iMSIgZGF0YS1hZGRlc2t0b3A9InRydWUiPjwvZGl2Pg==","img1":"","partenza":-62169986996,"scadenza":-62169986996,"pagine":"index"},{"idbanner":"157","width":970,"height":250,"crop":"1","async":"0","uri":"","embed":"PGRpdiBjbGFzcz0iZ3B0c2xvdCIgZGF0YS1hZHVuaXRpZD0iMCIgZGF0YS1hZGRlc2t0b3A9InRydWUiPjwvZGl2Pg==","img1":"","partenza":-62169986996,"scadenza":-62169986996,"pagine":"!index"}],"468x60_home":[{"idbanner":"133","width":468,"height":60,"crop":"1","async":"0","uri":"","embed":"PGRpdiBjbGFzcz0iZ3B0c2xvdCIgZGF0YS1hZHVuaXRpZD0iMiI+PC9kaXY+","img1":"","partenza":-62169986996,"scadenza":-62169986996,"pagine":"!index"},{"idbanner":"146","width":468,"height":60,"crop":"1","async":"0","uri":"","embed":"PGEgaHJlZj0iaHR0cHM6Ly93d3cuc2l0aXNjb21tZXNzZS5jb20vYmFza2V0LyIgdGFyZ2V0PSJfYmxhbmsiPg0KICAgPGltZyBzcmM9Imh0dHBzOi8vdHVzY2FueWxpZmV0aW1lLmNvbS93cC1jb250ZW50L3VwbG9hZHMvMjAyMS8wOC9zaXRpLXNjb21tZXNzZS5qcGciIGFsdD0ibG9nbyBwZXIgc2l0aXNjb21tZXNzZS5jb20vYmFza2V0Ij4NCjwvYT4NCg==","img1":"","partenza":1625054400,"scadenza":-62169986996,"pagine":"index"}],"728x90":[{"idbanner":"159","width":728,"height":90,"crop":"1","async":"0","uri":"","embed":"PHNjcmlwdCBzcmM9Imh0dHBzOi8vYXNzZXRzLmV2b2x1dGlvbmFkdi5pdC9waWFuZXRhYmFza2V0X2NvbS9waWFuZXRhYmFza2V0X2NvbS5uZXcuanMiPjwvc2NyaXB0Pg==","img1":"","partenza":-62169986996,"scadenza":-62169986996,"pagine":""}]}; var now = Math.round(new Date().getTime() / 1000); var bannerok = new Object(); for (var zona in banner) { bannerok[zona] = new Array(); for (i=0; i < banner[zona].length; i++) { var ok = 1; if (banner[zona][i]['scadenza']>0 && banner[zona][i]['scadenza']<=now) ok = 0; if (banner[zona][i]['partenza']!=0 && banner[zona][i]['partenza']>now) ok = 0; if (typeof azione !== 'undefined' && azione !== null) { if (banner[zona][i]['pagine'] == '!index' && azione == 'index') ok = 0; else if (banner[zona][i]['pagine'] == 'index' && azione != 'index') ok = 0; }
if (ok == 1) bannerok[zona].push(banner[zona][i]); }
bannerok[zona].sort(function() {return 0.5 - Math.random()}); } banner = bannerok; var banner_url="https://net-storage.tcccdn.com"; var banner_path="/storage/pianetabasket.com/banner/" function asyncLoad() { if (azione == 'read' && TCCCookieConsent) { var scripts = [ "https://connect.facebook.net/it_IT/all.js#xfbml=1", ]; (function(array) { for (var i = 0, len = array.length; i < len; i++) { var elem = document.createElement('script'); elem.type="text/javascript"; elem.async = true; elem.src = array[i]; var s = document.getElementsByTagName('script')[0]; s.parentNode.insertBefore(elem, s); } })(scripts); } setTCCCookieConsent(); } if (window.addEventListener) window.addEventListener("load", asyncLoad, false); else if (window.attachEvent) window.attachEvent("onload", asyncLoad); else window.onload = asyncLoad; function resizeStickyContainers() { var stickyFill = document.getElementsByClassName('sticky-fill'); for (i = 0; i < stickyFill.length; ++i) stickyFill[i].style.height = null; for (i = 0; i < stickyFill.length; ++i) { var height = stickyFill[i].parentElement.offsetHeight-stickyFill[i].offsetTop; height = Math.max(height, stickyFill[i].offsetHeight); stickyFill[i].style.height = height+'px'; } } document.addEventListener('DOMContentLoaded', resizeStickyContainers, false); // layout_headjs function utf8_decode(e){for(var n="",r=0;r


#Girls #Techfind #accidents #Spezia