A2 Nord – Saturday's races and the postponement between Costa Masnaga and Udine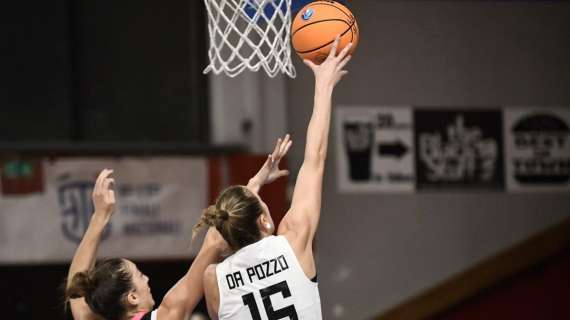 © picture by Roberto Comuzzo
Fifth day of the North Group of Sequence A2, within the title of an incredible match on the prime of the classification.
The postponement between WomenApu Delser Crich Udine and Limonta Costa Masnaga (Sunday, 6 p.m.) is shaping as much as be a lovely conflict between two younger groups, which, nevertheless, appear to have totally different philosophies: extra oriented in the direction of an intense protection of Udine, extra good within the offensive recreation of the Coast. . Undoubtedly, an incredible recreation on the gates.
A probably fascinating match could possibly be the conflict between Podolife Treviso and San Giorgio MantovAgricoltura (Saturday, 19:00) – loads of expertise on the pitch with prime gamers similar to Orazzo, Dell'Olio (if out there), Ramò, Vespignani and co . Amongst different issues, each are coming off two excellent wins and have due to this fact acquired a robust morale enhance.
Head-to-head between Velcofin Interlocks Vicenza and Il Ponte Casa d'Aste Sanga Milano (Sunday, 18:00): Vicenza stay on zero factors whereas Sanga are utterly unbeaten, comparability between two totally different returns, so for what it's , for Vicenza, a vital competitors to lift consciousness.
Clumping firstly of the season, Ecodent Alpo tries to get one other win in opposition to Futurosa #Forna Basket Trieste (Saturday, 8.30 p.m.): Trieste a bit of higher away than at residence firstly of the season. Alpo could be an essential impediment, though we should see the state of the Veneto squad earlier than this conflict, given the latest absences.
Nonetheless unbeaten, Autosped Castelnuovo Scrivia at residence to Alperia Basket Membership Bolzano for an insidious spherical (Saturday, 8.30 p.m.): the "battleship" of the championship in opposition to a troublesome staff that scored in Mantua and, all in all, made a match worthy even of the defeat in opposition to Costa Masnaga. For Castelnuovo to guage the totally different absences, on condition that at this begin of the championship the rotation was fairly quick (solely 7 gamers rotated in Ponzano, with solely Bonasia capable of return within the week) and fatigue can generally current the invoice . .
Inner recreation of the Acciaierie Valbruna Bolzano who, after making up for the defeat in opposition to Sanga away from residence, will strive once more in opposition to Logiman Broni (Saturday, 6 p.m.). The "Stifter" was a security valve this season for Pezzi's staff who throughout the pleasant partitions have misplaced 4 factors: for Bolzano, nevertheless, the take a look at in opposition to Broni is actually powerful because of the wonderful technical tempo from the Lombard staff, three. win of 4 to begin the season.
The match between Dimensione Bagno Carugate and Posaclima Ponzano (Saturday, 8.30 p.m.) is an important crossroads for the 2 groups, presently suspended in harmful limbo on two factors: Carugate comes out of a transparent knockout in opposition to Broni, extra encouraging indicators for Ponzano than not. badly in opposition to Castelnuovo Scrivia, however didn't battle a lot to make the basket (solely 45 factors scored). Amongst different issues, Venete with out Pertile and Pellegrini for the journey.
(Photograph Roberto Comuzzo)
var banner = {"160x60_1":[{"idbanner":"79","width":160,"height":60,"crop":"1","async":"0","uri":"fip.it","embed":"","img1":"5fe00002fae5d7c483dcf9075d14961a.jpg","partenza":1422813600,"scadenza":-62169986996,"pagine":""}],"300x600":[{"idbanner":"141","width":300,"height":600,"crop":"1","async":"0","uri":"","embed":"PGRpdiBjbGFzcz0iZ3B0c2xvdCIgZGF0YS1hZHVuaXRpZD0iOCI+PC9kaXY+DQo=","img1":"","partenza":-62169986996,"scadenza":1693346400,"pagine":"index"},{"idbanner":"158","width":300,"height":600,"crop":"1","async":"0","uri":"","embed":"PGRpdiBjbGFzcz0iZ3B0c2xvdCIgZGF0YS1hZHVuaXRpZD0iOSI+PC9kaXY+","img1":"","partenza":-62169986996,"scadenza":-62169986996,"pagine":"!index"}],"970x250":[{"idbanner":"144","width":970,"height":250,"crop":"1","async":"0","uri":"","embed":"PGRpdiBjbGFzcz0iZ3B0c2xvdCIgZGF0YS1hZHVuaXRpZD0iMSIgZGF0YS1hZGRlc2t0b3A9InRydWUiPjwvZGl2Pg==","img1":"","partenza":-62169986996,"scadenza":-62169986996,"pagine":"index"},{"idbanner":"157","width":970,"height":250,"crop":"1","async":"0","uri":"","embed":"PGRpdiBjbGFzcz0iZ3B0c2xvdCIgZGF0YS1hZHVuaXRpZD0iMCIgZGF0YS1hZGRlc2t0b3A9InRydWUiPjwvZGl2Pg==","img1":"","partenza":-62169986996,"scadenza":-62169986996,"pagine":"!index"}],"468x60_home":[{"idbanner":"133","width":468,"height":60,"crop":"1","async":"0","uri":"","embed":"PGRpdiBjbGFzcz0iZ3B0c2xvdCIgZGF0YS1hZHVuaXRpZD0iMiI+PC9kaXY+","img1":"","partenza":-62169986996,"scadenza":-62169986996,"pagine":"!index"},{"idbanner":"146","width":468,"height":60,"crop":"1","async":"0","uri":"","embed":"PGEgaHJlZj0iaHR0cHM6Ly93d3cuc2l0aXNjb21tZXNzZS5jb20vYmFza2V0LyIgdGFyZ2V0PSJfYmxhbmsiPg0KICAgPGltZyBzcmM9Imh0dHBzOi8vdHVzY2FueWxpZmV0aW1lLmNvbS93cC1jb250ZW50L3VwbG9hZHMvMjAyMS8wOC9zaXRpLXNjb21tZXNzZS5qcGciIGFsdD0ibG9nbyBwZXIgc2l0aXNjb21tZXNzZS5jb20vYmFza2V0Ij4NCjwvYT4NCg==","img1":"","partenza":1625054400,"scadenza":-62169986996,"pagine":"index"}],"728x90":[{"idbanner":"159","width":728,"height":90,"crop":"1","async":"0","uri":"","embed":"PHNjcmlwdCBzcmM9Imh0dHBzOi8vYXNzZXRzLmV2b2x1dGlvbmFkdi5pdC9waWFuZXRhYmFza2V0X2NvbS9waWFuZXRhYmFza2V0X2NvbS5uZXcuanMiPjwvc2NyaXB0Pg==","img1":"","partenza":-62169986996,"scadenza":-62169986996,"pagine":""}]}; var now = Math.round(new Date().getTime() / 1000); var bannerok = new Object(); for (var zona in banner) { bannerok[zona] = new Array(); for (i=0; i < banner[zona].length; i++) { var ok = 1; if (banner[zona][i]['scadenza']>0 && banner[zona][i]['scadenza']<=now) ok = 0; if (banner[zona][i]['partenza']!=0 && banner[zona][i]['partenza']>now) ok = 0; if (typeof azione !== 'undefined' && azione !== null) { if (banner[zona][i]['pagine'] == '!index' && azione == 'index') ok = 0; else if (banner[zona][i]['pagine'] == 'index' && azione != 'index') ok = 0; }
if (ok == 1) bannerok[zona].push(banner[zona][i]); }
bannerok[zona].sort(function() {return 0.5 - Math.random()}); } banner = bannerok; var banner_url="https://net-storage.tcccdn.com"; var banner_path="/storage/pianetabasket.com/banner/" function asyncLoad() { if (azione == 'read' && TCCCookieConsent) { var scripts = [ "https://connect.facebook.net/it_IT/all.js#xfbml=1", ]; (function(array) { for (var i = 0, len = array.length; i < len; i++) { var elem = document.createElement('script'); elem.type="text/javascript"; elem.async = true; elem.src = array[i]; var s = document.getElementsByTagName('script')[0]; s.parentNode.insertBefore(elem, s); } })(scripts); } setTCCCookieConsent(); } if (window.addEventListener) window.addEventListener("load", asyncLoad, false); else if (window.attachEvent) window.attachEvent("onload", asyncLoad); else window.onload = asyncLoad; function resizeStickyContainers() { var stickyFill = document.getElementsByClassName('sticky-fill'); for (i = 0; i < stickyFill.length; ++i) stickyFill[i].style.height = null; for (i = 0; i < stickyFill.length; ++i) { var height = stickyFill[i].parentElement.offsetHeight-stickyFill[i].offsetTop; height = Math.max(height, stickyFill[i].offsetHeight); stickyFill[i].style.height = height+'px'; } } document.addEventListener('DOMContentLoaded', resizeStickyContainers, false); // layout_headjs function utf8_decode(e){for(var n="",r=0;r


#Nord #Saturdays #races #postponement #Costa #Masnaga #Udine