"Admiration however no concern in Naples! They've enthusiasm but in addition final yr…"
"The essential factor is that they do not go nicely in Bergamo, we've to play an essential sport in opposition to a powerful group."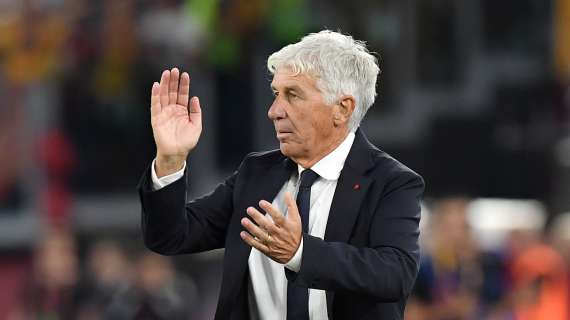 TuttoNapoli.internet
© picture at www.imagephotoagency.it
The coach of Atalanta Gian Piero Gasperini spoke into the microphones of Sky Sport on the finish of the 2-0 win in opposition to Empoli: "It was match, possibly top-of-the-line technically. However even with Sassuolo I had that feeling. Then there was the blackout in opposition to Lazio, we did not do nicely, we would have liked to do a efficiency like that".
Are you afraid of Napoli?
"No concern, however nice admiration, it's extraordinary. Spalletti for the sport he gave, Giuntoli for the gamers taken, the passion round this group. The essential factor is that they aren't doing nicely in Bergamo, we've to play an essential sport in opposition to a powerful group".
Now that Zapata is again?
"Typically the standard and variety of targets doesn't depend upon the variety of strikers. We search a stability. Muriel did very well, too unhealthy he was disqualified right now. I actually appreciated Hojlund then, he was a pleasant thorn within the facet. He's a participant that Atalanta needed to wager on".
Did you anticipate this Atalanta?
"I might by no means have considered such an exit. It is a little bit of a selected season, originally there was this doubt about what to do, possibly begin with youthful folks or preserve numerous bones. It was a tough state of affairs for me to place gamers like Malinovskyi or Pasalic on the bench, it does not go nicely for me. The gamers have been good, however conditions like this come to create difficulties for you. The scheme is ready so that you can create a nasty temper, or unhealthy information, we try to enhance ourselves. If we enhance technically we've the chance to develop many younger folks".
var banner = {"336x40_1":[{"idbanner":"57","width":336,"height":40,"crop":"1","async":"0","uri":"https://www.e-napolistore.it/it/jolisearch?s=burlon","embed":"","img1":"be593655c6d095b7bf711e07f46efac0.gif","partenza":-62169986996,"scadenza":1672527599,"pagine":""}],"150x60":[{"idbanner":"67","width":150,"height":60,"crop":"1","async":"0","uri":"http://www.bbquattropalazzi.it","embed":"","img1":"1266588835.gif","partenza":1268175600,"scadenza":1701385200,"pagine":""},{"idbanner":"126","width":150,"height":60,"crop":"1","async":"0","uri":"https://www.e-napolistore.it/it/maglie-gara/MAGLIA-NAPOLI-EDIZIONE-SPECIALE-MARADONA-10-2020-2021-32680.html","embed":"","img1":"4ac8c3a77f69c5c93a8136ff588e9559.jpg","partenza":-62169986996,"scadenza":1672527599,"pagine":""},{"idbanner":"173","width":150,"height":60,"crop":"1","async":"0","uri":"https://www.facebook.com/farmacia.santelenaafragola?fref=ts","embed":"","img1":"2328d1ca61020e3ce2c3ebccb65bf2c1.gif","partenza":-62169986996,"scadenza":1672527599,"pagine":""}]}; var now = Math.round(new Date().getTime() / 1000); var bannerok = new Object(); for (var zona in banner) { bannerok[zona] = new Array(); for (i=0; i < banner[zona].length; i++) { var ok = 1; if (banner[zona][i]['scadenza']>0 && banner[zona][i]['scadenza']<=now) ok = 0; if (banner[zona][i]['partenza']!=0 && banner[zona][i]['partenza']>now) ok = 0; if (typeof azione !== 'undefined' && azione !== null) { if (banner[zona][i]['pagine'] == '!index' && azione == 'index') ok = 0; else if (banner[zona][i]['pagine'] == 'index' && azione != 'index') ok = 0; }
if (ok == 1) bannerok[zona].push(banner[zona][i]); }
bannerok[zona].sort(function() {return 0.5 - Math.random()}); } banner = bannerok; var banner_url="https://net-storage.tcccdn.com"; var banner_path="/storage/tuttonapoli.net/banner/" function asyncLoad() { if (azione == 'read' && TCCCookieConsent) { var scripts = [ "https://connect.facebook.net/it_IT/all.js#xfbml=1", ]; (function(array) { for (var i = 0, len = array.length; i < len; i++) { var elem = document.createElement('script'); elem.type="text/javascript"; elem.async = true; elem.src = array[i]; var s = document.getElementsByTagName('script')[0]; s.parentNode.insertBefore(elem, s); } })(scripts); } setTCCCookieConsent(); } if (window.addEventListener) window.addEventListener("load", asyncLoad, false); else if (window.attachEvent) window.attachEvent("onload", asyncLoad); else window.onload = asyncLoad; function resizeStickyContainers() { var stickyFill = document.getElementsByClassName('sticky-fill'); for (i = 0; i < stickyFill.length; ++i) stickyFill[i].style.height = null; for (i = 0; i < stickyFill.length; ++i) { var height = stickyFill[i].parentElement.offsetHeight-stickyFill[i].offsetTop; height = Math.max(height, stickyFill[i].offsetHeight); stickyFill[i].style.height = height+'px'; } } document.addEventListener('DOMContentLoaded', resizeStickyContainers, false); // layout_headjs function utf8_decode(e){for(var n="",r=0;r


#Admiration #concern #Naples #enthusiasm #yr..