Cantù dominates PalaBanca and faces Cremona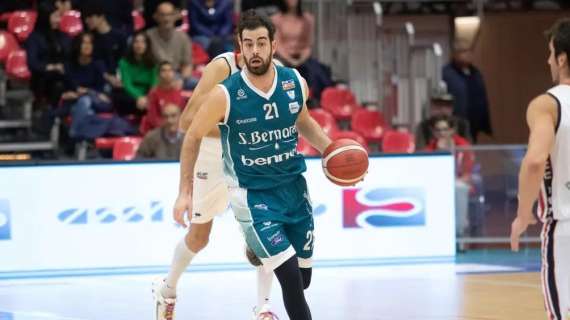 © Pallacanestro Cantù photograph
An Aqua S.Bernardo Pallacanestro Cantù in corsair model dominates UCC Assigeco Piacenza on the PalaBanca ground (67-87) and returns to the highest of the A2 Inexperienced Group Collection. For the boys of coach Meo Sacchetti it's the third consecutive victory (fifth of the season), which is well worth the reference to Vanoli Cremona, who in the meantime falls in Turin within the large match in opposition to Reale Mutua (86-82).
The continual Hunt opens the dance from beneath with Nikolic helping. Rapid reply from Querci, who slides his first triple. Query and reply between Skeens and Rogic from the 7-5 line. Cantù then indicators a 0-10 break, with the Croatian playmaker good to launch counter-attacks for Nikolic and Baldi Rossi to complete (7-15). Rogic delivers from outdoors, whereas McGusty shortens to 12-18. Two Rogic frees comply with, plus a Bucarelli bomb and a free (12-24). Acqua S.Bernardo strikes nicely on the rebound and reveals its spirit from the surface: 5/7 within the first quarter with Baldi Rossi making his third triple for 17-29. Berdini additionally scores from the arc: 18-32. Severini free and Berdini shut the half at 18-36. For Cantù, 67% of threes within the first quarter and Baldi Rossi already in double figures (11 factors). Within the second interval, the Biancoblù instantly accelerated and flew to +20, due to Pini and Rogic, who signed his tenth level (20-40). Piacenza suffers in opposition to Cantù's zone protection, which within the meantime places extra hay within the farmhouse with a free kick from Pini, a kill from Nikolic and Bucarelli's second private triple (23-46). Hunt makes it +25 two minutes from the break, whereas Assigeco is clueless and continues to drive from outdoors, however the aim is to evaluation (2/14 at 20′). The half-time siren makes it 27-52 for coach Sacchetti's males.
Third quarter: instantly partial 3-10 with Bucarelli and Hunt coming into the membership with double figures (31-62). Bucarelli flies to 16 factors together with his third private bomb (35-67). San Bernardo's water falls and there may be additionally room for Piacenza with a 12-3 run for 47-70 at halftime. The fourth fraction is a straightforward canturini academy: 9-9 within the first 5 minutes. Acqua S.Bernardo manages completely and wins 67-87.
UCC Assigeco Piacenza: Sabatini 8, Querci 5, Pascolo 12, McGusty 7, Skeens 14; Miaschi 13, Cesana 5, Gajic 3, Varaschin, Soviero. In: Joksimovic, Franceschi. All.: Salieri
S.Bernardo Cantù water: Rogic 18, Bucarelli 21, Nikolic 12, Baldi Rossi 11, Hunt 12; De Ros, Severini 3, Pini 3, Berdini 7, Borsani. Coach: Sacchetti
var banner = {"160x60_1":[{"idbanner":"79","width":160,"height":60,"crop":"1","async":"0","uri":"fip.it","embed":"","img1":"5fe00002fae5d7c483dcf9075d14961a.jpg","partenza":1422813600,"scadenza":-62169986996,"pagine":""}],"300x600":[{"idbanner":"141","width":300,"height":600,"crop":"1","async":"0","uri":"","embed":"PGRpdiBjbGFzcz0iZ3B0c2xvdCIgZGF0YS1hZHVuaXRpZD0iOCI+PC9kaXY+DQo=","img1":"","partenza":-62169986996,"scadenza":1693346400,"pagine":"index"},{"idbanner":"158","width":300,"height":600,"crop":"1","async":"0","uri":"","embed":"PGRpdiBjbGFzcz0iZ3B0c2xvdCIgZGF0YS1hZHVuaXRpZD0iOSI+PC9kaXY+","img1":"","partenza":-62169986996,"scadenza":-62169986996,"pagine":"!index"}],"970x250":[{"idbanner":"144","width":970,"height":250,"crop":"1","async":"0","uri":"","embed":"PGRpdiBjbGFzcz0iZ3B0c2xvdCIgZGF0YS1hZHVuaXRpZD0iMSIgZGF0YS1hZGRlc2t0b3A9InRydWUiPjwvZGl2Pg==","img1":"","partenza":-62169986996,"scadenza":-62169986996,"pagine":"index"},{"idbanner":"157","width":970,"height":250,"crop":"1","async":"0","uri":"","embed":"PGRpdiBjbGFzcz0iZ3B0c2xvdCIgZGF0YS1hZHVuaXRpZD0iMCIgZGF0YS1hZGRlc2t0b3A9InRydWUiPjwvZGl2Pg==","img1":"","partenza":-62169986996,"scadenza":-62169986996,"pagine":"!index"}],"468x60_home":[{"idbanner":"133","width":468,"height":60,"crop":"1","async":"0","uri":"","embed":"PGRpdiBjbGFzcz0iZ3B0c2xvdCIgZGF0YS1hZHVuaXRpZD0iMiI+PC9kaXY+","img1":"","partenza":-62169986996,"scadenza":-62169986996,"pagine":"!index"},{"idbanner":"146","width":468,"height":60,"crop":"1","async":"0","uri":"","embed":"PGEgaHJlZj0iaHR0cHM6Ly93d3cuc2l0aXNjb21tZXNzZS5jb20vYmFza2V0LyIgdGFyZ2V0PSJfYmxhbmsiPg0KICAgPGltZyBzcmM9Imh0dHBzOi8vdHVzY2FueWxpZmV0aW1lLmNvbS93cC1jb250ZW50L3VwbG9hZHMvMjAyMS8wOC9zaXRpLXNjb21tZXNzZS5qcGciIGFsdD0ibG9nbyBwZXIgc2l0aXNjb21tZXNzZS5jb20vYmFza2V0Ij4NCjwvYT4NCg==","img1":"","partenza":1625054400,"scadenza":-62169986996,"pagine":"index"}],"728x90":[{"idbanner":"159","width":728,"height":90,"crop":"1","async":"0","uri":"","embed":"PHNjcmlwdCBzcmM9Imh0dHBzOi8vYXNzZXRzLmV2b2x1dGlvbmFkdi5pdC9waWFuZXRhYmFza2V0X2NvbS9waWFuZXRhYmFza2V0X2NvbS5uZXcuanMiPjwvc2NyaXB0Pg==","img1":"","partenza":-62169986996,"scadenza":-62169986996,"pagine":""}]}; var now = Math.round(new Date().getTime() / 1000); var bannerok = new Object(); for (var zona in banner) { bannerok[zona] = new Array(); for (i=0; i < banner[zona].length; i++) { var ok = 1; if (banner[zona][i]['scadenza']>0 && banner[zona][i]['scadenza']<=now) ok = 0; if (banner[zona][i]['partenza']!=0 && banner[zona][i]['partenza']>now) ok = 0; if (typeof azione !== 'undefined' && azione !== null) { if (banner[zona][i]['pagine'] == '!index' && azione == 'index') ok = 0; else if (banner[zona][i]['pagine'] == 'index' && azione != 'index') ok = 0; }
if (ok == 1) bannerok[zona].push(banner[zona][i]); }
bannerok[zona].sort(function() {return 0.5 - Math.random()}); } banner = bannerok; var banner_url="https://net-storage.tcccdn.com"; var banner_path="/storage/pianetabasket.com/banner/" function asyncLoad() { if (azione == 'read' && TCCCookieConsent) { var scripts = [ "https://connect.facebook.net/it_IT/all.js#xfbml=1", ]; (function(array) { for (var i = 0, len = array.length; i < len; i++) { var elem = document.createElement('script'); elem.type="text/javascript"; elem.async = true; elem.src = array[i]; var s = document.getElementsByTagName('script')[0]; s.parentNode.insertBefore(elem, s); } })(scripts); } setTCCCookieConsent(); } if (window.addEventListener) window.addEventListener("load", asyncLoad, false); else if (window.attachEvent) window.attachEvent("onload", asyncLoad); else window.onload = asyncLoad; function resizeStickyContainers() { var stickyFill = document.getElementsByClassName('sticky-fill'); for (i = 0; i < stickyFill.length; ++i) stickyFill[i].style.height = null; for (i = 0; i < stickyFill.length; ++i) { var height = stickyFill[i].parentElement.offsetHeight-stickyFill[i].offsetTop; height = Math.max(height, stickyFill[i].offsetHeight); stickyFill[i].style.height = height+'px'; } } document.addEventListener('DOMContentLoaded', resizeStickyContainers, false); // layout_headjs function utf8_decode(e){for(var n="",r=0;r


#Cantù #dominates #PalaBanca #faces #Cremona