Collection B – Civitus doesn't attain fifth place, Bergamo returns to further time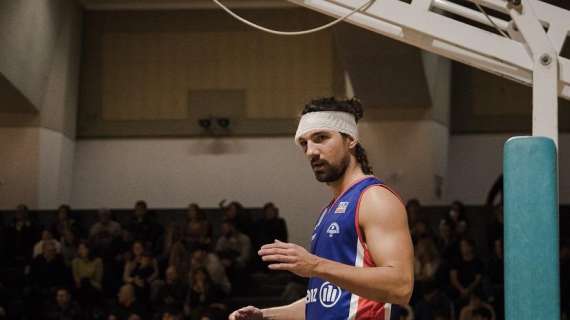 Within the second extension of the season, a brand new enterprise fails at Civitus Allianz Vicenza after the primary day in Capo d'Orlando. Within the area of Bergamo, nevertheless, Cilio's crew carried out properly once more, escaping within the third interval even with a +10 (43-53) after two minutes of play. From that second, nevertheless, the match grew to become pyrotechnic: from Cucchiaro's circus shot to the technical foul on the native bench, to a Genoese that lights up in assault (25 on the finish with 4/4 of three) and drag the comeback. of his, properly contrasted by captain Cernivani (Berico high scorer with 22 scored and 5/6 from three) who responds blow by blow. Civitus holds a +4 lead in the beginning of the ultimate interval, however Genovese makes one other three-pointer even with a foul; Cernivani responds once more with a formidable torpedo that comes off the blocks, however Simoncelli locations a 2+1 that offers his crew confidence. It is 72 equal with 44 seconds left, Cucchiaro dives and finds the +2 24 seconds from the buzzer: Genovese's shot dances over the iron and goes broad, however then Isotta recovers the ball on the serve. and Sodero tied at 4 seconds left. Vicenza have the final possession to win the problem, however Cucchiaro nonetheless cannot discover the again of the online on the lengthy shot.
The performances of the 2 weekly accidents are nonetheless meritorious, nonetheless not at their finest, with Brambilla going as much as twenty factors: the lengthy Lecco had opened the dances with a triple and an important motion below the basket on the foot pivot (14 factors within the first 20 minutes), whereas Cucchiaro's end from the arc gave the white and pink a 41-42 benefit at halftime. Within the first half, younger Carr additionally scored with an help from Zocca and Ambrosetti with a pleasant basket plus a foul to maintain the sport within the stability. The sport was, in truth, for essentially the most half level to level and the massive group of followers who arrived from the capital Berico made themselves felt inside Italcementi. However fatigue prevailed within the remaining for the visitors (solely 9 factors scored within the final interval) and in further time with Ambrosetti, Cucchiaro and Ianuale out for 5 fouls there was nothing to do in opposition to the visitors who might rely . to all their gamers till the tip, particularly the extra skilled decisive outcomes, with Bergamo capturing greater than double from the road. Simply Simoncelli closed the competition by firing the arrow from past the arc 14 seconds from the siren.
That is how Vicenza's fifth league win fades away, however the aim is already centered on the derby with Petrarca Padua subsequent Saturday.
Bergamo Basket 2014 – Civitus Allianz Vicenza 87-81 (23-21, 18-23, 20-21, 13-9, 13-7)
Bergamo Basket 2014: Salvatore Genovese 25 (4/6, 4/4), Alexander Simoncelli 18 (3/7, 3/10), Nicolo Isotta 14 (3/6, 1/4), Matteo Cagliani 12 (2/3 ). , 1/3), Guglielmo Sodero 9 (1/8, 1/6), Luca Manenti 4 (2/6, 0/2), Riccardo Rota 3 (0/0, 1/2), Carlo Cane 2 (1 / 7, 0/0), Riccardo Piccinni 0 (0/0, 0/0), Matteo Morelli 0 (0/0, 0/0), Mattia Mora 0 (0/0, 0/0), Mamadou Dembele 0 (0/0, 0/0)
Free throws: 22/26 – Rebounds: 39 12 + 27 (Nicolo Isotta 9) – Help: 14 (Alexander Simoncelli 7)
Civitus Allianz Vicenza: Stefano Cernivani 22 (1/7, 5/6), Luca Brambilla 21 (6/11, 2/5), Valerio Cucchiaro 14 (4/6, 2/7), Andrea Ambrosetti 8 (2/4 ). , 1/3), Andrea Campiello 4 (2/7, 0/5), Nicolo Ianuale 4 (2/6, 0/2), Riccardo Bassi 4 (2/4, 0/0), Andrea Zocca 2 (1 / 3, 0/1), Nicholas Carr 2 (1/1, 0/1), Francesco Giaquinto 0 (0/0, 0/0), Marco Massignan 0 (0/0, 0/0), Alberto Pendin 0 (0/0, 0/0)
Free throws: 12/9 – Rebounds: 39 12 + 27 (Luca Brambilla 10) – Help: 16 (Valerio Cucchiaro 4)
var banner = {"160x60_1":[{"idbanner":"79","width":160,"height":60,"crop":"1","async":"0","uri":"fip.it","embed":"","img1":"5fe00002fae5d7c483dcf9075d14961a.jpg","partenza":1422813600,"scadenza":-62169986996,"pagine":""}],"300x600":[{"idbanner":"141","width":300,"height":600,"crop":"1","async":"0","uri":"","embed":"PGRpdiBjbGFzcz0iZ3B0c2xvdCIgZGF0YS1hZHVuaXRpZD0iOCI+PC9kaXY+DQo=","img1":"","partenza":-62169986996,"scadenza":1693346400,"pagine":"index"},{"idbanner":"158","width":300,"height":600,"crop":"1","async":"0","uri":"","embed":"PGRpdiBjbGFzcz0iZ3B0c2xvdCIgZGF0YS1hZHVuaXRpZD0iOSI+PC9kaXY+","img1":"","partenza":-62169986996,"scadenza":-62169986996,"pagine":"!index"}],"970x250":[{"idbanner":"144","width":970,"height":250,"crop":"1","async":"0","uri":"","embed":"PGRpdiBjbGFzcz0iZ3B0c2xvdCIgZGF0YS1hZHVuaXRpZD0iMSIgZGF0YS1hZGRlc2t0b3A9InRydWUiPjwvZGl2Pg==","img1":"","partenza":-62169986996,"scadenza":-62169986996,"pagine":"index"},{"idbanner":"157","width":970,"height":250,"crop":"1","async":"0","uri":"","embed":"PGRpdiBjbGFzcz0iZ3B0c2xvdCIgZGF0YS1hZHVuaXRpZD0iMCIgZGF0YS1hZGRlc2t0b3A9InRydWUiPjwvZGl2Pg==","img1":"","partenza":-62169986996,"scadenza":-62169986996,"pagine":"!index"}],"468x60_home":[{"idbanner":"133","width":468,"height":60,"crop":"1","async":"0","uri":"","embed":"PGRpdiBjbGFzcz0iZ3B0c2xvdCIgZGF0YS1hZHVuaXRpZD0iMiI+PC9kaXY+","img1":"","partenza":-62169986996,"scadenza":-62169986996,"pagine":"!index"},{"idbanner":"146","width":468,"height":60,"crop":"1","async":"0","uri":"","embed":"PGEgaHJlZj0iaHR0cHM6Ly93d3cuc2l0aXNjb21tZXNzZS5jb20vYmFza2V0LyIgdGFyZ2V0PSJfYmxhbmsiPg0KICAgPGltZyBzcmM9Imh0dHBzOi8vdHVzY2FueWxpZmV0aW1lLmNvbS93cC1jb250ZW50L3VwbG9hZHMvMjAyMS8wOC9zaXRpLXNjb21tZXNzZS5qcGciIGFsdD0ibG9nbyBwZXIgc2l0aXNjb21tZXNzZS5jb20vYmFza2V0Ij4NCjwvYT4NCg==","img1":"","partenza":1625054400,"scadenza":-62169986996,"pagine":"index"}],"728x90":[{"idbanner":"159","width":728,"height":90,"crop":"1","async":"0","uri":"","embed":"PHNjcmlwdCBzcmM9Imh0dHBzOi8vYXNzZXRzLmV2b2x1dGlvbmFkdi5pdC9waWFuZXRhYmFza2V0X2NvbS9waWFuZXRhYmFza2V0X2NvbS5uZXcuanMiPjwvc2NyaXB0Pg==","img1":"","partenza":-62169986996,"scadenza":-62169986996,"pagine":""}]}; var now = Math.round(new Date().getTime() / 1000); var bannerok = new Object(); for (var zona in banner) { bannerok[zona] = new Array(); for (i=0; i < banner[zona].length; i++) { var ok = 1; if (banner[zona][i]['scadenza']>0 && banner[zona][i]['scadenza']<=now) ok = 0; if (banner[zona][i]['partenza']!=0 && banner[zona][i]['partenza']>now) ok = 0; if (typeof azione !== 'undefined' && azione !== null) { if (banner[zona][i]['pagine'] == '!index' && azione == 'index') ok = 0; else if (banner[zona][i]['pagine'] == 'index' && azione != 'index') ok = 0; }
if (ok == 1) bannerok[zona].push(banner[zona][i]); }
bannerok[zona].sort(function() {return 0.5 - Math.random()}); } banner = bannerok; var banner_url="https://net-storage.tcccdn.com"; var banner_path="/storage/pianetabasket.com/banner/" function asyncLoad() { if (azione == 'read' && TCCCookieConsent) { var scripts = [ "https://connect.facebook.net/it_IT/all.js#xfbml=1", ]; (function(array) { for (var i = 0, len = array.length; i < len; i++) { var elem = document.createElement('script'); elem.type="text/javascript"; elem.async = true; elem.src = array[i]; var s = document.getElementsByTagName('script')[0]; s.parentNode.insertBefore(elem, s); } })(scripts); } setTCCCookieConsent(); } if (window.addEventListener) window.addEventListener("load", asyncLoad, false); else if (window.attachEvent) window.attachEvent("onload", asyncLoad); else window.onload = asyncLoad; function resizeStickyContainers() { var stickyFill = document.getElementsByClassName('sticky-fill'); for (i = 0; i < stickyFill.length; ++i) stickyFill[i].style.height = null; for (i = 0; i < stickyFill.length; ++i) { var height = stickyFill[i].parentElement.offsetHeight-stickyFill[i].offsetTop; height = Math.max(height, stickyFill[i].offsetHeight); stickyFill[i].style.height = height+'px'; } } document.addEventListener('DOMContentLoaded', resizeStickyContainers, false); // layout_headjs function utf8_decode(e){for(var n="",r=0;r


#Collection #Civitus #attain #place #Bergamo #returns #further #time