Collection B – Luiss Roma, clear victory over Diesel Tecnica Sala Consilina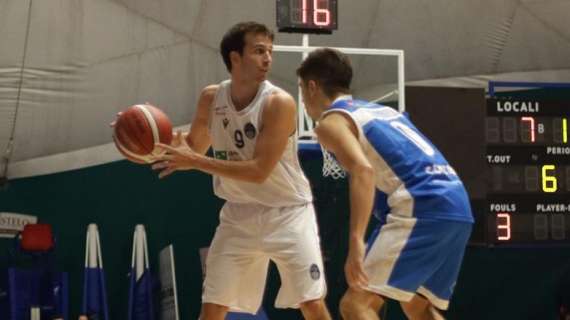 Luiss spreads towards the Sala Consilina: after a balanced first half, by which the Campanis additionally put their heads in entrance for a couple of minutes, Barbon and his teammates opened their weapons and scored 59 factors (sure, solely 59) in twenty minutes.
When coach Paccariè's boys determined to push their foot on the accelerator there was no extra sport, with the final ten minutes of pure rubbish time registering the seasonal debuts of the unders Invernizzi and Busca.
Transferring on to the information, Luiss instantly begins sturdy with Barbon's three-pointer and Perotti's on the iron, however Gaye is on an enormous evening for the friends (he'll rating 27 factors) and all the time tries to maintain Diesel Tecnica in contact with some good triple from the nook After Murri tied the rating at 17-17 with a triple, the steadiness continued till the siren on the finish of the quarter: 24-24. The guests present some cracks already exterior the primary mini-interval, with Pasqualin tying it up for Jovovic and Legnini scoring within the paint after gathering three consecutive offensive rebounds – the half is 10-3 and the visiting bench is pressured right into a timeout. On the finish of the second half, Sala Consilina tries to come back again with a 5-0 run that units the rating at 39-34 at halftime.
Coming back from the locker room, solely Luiss stays: Barbon, Fallucca and Barbon once more unleash a barrage of triples that make the capitol run away with 50-38 after solely three minutes of play. Luiss performs velvet and finds many protagonists: Pasqualin packs the restoration by throwing Murri on the counter-attack, opening for Fallucca who sends the opponent to the crossbar and serves Di Bonaventura who places in a improbable triple.
The final ten minutes open with the rating studying 71-52 and there may be room for factors from Busca and Zini, in addition to just a few extra minutes for Invernizzi who had already made his debut when there was nonetheless a sport. The ultimate consequence speaks for itself: 98-65.
Luiss Roma – Diesel Tecnica Council Chamber 98-65 (24-24, 15-10, 33-17, 26-14)
Luiss Roma: Matija Jovovic 20 (8/8, 0/2), Cesare Barbon 16 (2/4, 4/8), Riccardo Murri 15 (3/3, 2/4), Matteo Fallucca 10 (0/0, 3/8), Andrea Zini 10 (2/3, 2/4), Marco Legnini 7 (3/4, 0/6), Alessandro Perotti 5 (2/2, 0/0), Marco Pasqualin 4 (0 / 2, 0/1), Giuseppe Invernizzi 4 (0/0, 0/2), Giorgio Di bonaventura 3 (0/0, 1/2), Davide Tolino 2 (1/1, 0/0), Sean Busca 2 (1/1, 0/0)
Free throws: 18/29 – Rebounds: 38 11 + 27 (Matija Jovovic 9) – Help: 18 (Riccardo Murri 7)
Diesel Tecnica Boardroom: Sam Gaye serigne 27 (4/6, 5/8), Luigi Cimminella 10 (1/4, 1/3), Hugo Erkmaa 9 (1/5, 1/6), Bozo Misolic 8 (3 / 8, 0/1), Simone Giunta 6 (2/9, 0/4), Ognjen Ratkovic 3 (0/1, 1/2), Milos Divac 2 (1/1, 0/2), Ognjen Miljkovic 0 (0/0, 0/0), Giuseppe Grottola 0 (0/0, 0/0), Daniele Casillo 0 (0/0, 0/0)
Pictures: 17 / 35 – Assists: 38 13 + 25 (Bozo Misolic 14) – Assists: 10 (Hugo Erkmaa 4)
var banner = {"160x60_1":[{"idbanner":"79","width":160,"height":60,"crop":"1","async":"0","uri":"fip.it","embed":"","img1":"5fe00002fae5d7c483dcf9075d14961a.jpg","partenza":1422813600,"scadenza":-62169986996,"pagine":""}],"300x600":[{"idbanner":"141","width":300,"height":600,"crop":"1","async":"0","uri":"","embed":"PGRpdiBjbGFzcz0iZ3B0c2xvdCIgZGF0YS1hZHVuaXRpZD0iOCI+PC9kaXY+DQo=","img1":"","partenza":-62169986996,"scadenza":1693346400,"pagine":"index"},{"idbanner":"158","width":300,"height":600,"crop":"1","async":"0","uri":"","embed":"PGRpdiBjbGFzcz0iZ3B0c2xvdCIgZGF0YS1hZHVuaXRpZD0iOSI+PC9kaXY+","img1":"","partenza":-62169986996,"scadenza":-62169986996,"pagine":"!index"}],"970x250":[{"idbanner":"144","width":970,"height":250,"crop":"1","async":"0","uri":"","embed":"PGRpdiBjbGFzcz0iZ3B0c2xvdCIgZGF0YS1hZHVuaXRpZD0iMSIgZGF0YS1hZGRlc2t0b3A9InRydWUiPjwvZGl2Pg==","img1":"","partenza":-62169986996,"scadenza":-62169986996,"pagine":"index"},{"idbanner":"157","width":970,"height":250,"crop":"1","async":"0","uri":"","embed":"PGRpdiBjbGFzcz0iZ3B0c2xvdCIgZGF0YS1hZHVuaXRpZD0iMCIgZGF0YS1hZGRlc2t0b3A9InRydWUiPjwvZGl2Pg==","img1":"","partenza":-62169986996,"scadenza":-62169986996,"pagine":"!index"}],"468x60_home":[{"idbanner":"133","width":468,"height":60,"crop":"1","async":"0","uri":"","embed":"PGRpdiBjbGFzcz0iZ3B0c2xvdCIgZGF0YS1hZHVuaXRpZD0iMiI+PC9kaXY+","img1":"","partenza":-62169986996,"scadenza":-62169986996,"pagine":"!index"},{"idbanner":"146","width":468,"height":60,"crop":"1","async":"0","uri":"","embed":"PGEgaHJlZj0iaHR0cHM6Ly93d3cuc2l0aXNjb21tZXNzZS5jb20vYmFza2V0LyIgdGFyZ2V0PSJfYmxhbmsiPg0KICAgPGltZyBzcmM9Imh0dHBzOi8vdHVzY2FueWxpZmV0aW1lLmNvbS93cC1jb250ZW50L3VwbG9hZHMvMjAyMS8wOC9zaXRpLXNjb21tZXNzZS5qcGciIGFsdD0ibG9nbyBwZXIgc2l0aXNjb21tZXNzZS5jb20vYmFza2V0Ij4NCjwvYT4NCg==","img1":"","partenza":1625054400,"scadenza":-62169986996,"pagine":"index"}],"728x90":[{"idbanner":"159","width":728,"height":90,"crop":"1","async":"0","uri":"","embed":"PHNjcmlwdCBzcmM9Imh0dHBzOi8vYXNzZXRzLmV2b2x1dGlvbmFkdi5pdC9waWFuZXRhYmFza2V0X2NvbS9waWFuZXRhYmFza2V0X2NvbS5uZXcuanMiPjwvc2NyaXB0Pg==","img1":"","partenza":-62169986996,"scadenza":-62169986996,"pagine":""}]}; var now = Math.round(new Date().getTime() / 1000); var bannerok = new Object(); for (var zona in banner) { bannerok[zona] = new Array(); for (i=0; i < banner[zona].length; i++) { var ok = 1; if (banner[zona][i]['scadenza']>0 && banner[zona][i]['scadenza']<=now) ok = 0; if (banner[zona][i]['partenza']!=0 && banner[zona][i]['partenza']>now) ok = 0; if (typeof azione !== 'undefined' && azione !== null) { if (banner[zona][i]['pagine'] == '!index' && azione == 'index') ok = 0; else if (banner[zona][i]['pagine'] == 'index' && azione != 'index') ok = 0; }
if (ok == 1) bannerok[zona].push(banner[zona][i]); }
bannerok[zona].sort(function() {return 0.5 - Math.random()}); } banner = bannerok; var banner_url="https://net-storage.tcccdn.com"; var banner_path="/storage/pianetabasket.com/banner/" function asyncLoad() { if (azione == 'read' && TCCCookieConsent) { var scripts = [ "https://connect.facebook.net/it_IT/all.js#xfbml=1", ]; (function(array) { for (var i = 0, len = array.length; i < len; i++) { var elem = document.createElement('script'); elem.type="text/javascript"; elem.async = true; elem.src = array[i]; var s = document.getElementsByTagName('script')[0]; s.parentNode.insertBefore(elem, s); } })(scripts); } setTCCCookieConsent(); } if (window.addEventListener) window.addEventListener("load", asyncLoad, false); else if (window.attachEvent) window.attachEvent("onload", asyncLoad); else window.onload = asyncLoad; function resizeStickyContainers() { var stickyFill = document.getElementsByClassName('sticky-fill'); for (i = 0; i < stickyFill.length; ++i) stickyFill[i].style.height = null; for (i = 0; i < stickyFill.length; ++i) { var height = stickyFill[i].parentElement.offsetHeight-stickyFill[i].offsetTop; height = Math.max(height, stickyFill[i].offsetHeight); stickyFill[i].style.height = height+'px'; } } document.addEventListener('DOMContentLoaded', resizeStickyContainers, false); // layout_headjs function utf8_decode(e){for(var n="",r=0;r


#Collection #Luiss #Roma #clear #victory #Diesel #Tecnica #Sala #Consilina