Dinamo Brindisi continues to shock even in opposition to Molfetta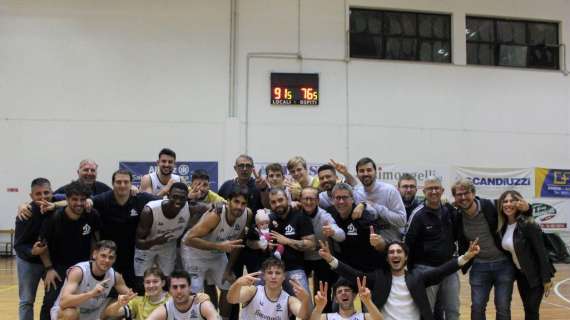 The Limongelli Dinamo Basket Brindisi continues to shock within the gold championship of Serie C: one other victory has arrived, even heavier than the primary obtained in opposition to Adria Bari, as a result of it got here within the presence of Virtus Molfettaamong the best squads to overcome Serie B.
The boys from Brindisi have received by 91-76 on the finish of a recreation that noticed them lead for 40 minutes, additionally hitting +23 within the first half.
Coach Cristofaro is a part of the quintet Fouce, Stonkus, Musa, Pulli and Caloia, whereas coach Carolillo chooses Brown, Gambarota, Chiriatti, Mavric and Kazlauskas.
Prepared, go and instantly the 5-0 in Brindisi with the triple of Pulli and the basket of Stonkus: Molfetta doesn't discover good options in assault, due to the aggressive native protection whereas Dinamo flies with the hampers of the trio of wonders Stonkus-Fouce – Musa, closing a ravishing first quarter 25-10.
The sumptuous melody, within the second set, doesn't cease however will increase in depth: the white-blue assault is ideal and at 16′ the rating reads 43-20, bringing Dinamo to the utmost benefit of +23, thanks within the baskets of the magical trio and Pulli, effectively served by Epifani (7 assists on the finish of the sport for him). The visitors, overcome by the double digit drawback, determine to depend on their extraordinary singularities: Vujanac, Chiriatti and Kazlauskas cut back the deficit to 52-37 on the siren of the primary half.
Within the third quarter Dinamo could be very effectively gritting their tooth and absorbing the energy of the visitors who attempt to cut back the distinction much more with the hampers of the standard Kazlauskas and Chiriatti, reaching -6 at 27′. The psychological energy of captain Pulli and his teammates is extraordinary and drags the crew to the brand new +15, closing the quarter with an impressive decide & roll between Fouce and Caloia, ending 68-53 at 30′.
Within the final quarter, Dinamo excellently handle the collected benefit, regardless of the makes an attempt of the visitors to return again, managing, nevertheless, solely a small return to -10, by no means managing to alter the inertia of the match, due to the nice toasting protection led by Caloia and a flying Musa that turns into the protagonist of a spectacular block on Brown 5 minutes from the top and that ideally marks the top of the sport, correctly managed till the ultimate 91-76. And it's at that second that the nice pleasure of the crew, the employees and society erupts, shared with the PalaZumbo followers who pushed and inspired the crew to a masterful efficiency.
An unbelievable injection of confidence for the entire crew, who from this victory should discover much more power to face a tour de pressure made up of three consecutive journeys: on November 3 to Altamura for the restoration of the 2nd day, on November 6 November in Castellaneta. and on November 13 in Vieste. A really troublesome street in a championship of the very best degree like that of C Or however that coach Cristofaro and his employees will put together in one of the simplest ways to attempt to proceed stunning all of Puglia, as has already been completed in these first two racing
Limongelli Dinamo Basket Brindisi – Virtus Molfetta 91-76 (25-10; 52-37; 68-53; 91-76)
Dinamo Brindisi: Greco, Scivales, Patrizio, Epifani 1, Musa 22, Stonkus 27, Fouce 23, Pulli 13, Caloia 5, Mongelli, Mazzeo. Ramats Cristofaro
Virtus Molfetta: O'Connell 2, Brown 13, Marcone 2, Gambarota, Chiriatti 12, Buccini, Vujanac 18, Mavric 10, Kazlauskas 19, Minervini, Paganucci, Annese. Carolillo herds
Referees: By Carlo Francesco of Lequile (LE) e September Gaetano from Gravina di Puglia (BA)
Communications Workplace – Limongelli Dinamo Basket Brindisi
var banner = {"160x60_1":[{"idbanner":"79","width":160,"height":60,"crop":"1","async":"0","uri":"fip.it","embed":"","img1":"5fe00002fae5d7c483dcf9075d14961a.jpg","partenza":1422813600,"scadenza":-62169986996,"pagine":""}],"300x600":[{"idbanner":"141","width":300,"height":600,"crop":"1","async":"0","uri":"","embed":"PGRpdiBjbGFzcz0iZ3B0c2xvdCIgZGF0YS1hZHVuaXRpZD0iOCI+PC9kaXY+DQo=","img1":"","partenza":-62169986996,"scadenza":1693346400,"pagine":"index"},{"idbanner":"158","width":300,"height":600,"crop":"1","async":"0","uri":"","embed":"PGRpdiBjbGFzcz0iZ3B0c2xvdCIgZGF0YS1hZHVuaXRpZD0iOSI+PC9kaXY+","img1":"","partenza":-62169986996,"scadenza":-62169986996,"pagine":"!index"}],"970x250":[{"idbanner":"144","width":970,"height":250,"crop":"1","async":"0","uri":"","embed":"PGRpdiBjbGFzcz0iZ3B0c2xvdCIgZGF0YS1hZHVuaXRpZD0iMSIgZGF0YS1hZGRlc2t0b3A9InRydWUiPjwvZGl2Pg==","img1":"","partenza":-62169986996,"scadenza":-62169986996,"pagine":"index"},{"idbanner":"157","width":970,"height":250,"crop":"1","async":"0","uri":"","embed":"PGRpdiBjbGFzcz0iZ3B0c2xvdCIgZGF0YS1hZHVuaXRpZD0iMCIgZGF0YS1hZGRlc2t0b3A9InRydWUiPjwvZGl2Pg==","img1":"","partenza":-62169986996,"scadenza":-62169986996,"pagine":"!index"}],"468x60_home":[{"idbanner":"133","width":468,"height":60,"crop":"1","async":"0","uri":"","embed":"PGRpdiBjbGFzcz0iZ3B0c2xvdCIgZGF0YS1hZHVuaXRpZD0iMiI+PC9kaXY+","img1":"","partenza":-62169986996,"scadenza":-62169986996,"pagine":"!index"},{"idbanner":"146","width":468,"height":60,"crop":"1","async":"0","uri":"","embed":"PGEgaHJlZj0iaHR0cHM6Ly93d3cuc2l0aXNjb21tZXNzZS5jb20vYmFza2V0LyIgdGFyZ2V0PSJfYmxhbmsiPg0KICAgPGltZyBzcmM9Imh0dHBzOi8vdHVzY2FueWxpZmV0aW1lLmNvbS93cC1jb250ZW50L3VwbG9hZHMvMjAyMS8wOC9zaXRpLXNjb21tZXNzZS5qcGciIGFsdD0ibG9nbyBwZXIgc2l0aXNjb21tZXNzZS5jb20vYmFza2V0Ij4NCjwvYT4NCg==","img1":"","partenza":1625054400,"scadenza":-62169986996,"pagine":"index"}],"728x90":[{"idbanner":"159","width":728,"height":90,"crop":"1","async":"0","uri":"","embed":"PHNjcmlwdCBzcmM9Imh0dHBzOi8vYXNzZXRzLmV2b2x1dGlvbmFkdi5pdC9waWFuZXRhYmFza2V0X2NvbS9waWFuZXRhYmFza2V0X2NvbS5uZXcuanMiPjwvc2NyaXB0Pg==","img1":"","partenza":-62169986996,"scadenza":-62169986996,"pagine":""}]}; var now = Math.round(new Date().getTime() / 1000); var bannerok = new Object(); for (var zona in banner) { bannerok[zona] = new Array(); for (i=0; i < banner[zona].length; i++) { var ok = 1; if (banner[zona][i]['scadenza']>0 && banner[zona][i]['scadenza']<=now) ok = 0; if (banner[zona][i]['partenza']!=0 && banner[zona][i]['partenza']>now) ok = 0; if (typeof azione !== 'undefined' && azione !== null) { if (banner[zona][i]['pagine'] == '!index' && azione == 'index') ok = 0; else if (banner[zona][i]['pagine'] == 'index' && azione != 'index') ok = 0; }
if (ok == 1) bannerok[zona].push(banner[zona][i]); }
bannerok[zona].sort(function() {return 0.5 - Math.random()}); } banner = bannerok; var banner_url="https://net-storage.tcccdn.com"; var banner_path="/storage/pianetabasket.com/banner/" function asyncLoad() { if (azione == 'read' && TCCCookieConsent) { var scripts = [ "https://connect.facebook.net/it_IT/all.js#xfbml=1", ]; (function(array) { for (var i = 0, len = array.length; i < len; i++) { var elem = document.createElement('script'); elem.type="text/javascript"; elem.async = true; elem.src = array[i]; var s = document.getElementsByTagName('script')[0]; s.parentNode.insertBefore(elem, s); } })(scripts); } setTCCCookieConsent(); } if (window.addEventListener) window.addEventListener("load", asyncLoad, false); else if (window.attachEvent) window.attachEvent("onload", asyncLoad); else window.onload = asyncLoad; function resizeStickyContainers() { var stickyFill = document.getElementsByClassName('sticky-fill'); for (i = 0; i < stickyFill.length; ++i) stickyFill[i].style.height = null; for (i = 0; i < stickyFill.length; ++i) { var height = stickyFill[i].parentElement.offsetHeight-stickyFill[i].offsetTop; height = Math.max(height, stickyFill[i].offsetHeight); stickyFill[i].style.height = height+'px'; } } document.addEventListener('DOMContentLoaded', resizeStickyContainers, false); // layout_headjs function utf8_decode(e){for(var n="",r=0;r


#Dinamo #Brindisi #continues #shock #Molfetta