Italbasket, the 18 known as by CT Pozzecco for the qualifiers of the World Cup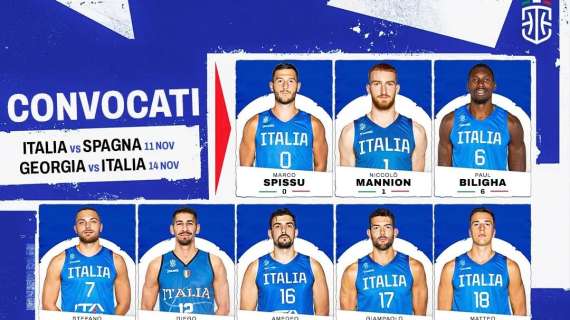 The long term-up to the 2023 World Cup is about to return to an finish. Between the Azzurri and qualification for the World Cup there are 4 challenges with a excessive diploma of issue. It should begin on Friday 11 November in Pesaro towards the reigning World and European Champions of Spain (9pm, dwell on Rai 2, Eleven and Sky Sport). Monday 14 November the robust journey to Tbilisi to face hosts Georgia (4pm Italian, dwell on Rai 3, Eleven and Sky Sport).
In an try and make a whole spoils in each races and thus eradicate the cross earlier than the final two races in February 2023, technical commissioner Gianmarco Pozzecco has known as up 18 gamers for the rally that may begin in Pesaro on Monday 7 November.
On November 10, the athletes Niccolò Mannion, Paul Biligha, Stefano Tonut, Giampaolo Ricci, Tommaso Baldasso and Alessandro Pajola will be part of the group.
The Azzurri
#0 Marco Spissu (1995, 184, P, Human Reyer Venice)
#1 Niccolò Mannion (2001, 190, P, Segafredo Virtus Bologna)
#6 Paul Biligha (1990, 200, C, EA7 Emporio Armani Milan)
#7 Stefano Tonut (1993, 194, G, EA7 Emporio Armani Milan)
# 12 Diego Flaccadori (1996, 193, P, Dolomiti Energia Trentino)
# 16 Amedeo Tessitori (1994, 208, C, Umana Reyer Venice)
#17 Giampaolo Ricci (1991, 202, A, EA7 Emporio Armani Milan)
# 18 Matteo Spagnolo (2003, 194, P, Dolomites Vitality Trentino)
# 24 Riccardo Moraschini (1991, 194, G/A, Umana Reyer Venezia)
#25 Tommaso Baldasso (1998, 192, P, EA7 Emporio Armani Milan)
# 30 Guglielmo Caruso (1999, 208, A/C, Openjobmetis Varese)
# 31 Michele Vitali (1991, 196, G/A, Unahotels Reggio Emilia)
#35 Mouhamet Rassoul Diouf (2001, 206, A/C, Unahotels Reggio Emilia)
# 40 Luca Severini (1996, 204, A, Bertram Yachts Derthona Tortona)
# 45 Nicola Akele (1995, 203, A, Germani Brescia)
# 53 Tomas Woldetensae (1998, 196, G/A, Openjobmetis Varese)
# 54 Alessandro Pajola (1999, 194, P, Segafredo Virtus Bologna)
#77 John Petrucelli (1992, 193, G/A, Germani Brescia)
Athletes out there
# 11 Davide Moretti (1998, 190, G, Carpegna Prosciutto Pesaro)
# 22 Giordano Bortolani (2000, 193, G, Baxi Manresa – Spain)
# 44 Davide Alviti (1996, 200, A, EA7 Emporio Armani Milan)
workers
Federal President: Giovanni Petrucci
Secretary Normal: Maurizio Bertea
Head of delegation: Salvatore Trainotti
Technical commissioner: Gianmarco Pozzecco
Assistants: Carlo Recalcati, Edoardo Casalone, Federico Fucà, Giuseppe Poeta (from November 10)
Bodily coach: Matteo Panichi
Physician: Sandro Senzameno
Orthopedics: Raffaele Cortina
Physiotherapists: Roberto Oggioni, Francesco Ciallella
Workforce chief: Massimo Valle
Communication supervisor: Francesco D'Aniello
Videomaker: Marco Cremonini
Supplies staff: Andrea Annessa, Luigi Massimei
this system
November 7
12.00pm – Assembly in Pesaro
18.30 / 20.30 – Coaching at Vitrifrigo Enviornment (Pesaro)
November 8
10.00 / 14.00 – Coaching
November 9
10.00 / 14.00 – Coaching
November 10
10.00 / 14.00 – Coaching
November 11
Time 12.00/13.00
9.00 p.m. Italy-Spain (Vitrifrigo Enviornment: Rai 2, Eleven, Sky Sport)
November 12
2.00 pm – Switch to Tbilisi (Georgia)
November 13
11.30 / 13.00 native (8.30 / 11.30 Italian) – Coaching in Tbilisi Enviornment
November 14
10.00 / 11.00 native (7.00 / 9.00 Italian) – Coaching in Tbilisi Enviornment
19.00 native (16.00 Italian) Georgia-Italy (Tbilisi Enviornment: Rai 3, Eleven, Sky Sport)
var banner = {"160x60_1":[{"idbanner":"79","width":160,"height":60,"crop":"1","async":"0","uri":"fip.it","embed":"","img1":"5fe00002fae5d7c483dcf9075d14961a.jpg","partenza":1422813600,"scadenza":-62169986996,"pagine":""}],"300x600":[{"idbanner":"141","width":300,"height":600,"crop":"1","async":"0","uri":"","embed":"PGRpdiBjbGFzcz0iZ3B0c2xvdCIgZGF0YS1hZHVuaXRpZD0iOCI+PC9kaXY+DQo=","img1":"","partenza":-62169986996,"scadenza":1693346400,"pagine":"index"},{"idbanner":"158","width":300,"height":600,"crop":"1","async":"0","uri":"","embed":"PGRpdiBjbGFzcz0iZ3B0c2xvdCIgZGF0YS1hZHVuaXRpZD0iOSI+PC9kaXY+","img1":"","partenza":-62169986996,"scadenza":-62169986996,"pagine":"!index"}],"970x250":[{"idbanner":"144","width":970,"height":250,"crop":"1","async":"0","uri":"","embed":"PGRpdiBjbGFzcz0iZ3B0c2xvdCIgZGF0YS1hZHVuaXRpZD0iMSIgZGF0YS1hZGRlc2t0b3A9InRydWUiPjwvZGl2Pg==","img1":"","partenza":-62169986996,"scadenza":-62169986996,"pagine":"index"},{"idbanner":"157","width":970,"height":250,"crop":"1","async":"0","uri":"","embed":"PGRpdiBjbGFzcz0iZ3B0c2xvdCIgZGF0YS1hZHVuaXRpZD0iMCIgZGF0YS1hZGRlc2t0b3A9InRydWUiPjwvZGl2Pg==","img1":"","partenza":-62169986996,"scadenza":-62169986996,"pagine":"!index"}],"468x60_home":[{"idbanner":"133","width":468,"height":60,"crop":"1","async":"0","uri":"","embed":"PGRpdiBjbGFzcz0iZ3B0c2xvdCIgZGF0YS1hZHVuaXRpZD0iMiI+PC9kaXY+","img1":"","partenza":-62169986996,"scadenza":-62169986996,"pagine":"!index"},{"idbanner":"146","width":468,"height":60,"crop":"1","async":"0","uri":"","embed":"PGEgaHJlZj0iaHR0cHM6Ly93d3cuc2l0aXNjb21tZXNzZS5jb20vYmFza2V0LyIgdGFyZ2V0PSJfYmxhbmsiPg0KICAgPGltZyBzcmM9Imh0dHBzOi8vdHVzY2FueWxpZmV0aW1lLmNvbS93cC1jb250ZW50L3VwbG9hZHMvMjAyMS8wOC9zaXRpLXNjb21tZXNzZS5qcGciIGFsdD0ibG9nbyBwZXIgc2l0aXNjb21tZXNzZS5jb20vYmFza2V0Ij4NCjwvYT4NCg==","img1":"","partenza":1625054400,"scadenza":-62169986996,"pagine":"index"}],"728x90":[{"idbanner":"159","width":728,"height":90,"crop":"1","async":"0","uri":"","embed":"PHNjcmlwdCBzcmM9Imh0dHBzOi8vYXNzZXRzLmV2b2x1dGlvbmFkdi5pdC9waWFuZXRhYmFza2V0X2NvbS9waWFuZXRhYmFza2V0X2NvbS5uZXcuanMiPjwvc2NyaXB0Pg==","img1":"","partenza":-62169986996,"scadenza":-62169986996,"pagine":""}]}; var now = Math.round(new Date().getTime() / 1000); var bannerok = new Object(); for (var zona in banner) { bannerok[zona] = new Array(); for (i=0; i < banner[zona].length; i++) { var ok = 1; if (banner[zona][i]['scadenza']>0 && banner[zona][i]['scadenza']<=now) ok = 0; if (banner[zona][i]['partenza']!=0 && banner[zona][i]['partenza']>now) ok = 0; if (typeof azione !== 'undefined' && azione !== null) { if (banner[zona][i]['pagine'] == '!index' && azione == 'index') ok = 0; else if (banner[zona][i]['pagine'] == 'index' && azione != 'index') ok = 0; }
if (ok == 1) bannerok[zona].push(banner[zona][i]); }
bannerok[zona].sort(function() {return 0.5 - Math.random()}); } banner = bannerok; var banner_url="https://net-storage.tcccdn.com"; var banner_path="/storage/pianetabasket.com/banner/" function asyncLoad() { if (azione == 'read' && TCCCookieConsent) { var scripts = [ "https://connect.facebook.net/it_IT/all.js#xfbml=1", ]; (function(array) { for (var i = 0, len = array.length; i < len; i++) { var elem = document.createElement('script'); elem.type="text/javascript"; elem.async = true; elem.src = array[i]; var s = document.getElementsByTagName('script')[0]; s.parentNode.insertBefore(elem, s); } })(scripts); } setTCCCookieConsent(); } if (window.addEventListener) window.addEventListener("load", asyncLoad, false); else if (window.attachEvent) window.attachEvent("onload", asyncLoad); else window.onload = asyncLoad; function resizeStickyContainers() { var stickyFill = document.getElementsByClassName('sticky-fill'); for (i = 0; i < stickyFill.length; ++i) stickyFill[i].style.height = null; for (i = 0; i < stickyFill.length; ++i) { var height = stickyFill[i].parentElement.offsetHeight-stickyFill[i].offsetTop; height = Math.max(height, stickyFill[i].offsetHeight); stickyFill[i].style.height = height+'px'; } } document.addEventListener('DOMContentLoaded', resizeStickyContainers, false); // layout_headjs function utf8_decode(e){for(var n="",r=0;r


#Italbasket #known as #Pozzecco #qualifiers #World #Cup