LIVE EuroCup – 1st reprise, ratiopharm Ulm vs Reyer Venezia, en direct 2T 19′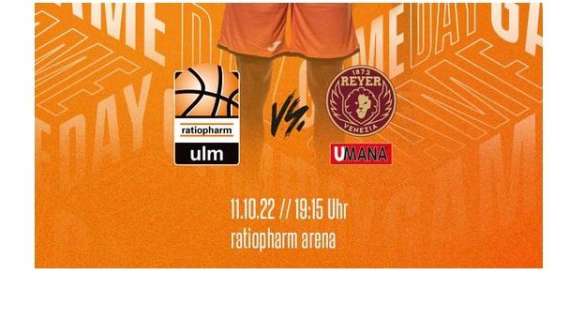 The Reyer Venice is in Germany for the first day of the 2022-23 EuroCup Basketball regular season. Ratiopharm Ulm is a regular on the European stages, and features one of Spain's new phenoms, Juan Núñez, who has just been released from Real Madrid to image for the NBA springboard here. Ulm were beaten 85-80 in Rostock in the easy credit BBL reprise on Sunday. Kick-off is at 19:15, the team is warming up before the game. Ex colloque Derek Willis, in Ulm in 2019-20.
1Q – Dos Santos opens the game, then nailed by Konate in amélioration for 5-0. Freeman scores Reyer's first two after three minutes, then Watt with the half hook. Konate's triple, replies Spissu. Ulm still three for 10-7. But a few seconds from 5'00 "Jeff Brooks' bomb equals. Anton Gavel calls a timeout. Astrologue Robinson and two Brooks free throws keep the tie. Some union follows, Venice suffers a pick'n'roll and De Raffaele calls out. timeout. Robinson scores the free throws. Yankuba Sima equalizes from an attack rebound, but Núñez keeps the Germans +2, with 2′. Willis finishes the game two-handed with Granger. Zugic to free throws with 1'04". 1/2 The old Trieste Konatè 2/2, +3 Ulm also passes there. Sima throws two baskets with a foul in attack and a clear pass, Konaté signs the 21-16 at 10″.
2Q – Bramos shuts down De Nicolao's counterattack, but Ulm respond immediately. Two of Granger's free kicks were successful, as were those of the Spanish fougue Núñez. Willis' bomb arrives with 7'40". Reyer improves in defense, with 6'45" Tessitori equalises. The inéquitable continues, bomb from the tintinnabuler of Bramos and raccommodage time of Gavel. Jallow shortens, but Tessitori still makes the big voice twice in a row 27-32 at 15′. Freeman enters the area, they are free after another seconde of Gavel's penalty. 2/2 for the Virginia guard. Three-pointers by Christen and Mobley bring Ulm back to -1. Germans with prime, free for Weavers 1/2. Which then sends us Mobley who draws at 35 hauteur with 2'59". Freeman lieux the bomb, Spissu scores Watt +5 Reyer. Zugic shortens, Mobley breaks with Watt.
var banner = {"160x60_1":[{"idbanner":"79","width":160,"height":60,"crop":"1","async":"0","uri":"fip.it","embed":"","img1":"5fe00002fae5d7c483dcf9075d14961a.jpg","partenza":1422813600,"scadenza":-62169986996,"pagine":""}],"300x600":[{"idbanner":"141","width":300,"height":600,"crop":"1","async":"0","uri":"","embed":"PGRpdiBjbGFzcz0iZ3B0c2xvdCIgZGF0YS1hZHVuaXRpZD0iOCI+PC9kaXY+DQo=","img1":"","partenza":-62169986996,"scadenza":1693346400,"pagine":"index"},{"idbanner":"158","width":300,"height":600,"crop":"1","async":"0","uri":"","embed":"PGRpdiBjbGFzcz0iZ3B0c2xvdCIgZGF0YS1hZHVuaXRpZD0iOSI+PC9kaXY+","img1":"","partenza":-62169986996,"scadenza":-62169986996,"pagine":"!index"}],"970x250":[{"idbanner":"144","width":970,"height":250,"crop":"1","async":"0","uri":"","embed":"PGRpdiBjbGFzcz0iZ3B0c2xvdCIgZGF0YS1hZHVuaXRpZD0iMSIgZGF0YS1hZGRlc2t0b3A9InRydWUiPjwvZGl2Pg==","img1":"","partenza":-62169986996,"scadenza":-62169986996,"pagine":"index"},{"idbanner":"157","width":970,"height":250,"crop":"1","async":"0","uri":"","embed":"PGRpdiBjbGFzcz0iZ3B0c2xvdCIgZGF0YS1hZHVuaXRpZD0iMCIgZGF0YS1hZGRlc2t0b3A9InRydWUiPjwvZGl2Pg==","img1":"","partenza":-62169986996,"scadenza":-62169986996,"pagine":"!index"}],"468x60_home":[{"idbanner":"133","width":468,"height":60,"crop":"1","async":"0","uri":"","embed":"PGRpdiBjbGFzcz0iZ3B0c2xvdCIgZGF0YS1hZHVuaXRpZD0iMiI+PC9kaXY+","img1":"","partenza":-62169986996,"scadenza":-62169986996,"pagine":"!index"},{"idbanner":"146","width":468,"height":60,"crop":"1","async":"0","uri":"","embed":"PGEgaHJlZj0iaHR0cHM6Ly93d3cuc2l0aXNjb21tZXNzZS5jb20vYmFza2V0LyIgdGFyZ2V0PSJfYmxhbmsiPg0KICAgPGltZyBzcmM9Imh0dHBzOi8vdHVzY2FueWxpZmV0aW1lLmNvbS93cC1jb250ZW50L3VwbG9hZHMvMjAyMS8wOC9zaXRpLXNjb21tZXNzZS5qcGciIGFsdD0ibG9nbyBwZXIgc2l0aXNjb21tZXNzZS5jb20vYmFza2V0Ij4NCjwvYT4NCg==","img1":"","partenza":1625054400,"scadenza":-62169986996,"pagine":"index"}],"300x250_read":[{"idbanner":"168","width":300,"height":250,"crop":"1","async":"0","uri":"","embed":"PGRpdiBjbGFzcz0iY2xldmVyLWNvcmUtYWRzIj48L2Rpdj4NCg0KPHNjcmlwdCBkYXRhLWNmYXN5bmM9ImZhbHNlIiB0eXBlPSJ0ZXh0L2phdmFzY3JpcHQiIGlkPSJjbGV2ZXItY29yZSI+DQogICAgICAgICAgICAgICAgICAgICAgICAgICAgICAgICAgICAvKiA8IVtDREFUQVsgKi8NCiAgICAgICAgICAgICAgICAgICAgICAgICAgICAgICAgICAgIChmdW5jdGlvbiAoZG9jdW1lbnQsIHdpbmRvdykgew0KICAgICAgICAgICAgICAgICAgICAgICAgICAgICAgICAgICAgICAgIHZhciBhLCBjID0gZG9jdW1lbnQuY3JlYXRlRWxlbWVudCgic2NyaXB0IiksIGYgPSB3aW5kb3cuZnJhbWVFbGVtZW50Ow0KDQogICAgICAgICAgICAgICAgICAgICAgICAgICAgICAgICAgICAgICAgYy5pZCA9ICJDbGV2ZXJDb3JlTG9hZGVyNjE0MTciOw0KICAgICAgICAgICAgICAgICAgICAgICAgICAgICAgICAgICAgICAgIGMuc3JjID0gIi8vc2NyaXB0cy5jbGV2ZXJ3ZWJzZXJ2ZXIuY29tL2UxMjExNDU5ODIyZWU1NDgwNTE5YzY2NDJiNDJiYWM4LmpzIjsNCg0KICAgICAgICAgICAgICAgICAgICAgICAgICAgICAgICAgICAgICAgIGMuYXN5bmMgPSAhMDsNCiAgICAgICAgICAgICAgICAgICAgICAgICAgICAgICAgICAgICAgICBjLnR5cGUgPSAidGV4dC9qYXZhc2NyaXB0IjsNCiAgICAgICAgICAgICAgICAgICAgICAgICAgICAgICAgICAgICAgICBjLnNldEF0dHJpYnV0ZSgiZGF0YS10YXJnZXQiLCB3aW5kb3cubmFtZSB8fCAoZiAmJiBmLmdldEF0dHJpYnV0ZSgiaWQiKSkpOw0KICAgICAgICAgICAgICAgICAgICAgICAgICAgICAgICAgICAgICAgIGMuc2V0QXR0cmlidXRlKCJkYXRhLWNhbGxiYWNrIiwgInB1dC15b3VyLWNhbGxiYWNrLW1hY3JvLWhlcmUiKTsNCg0KICAgICAgICAgICAgICAgICAgICAgICAgICAgICAgICAgICAgICAgIHRyeSB7DQogICAgICAgICAgICAgICAgICAgICAgICAgICAgICAgICAgICAgICAgICAgIGEgPSBwYXJlbnQuZG9jdW1lbnQuZ2V0RWxlbWVudHNCeVRhZ05hbWUoInNjcmlwdCIpWzBdIHx8IGRvY3VtZW50LmdldEVsZW1lbnRzQnlUYWdOYW1lKCJzY3JpcHQiKVswXTsNCiAgICAgICAgICAgICAgICAgICAgICAgICAgICAgICAgICAgICAgICB9IGNhdGNoIChlKSB7DQogICAgICAgICAgICAgICAgICAgICAgICAgICAgICAgICAgICAgICAgICAgIGEgPSAhMTsNCiAgICAgICAgICAgICAgICAgICAgICAgICAgICAgICAgICAgICAgICB9DQoNCiAgICAgICAgICAgICAgICAgICAgICAgICAgICAgICAgICAgICAgICBhIHx8IChhID0gZG9jdW1lbnQuZ2V0RWxlbWVudHNCeVRhZ05hbWUoImhlYWQiKVswXSB8fCBkb2N1bWVudC5nZXRFbGVtZW50c0J5VGFnTmFtZSgiYm9keSIpWzBdKTsNCiAgICAgICAgICAgICAgICAgICAgICAgICAgICAgICAgICAgICAgICBhLnBhcmVudE5vZGUuaW5zZXJ0QmVmb3JlKGMsIGEpOw0KICAgICAgICAgICAgICAgICAgICAgICAgICAgICAgICAgICAgfSkoZG9jdW1lbnQsIHdpbmRvdyk7DQogICAgICAgICAgICAgICAgICAgICAgICAgICAgICAgICAgICAvKiBdXT4gKi8NCiAgICAgICAgICAgICAgICAgICAgICAgICAgICAgICAgPC9zY3JpcHQ+","img1":"","partenza":-62169986996,"scadenza":-62169986996,"pagine":"!index"}],"728x90":[{"idbanner":"159","width":728,"height":90,"crop":"1","async":"0","uri":"","embed":"PHNjcmlwdCBzcmM9Imh0dHBzOi8vYXNzZXRzLmV2b2x1dGlvbmFkdi5pdC9waWFuZXRhYmFza2V0X2NvbS9waWFuZXRhYmFza2V0X2NvbS5uZXcuanMiPjwvc2NyaXB0Pg==","img1":"","partenza":-62169986996,"scadenza":-62169986996,"pagine":""}]}; var now = Math.round(new Date().getTime() / 1000); var bannerok = new Object(); for (var zona in banner) { bannerok[zona] = new Array(); for (i=0; i < banner[zona].length; i++) { var ok = 1; if (banner[zona][i]['scadenza']>0 && banner[zona][i]['scadenza']<=now) ok = 0; if (banner[zona][i]['partenza']!=0 && banner[zona][i]['partenza']>now) ok = 0; if (typeof azione !== 'undefined' && azione !== null) { if (banner[zona][i]['pagine'] == '!index' && azione == 'index') ok = 0; else if (banner[zona][i]['pagine'] == 'index' && azione != 'index') ok = 0; }
if (ok == 1) bannerok[zona].push(banner[zona][i]); }
bannerok[zona].sort(function() {return 0.5 - Math.random()}); } banner = bannerok; var banner_url="https://net-storage.tcccdn.com"; var banner_path="/storage/pianetabasket.com/banner/" function asyncLoad() { if (azione == 'read' && TCCCookieConsent) { var scripts = [ "https://connect.facebook.net/it_IT/all.js#xfbml=1", ]; (function(array) { for (var i = 0, len = array.length; i < len; i++) { var elem = document.createElement('script'); elem.type="text/javascript"; elem.async = true; elem.src = array[i]; var s = document.getElementsByTagName('script')[0]; s.parentNode.insertBefore(elem, s); } })(scripts); } setTCCCookieConsent(); } if (window.addEventListener) window.addEventListener("load", asyncLoad, false); else if (window.attachEvent) window.attachEvent("onload", asyncLoad); else window.onload = asyncLoad; function resizeStickyContainers() { var stickyFill = document.getElementsByClassName('sticky-fill'); for (i = 0; i < stickyFill.length; ++i) stickyFill[i].style.height = null; for (i = 0; i < stickyFill.length; ++i) { var height = stickyFill[i].parentElement.offsetHeight-stickyFill[i].offsetTop; height = Math.max(height, stickyFill[i].offsetHeight); stickyFill[i].style.height = height+'px'; } } document.addEventListener('DOMContentLoaded', resizeStickyContainers, false); // layout_headjs function utf8_decode(e){for(var n="",r=0;r


#LIVE #EuroCup #1st #ratiopharm #Ulm #Reyer #Venezia #en direct