LIVE LBA – Vuelle Pesaro vs EA7 Emporio Armani Milano, reside 2nd quarter 18′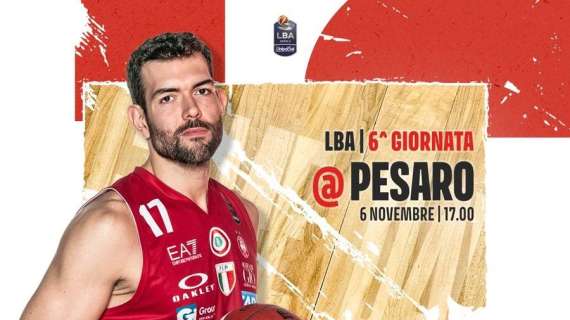 EA7 Emporio Armani Milano return to the league after one other residence defeat, this time by the hands of Actual Madrid. And he does it with a posh journey to Pesaro the place he'll discover as an opponent coach Repesa, winner of a Scudetto and two Italian Cups with Olimpia, and playmaker Davide Moretti. Two balls at Vitrifrigo Enviornment at 17:00, reside Eleven Sports activities. Referees: Tolga Sahin, Mark Bartoli, Sergio Noce. Problem no. 170 between the 2 golf equipment.
2nd quarter – The triple from Gudmundsson and Ricci lights up the second quarter. Cheatham and Baldasso dall'arco: Q&A 23-17. Cheatham places in one other, and Messina takes a timeout with 7'23". After which comes Baldasso! All the time from three. With 6'37" Voigtmann shortens to -4 and Repesa takes his timeout. However within the second leg solely Olimpia stays: a free from Bladasso begins the continuation of the Milan break that reaches 0-12 with Davies' free kicks at 4'37 "for 26-29″. Charalampopoulos ties with three sport factors. Rhakman and Voigtmann's three-pointer strikes the scoreboard, however EA7's +1 is short-lived, surpassed by Charalmpopoulos and Moretti's triples, with an irritated Messina stopping the sport at 37-32 with 2'51".
1st quarter – two kilos from Deshaun Thomas to heat our fingers. Kravic and Charalapmpoulos 'triple for 5-2 in simply 1'. Thomas shortens at 3′, Abdur-Rahkman takes a block from Davies and Melli crushes the 5-6 advance on the counterattack with 6'51". Kravic responds with two free kicks, and Davies imitates him with 4'30" solely within the center 7 -7. Rahkman locations the triple, and right here too Datome imitates him however for 2 with lower than 2′ to the siren. For Visconti 1/2 free and two factors in motion +4. Datome is lively in Olympia and cuts the hole in half. Rahkman proposes it once more with 57″, Milan loses the ball at 24″. The extent of the sport has risen, and Cheatham hits a 3-pointer to make it 18-11 after the primary quarter.
Olimpia Milano heater
Warmth#together #LBASerieA #PesaroMilano #ForzaOlympia pic.twitter.com/l8ooPKAuSz

– Olimpia Milano (@OlimpiaMI1936) November 6, 2022
var banner = {"160x60_1":[{"idbanner":"79","width":160,"height":60,"crop":"1","async":"0","uri":"fip.it","embed":"","img1":"5fe00002fae5d7c483dcf9075d14961a.jpg","partenza":1422813600,"scadenza":-62169986996,"pagine":""}],"300x600":[{"idbanner":"141","width":300,"height":600,"crop":"1","async":"0","uri":"","embed":"PGRpdiBjbGFzcz0iZ3B0c2xvdCIgZGF0YS1hZHVuaXRpZD0iOCI+PC9kaXY+DQo=","img1":"","partenza":-62169986996,"scadenza":1693346400,"pagine":"index"},{"idbanner":"158","width":300,"height":600,"crop":"1","async":"0","uri":"","embed":"PGRpdiBjbGFzcz0iZ3B0c2xvdCIgZGF0YS1hZHVuaXRpZD0iOSI+PC9kaXY+","img1":"","partenza":-62169986996,"scadenza":-62169986996,"pagine":"!index"}],"970x250":[{"idbanner":"144","width":970,"height":250,"crop":"1","async":"0","uri":"","embed":"PGRpdiBjbGFzcz0iZ3B0c2xvdCIgZGF0YS1hZHVuaXRpZD0iMSIgZGF0YS1hZGRlc2t0b3A9InRydWUiPjwvZGl2Pg==","img1":"","partenza":-62169986996,"scadenza":-62169986996,"pagine":"index"},{"idbanner":"157","width":970,"height":250,"crop":"1","async":"0","uri":"","embed":"PGRpdiBjbGFzcz0iZ3B0c2xvdCIgZGF0YS1hZHVuaXRpZD0iMCIgZGF0YS1hZGRlc2t0b3A9InRydWUiPjwvZGl2Pg==","img1":"","partenza":-62169986996,"scadenza":-62169986996,"pagine":"!index"}],"468x60_home":[{"idbanner":"133","width":468,"height":60,"crop":"1","async":"0","uri":"","embed":"PGRpdiBjbGFzcz0iZ3B0c2xvdCIgZGF0YS1hZHVuaXRpZD0iMiI+PC9kaXY+","img1":"","partenza":-62169986996,"scadenza":-62169986996,"pagine":"!index"},{"idbanner":"146","width":468,"height":60,"crop":"1","async":"0","uri":"","embed":"PGEgaHJlZj0iaHR0cHM6Ly93d3cuc2l0aXNjb21tZXNzZS5jb20vYmFza2V0LyIgdGFyZ2V0PSJfYmxhbmsiPg0KICAgPGltZyBzcmM9Imh0dHBzOi8vdHVzY2FueWxpZmV0aW1lLmNvbS93cC1jb250ZW50L3VwbG9hZHMvMjAyMS8wOC9zaXRpLXNjb21tZXNzZS5qcGciIGFsdD0ibG9nbyBwZXIgc2l0aXNjb21tZXNzZS5jb20vYmFza2V0Ij4NCjwvYT4NCg==","img1":"","partenza":1625054400,"scadenza":-62169986996,"pagine":"index"}],"728x90":[{"idbanner":"159","width":728,"height":90,"crop":"1","async":"0","uri":"","embed":"PHNjcmlwdCBzcmM9Imh0dHBzOi8vYXNzZXRzLmV2b2x1dGlvbmFkdi5pdC9waWFuZXRhYmFza2V0X2NvbS9waWFuZXRhYmFza2V0X2NvbS5uZXcuanMiPjwvc2NyaXB0Pg==","img1":"","partenza":-62169986996,"scadenza":-62169986996,"pagine":""}]}; var now = Math.round(new Date().getTime() / 1000); var bannerok = new Object(); for (var zona in banner) { bannerok[zona] = new Array(); for (i=0; i < banner[zona].length; i++) { var ok = 1; if (banner[zona][i]['scadenza']>0 && banner[zona][i]['scadenza']<=now) ok = 0; if (banner[zona][i]['partenza']!=0 && banner[zona][i]['partenza']>now) ok = 0; if (typeof azione !== 'undefined' && azione !== null) { if (banner[zona][i]['pagine'] == '!index' && azione == 'index') ok = 0; else if (banner[zona][i]['pagine'] == 'index' && azione != 'index') ok = 0; }
if (ok == 1) bannerok[zona].push(banner[zona][i]); }
bannerok[zona].sort(function() {return 0.5 - Math.random()}); } banner = bannerok; var banner_url="https://net-storage.tcccdn.com"; var banner_path="/storage/pianetabasket.com/banner/" function asyncLoad() { if (azione == 'read' && TCCCookieConsent) { var scripts = [ "https://connect.facebook.net/it_IT/all.js#xfbml=1", ]; (function(array) { for (var i = 0, len = array.length; i < len; i++) { var elem = document.createElement('script'); elem.type="text/javascript"; elem.async = true; elem.src = array[i]; var s = document.getElementsByTagName('script')[0]; s.parentNode.insertBefore(elem, s); } })(scripts); } setTCCCookieConsent(); } if (window.addEventListener) window.addEventListener("load", asyncLoad, false); else if (window.attachEvent) window.attachEvent("onload", asyncLoad); else window.onload = asyncLoad; function resizeStickyContainers() { var stickyFill = document.getElementsByClassName('sticky-fill'); for (i = 0; i < stickyFill.length; ++i) stickyFill[i].style.height = null; for (i = 0; i < stickyFill.length; ++i) { var height = stickyFill[i].parentElement.offsetHeight-stickyFill[i].offsetTop; height = Math.max(height, stickyFill[i].offsetHeight); stickyFill[i].style.height = height+'px'; } } document.addEventListener('DOMContentLoaded', resizeStickyContainers, false); // layout_headjs function utf8_decode(e){for(var n="",r=0;r


#LIVE #LBA #Vuelle #Pesaro #EA7 #Emporio #Armani #Milano #reside #2nd #quarter