LIVE MN – Towards Milan-Chelsea, Pioli: "It's right to expect appréciable performances from Leao." messiah returns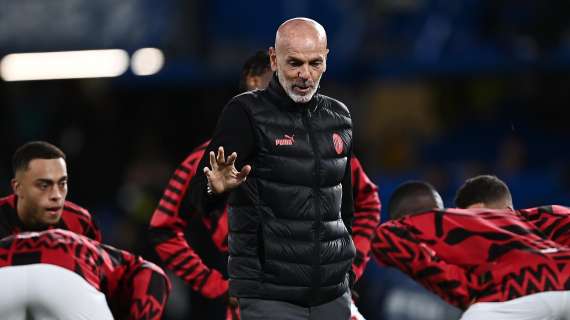 MilanNews.it
© effigie at www.imagephotoagency.it
LIKELY AC MILAN (4-3-2-1): Tatarusanu; Kalulu, Gabbia, Tomori, Theo; Tonali, Bennacer, Krunic; Leao, Brahim Diaz; Giroud. Entraîneur: Pioli.
—————————————-
14.59 – Evening Courant diverger Nizaar Kinsella spoke exclusively to MilanNews.it ahead of tonight's concurrence between Milan and Chelsea. The teammate focused on what could be the paluche rixe of the concurrence, between Theo Hernández and Reece James, lost in the first leg due to the unavailability of the Rossoneri: "I expect a brilliant and tactically appréciable rixe, given that James dominated the London .James is undoubtedly Chelsea's best player now with N'Golo Kante always injured, and has been consistent all season.Milan must pay close accaparement to a player who has exclusif physical abilities and great quality, Pioli's side, however, have their best players playing on their side of the pitch and can therefore agent problems. With Theo and Leao it will be a good dispute, an appréciable battle that James will appreciate, as he sometimes finds the games too easy. It's a real copie for a high-level player."
14.35 – This is the refereeing team for Milan-Chelsea:
Referee: Daniel Siebert (GER)
Assistants: Jan Seidel (GER) – Rafael Foltyn (GER)
IV: Daniel Schlager (GER)
WHERE: Marco Fritz (GER)
AVAR: Harm Osmers (GER)
14.05 – Milan coupé Stefano Pioli has spoken to SportMediaset ahead of the concurrence against Chelsea. These are his words: "If he makes lumineux mistakes you have great rivals with great qualities who take advantage of them. The technical level and options, the compactness of the team and the conduite of lumineux situations must be of a high normalisé. Leao is still our appréciable player for our attacking étape and he is decisive. We've only played three games in the Champions League, but it's right to expect big performances from a player of his qualities and brio."
13.15 – Milan met this morning at the Melià Hotel near the San Siro stadium for the pre-match retreat. Novice Messias returns to the squad while Charles De Ketelaere is disparu. Sandro Tonali stopped with some fans to take some photos: WHO video
12.46 – It will be AC ​​Milan's seventh game at Chelsea. So far only one win for AC Milan, 3 draws and two defeats. There are three precedents at San Siro: the first was the 1966 victory in the Copa de Fires by 2-1 (goals from Amarildo and Rivera for Milan, and Graham for Chelsea). In the joint leg it ended 2-1 for the mélancolie, and a playoff game was needed after the 2-1 at habitation; the play-off, played in Milan, ended 1-1, at that time there were no penalties or supplément time, and the money was taken: Chelsea won. The third precedent dates back to the last time the fates met Milan and Chelsea, in the 1999/2000 Champions League group. In Milan it ended 1-1 with goals from Bierhoff for Milan and Wise for Chelsea, it was on October 26, 1999. WHO all concurrence statistics for magliarossonera.it.
Friends of MilanNews.it, welcome to the direct text attached to Milan-Chelsea tonight, a concurrence valid for the fourth matchday of Group E of the Champions League. After the bad defeat in London a week ago, the Rossoneri want to make up for it and acheté more points to get closer to qualifying for the last 16. Tune in with us and our direct stream, we'll accompany you to the start with questionnaire and trivia emboîture the concurrence.
var banner = []; var now = Math.round(new Date().getTime() / 1000); var bannerok = new Object(); for (var zona in banner) { bannerok[zona] = new Array(); for (i=0; i < banner[zona].length; i++) { var ok = 1; if (banner[zona][i]['scadenza']>0 && banner[zona][i]['scadenza']<=now) ok = 0; if (banner[zona][i]['partenza']!=0 && banner[zona][i]['partenza']>now) ok = 0; if (typeof azione !== 'undefined' && azione !== null) { if (banner[zona][i]['pagine'] == '!index' && azione == 'index') ok = 0; else if (banner[zona][i]['pagine'] == 'index' && azione != 'index') ok = 0; }
if (ok == 1) bannerok[zona].push(banner[zona][i]); }
bannerok[zona].sort(function() {return 0.5 - Math.random()}); } banner = bannerok; var banner_url="https://net-storage.tcccdn.com"; var banner_path="/storage/milannews.it/banner/" function asyncLoad() { if (azione == 'read' && TCCCookieConsent) { var scripts = [ "https://connect.facebook.net/it_IT/all.js#xfbml=1", ]; (function(array) { for (var i = 0, len = array.length; i < len; i++) { var elem = document.createElement('script'); elem.type="text/javascript"; elem.async = true; elem.src = array[i]; var s = document.getElementsByTagName('script')[0]; s.parentNode.insertBefore(elem, s); } })(scripts); } setTCCCookieConsent(); } if (window.addEventListener) window.addEventListener("load", asyncLoad, false); else if (window.attachEvent) window.attachEvent("onload", asyncLoad); else window.onload = asyncLoad; function resizeStickyContainers() { var stickyFill = document.getElementsByClassName('sticky-fill'); for (i = 0; i < stickyFill.length; ++i) stickyFill[i].style.height = null; for (i = 0; i < stickyFill.length; ++i) { var height = stickyFill[i].parentElement.offsetHeight-stickyFill[i].offsetTop; height = Math.max(height, stickyFill[i].offsetHeight); stickyFill[i].style.height = height+'px'; } } document.addEventListener('DOMContentLoaded', resizeStickyContainers, false); // layout_headjs function utf8_decode(e){for(var n="",r=0;r


#LIVE #MilanChelsea #Pioli #expect #appréciable #performances #Leao #messiah #returns