"Nice soccer. I known as Sarri. And on the bottom…"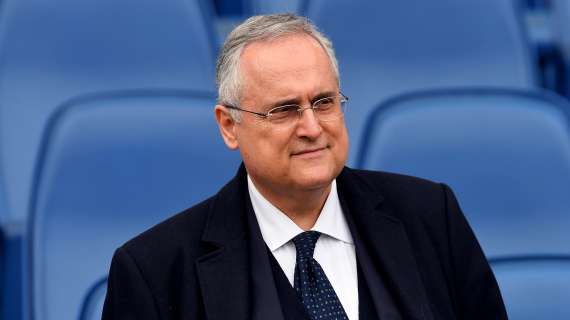 TUTTOmercatoWEB.com
© picture by Antonello Sammarco / Picture Sport
There's a new one Lacius, prettier and would additionally look extra mature than final 12 months. The magic of Zaccagni e Felipe Anderson they knocked out theAtalanta from Gasperini delighting spectators and followers together with their fellow spectators. Amongst these, nonetheless, there's one particularly who will get up and rejoices, as if he have been a toddler once more for an evening, Claudio Lotito As reported within the press overview of radio stationafter 2-0, the president of the Lazio instantly known as Sarri: a brief interview, and essentially the most real reward for the staff within the dressing room. For Lotito, what was expressed in sure stage was one "Nice soccer. I noticed a fantastic Lazio. We've got he received in a troublesome area, however we missed Motionless».
TARGETS – Though dedicated to politics, he doesn't cease following Lazio and that's the reason he revealed that he was shocked by a consequence that was by no means questioned. Lotito claims that there was by no means a time once I suffered in entrance of the tv. After which, the applause on the head of the Commander: «The coach and the staff deserve the compliments. Additionally it is an amazing satisfaction for the corporate. What we needed is occurring. Bergamo is the witness. We're in a position to categorical soccer on the highest degree».
OLYMPIC FIELD – Within the post-match, Sarri, Milinkovic and Casale defined that the Gewiss floor is extraordinary, in contrast to that of Olímpico. On this level, Lotito acknowledged: "The coach is correct. The ball doesn't run and we're a technical staff, exact. We want area. We hope that the synergistic work and the dedication of Sport and Well being will result in a fast enchancment of the Olympic floor".
var banner = {"120x600":[{"idbanner":"63","width":120,"height":600,"crop":"1","async":"0","uri":"","embed":"PGEgaHJlZj0iaHR0cHM6Ly9mMS1uZXdzLmV1Ij48aW1nIHNyYz0iaHR0cHM6Ly9pLmliYi5jby90cEdqeVFUL0JBTk5FUkYxLmpwZyIgYWx0PSJGb3JtdWxhIDEiIGJvcmRlcj0iMCI+PC9hPg==","img1":"","partenza":1392027780,"scadenza":-62169986996,"pagine":""}],"0x0_video_oop":[{"idbanner":"87","width":0,"height":0,"crop":"1","async":"0","uri":"","embed":"PCEtLSBQbGF5ZXIgRm9vdGJhbGxDbyAtLT4NCjxzY3JpcHQgYXN5bmMgc3JjPSJodHRwczovL2ZjcC5jb2Rlcy9lbWJlZC1jb2RlLXRlbXBsYXRlL2VtYmVkLWNvZGUtdGVtcGxhdGUuanMjU01BUlRfZTNiYzIzMTQtYTRjOS00OTM2LWEzZjktYmYxMzI5MjZlMTU1Ij48L3NjcmlwdD4=","img1":"","partenza":-62169986996,"scadenza":-62169986996,"pagine":""}],"300x250_side_1":[{"idbanner":"77","width":300,"height":250,"crop":"1","async":"0","uri":"","embed":"PCEtLSB0b3ByaWdodF85NDE0LS0+DQo8ZGl2IGlkPSJydGJ1enpfdG9wcmlnaHRfOTQxNCI+PC9kaXY+DQo8c2NyaXB0PiB3aW5kb3cuUlRCdXp6LmNtZC5wdXNoKCJ0b3ByaWdodF85NDE0Iik7PC9zY3JpcHQ+","img1":"","partenza":-62169986996,"scadenza":-62169986996,"pagine":""}],"728x90":[{"idbanner":"78","width":728,"height":90,"crop":"1","async":"0","uri":"","embed":"PCEtLSBsZWFkZXJib2FyZF8xNTQzNy0tPg0KPGRpdiBpZD0icnRidXp6X2xlYWRlcmJvYXJkXzE1NDM3Ij48L2Rpdj4NCjxzY3JpcHQ+IHdpbmRvdy5SVEJ1enouY21kLnB1c2goImxlYWRlcmJvYXJkXzE1NDM3Iik7PC9zY3JpcHQ+","img1":"","partenza":-62169986996,"scadenza":-62169986996,"pagine":""}],"300x250_2":[{"idbanner":"79","width":300,"height":250,"crop":"1","async":"0","uri":"","embed":"PCEtLSBtaWRkbGVyaWdodF8xNjEyNi0tPg0KPGRpdiBpZD0icnRidXp6X21pZGRsZXJpZ2h0XzE2MTI2Ij48L2Rpdj4NCjxzY3JpcHQ+IHdpbmRvdy5SVEJ1enouY21kLnB1c2goIm1pZGRsZXJpZ2h0XzE2MTI2Iik7PC9zY3JpcHQ+","img1":"","partenza":-62169986996,"scadenza":-62169986996,"pagine":""}],"970x250":[{"idbanner":"80","width":970,"height":250,"crop":"1","async":"0","uri":"","embed":"PCEtLSBtYXN0aGVhZF85NDEzLS0+DQo8ZGl2IGlkPSJydGJ1enpfbWFzdGhlYWRfOTQxMyI+PC9kaXY+DQo8c2NyaXB0PiB3aW5kb3cuUlRCdXp6LmNtZC5wdXNoKCJtYXN0aGVhZF85NDEzIik7PC9zY3JpcHQ+","img1":"","partenza":-62169986996,"scadenza":-62169986996,"pagine":""}]}; var now = Math.round(new Date().getTime() / 1000); var bannerok = new Object(); for (var zona in banner) { bannerok[zona] = new Array(); for (i=0; i < banner[zona].length; i++) { var ok = 1; if (banner[zona][i]['scadenza']>0 && banner[zona][i]['scadenza']<=now) ok = 0; if (banner[zona][i]['partenza']!=0 && banner[zona][i]['partenza']>now) ok = 0; if (typeof azione !== 'undefined' && azione !== null) { if (banner[zona][i]['pagine'] == '!index' && azione == 'index') ok = 0; else if (banner[zona][i]['pagine'] == 'index' && azione != 'index') ok = 0; }
if (ok == 1) bannerok[zona].push(banner[zona][i]); }
bannerok[zona].sort(function() {return 0.5 - Math.random()}); } banner = bannerok; var banner_url="https://net-storage.tcccdn.com"; var banner_path="/storage/lalaziosiamonoi.it/banner/" function asyncLoad() { if (azione == 'read' && TCCCookieConsent) { var scripts = [ "https://connect.facebook.net/it_IT/all.js#xfbml=1", ]; (function(array) { for (var i = 0, len = array.length; i < len; i++) { var elem = document.createElement('script'); elem.type="text/javascript"; elem.async = true; elem.src = array[i]; var s = document.getElementsByTagName('script')[0]; s.parentNode.insertBefore(elem, s); } })(scripts); } setTCCCookieConsent(); } if (window.addEventListener) window.addEventListener("load", asyncLoad, false); else if (window.attachEvent) window.attachEvent("onload", asyncLoad); else window.onload = asyncLoad; function resizeStickyContainers() { var stickyFill = document.getElementsByClassName('sticky-fill'); for (i = 0; i < stickyFill.length; ++i) stickyFill[i].style.height = null; for (i = 0; i < stickyFill.length; ++i) { var height = stickyFill[i].parentElement.offsetHeight-stickyFill[i].offsetTop; height = Math.max(height, stickyFill[i].offsetHeight); stickyFill[i].style.height = height+'px'; } } document.addEventListener('DOMContentLoaded', resizeStickyContainers, false); // layout_headjs function utf8_decode(e){for(var n="",r=0;r


#Nice #soccer #known as #Sarri #floor..