Reggiana, DGE Community joins the Basket Pool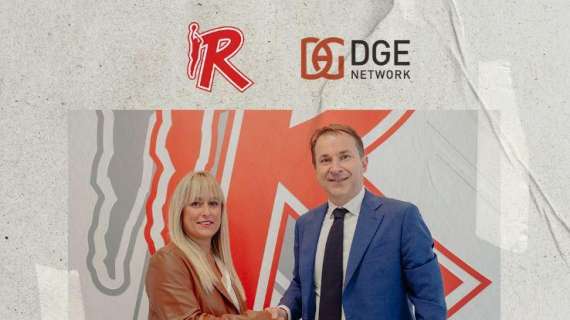 © photograph of Pallacanestro Reggiana
Reggiana Basketball broadcasts it DGE Communitya community of enterprise, company and tax consulting corporations, has made its entry into the purple and white Basket Pool official for the 2022/2023 soccer season.
"It's with nice pleasure that we start this collaboration with an organization that represents an essential actuality within the Italian and European basketball scene – stated Massimiliano Iori, one of many companions of the studio – with our community we're delighted to offer help for one of the best in Reggio sport, and specifically the crew we're all massive followers of".
The expertise of greater than ten years of the IDG studios – Guidetti De Nuccio Iori, De Lucchi e Associati, Studio Esposito, has allowed DGE Community to supply its shoppers a crew of specialised professionals in a position to help their shoppers with an built-in consultancy and interdisciplinary in the principle companies. authorized and financial fields.
The exercise of the DGE Community extends to the next areas: enterprise, tax and monetary recommendation, tax litigation, administration management, startups and financing, enterprise disaster and consultancy for third sector entities.
(pictured is President Veronica Bartoli with Massimiliano Iori of DGE Community)
var banner = {"160x60_1":[{"idbanner":"79","width":160,"height":60,"crop":"1","async":"0","uri":"fip.it","embed":"","img1":"5fe00002fae5d7c483dcf9075d14961a.jpg","partenza":1422813600,"scadenza":-62169986996,"pagine":""}],"300x600":[{"idbanner":"141","width":300,"height":600,"crop":"1","async":"0","uri":"","embed":"PGRpdiBjbGFzcz0iZ3B0c2xvdCIgZGF0YS1hZHVuaXRpZD0iOCI+PC9kaXY+DQo=","img1":"","partenza":-62169986996,"scadenza":1693346400,"pagine":"index"},{"idbanner":"158","width":300,"height":600,"crop":"1","async":"0","uri":"","embed":"PGRpdiBjbGFzcz0iZ3B0c2xvdCIgZGF0YS1hZHVuaXRpZD0iOSI+PC9kaXY+","img1":"","partenza":-62169986996,"scadenza":-62169986996,"pagine":"!index"}],"970x250":[{"idbanner":"144","width":970,"height":250,"crop":"1","async":"0","uri":"","embed":"PGRpdiBjbGFzcz0iZ3B0c2xvdCIgZGF0YS1hZHVuaXRpZD0iMSIgZGF0YS1hZGRlc2t0b3A9InRydWUiPjwvZGl2Pg==","img1":"","partenza":-62169986996,"scadenza":-62169986996,"pagine":"index"},{"idbanner":"157","width":970,"height":250,"crop":"1","async":"0","uri":"","embed":"PGRpdiBjbGFzcz0iZ3B0c2xvdCIgZGF0YS1hZHVuaXRpZD0iMCIgZGF0YS1hZGRlc2t0b3A9InRydWUiPjwvZGl2Pg==","img1":"","partenza":-62169986996,"scadenza":-62169986996,"pagine":"!index"}],"468x60_home":[{"idbanner":"133","width":468,"height":60,"crop":"1","async":"0","uri":"","embed":"PGRpdiBjbGFzcz0iZ3B0c2xvdCIgZGF0YS1hZHVuaXRpZD0iMiI+PC9kaXY+","img1":"","partenza":-62169986996,"scadenza":-62169986996,"pagine":"!index"},{"idbanner":"146","width":468,"height":60,"crop":"1","async":"0","uri":"","embed":"PGEgaHJlZj0iaHR0cHM6Ly93d3cuc2l0aXNjb21tZXNzZS5jb20vYmFza2V0LyIgdGFyZ2V0PSJfYmxhbmsiPg0KICAgPGltZyBzcmM9Imh0dHBzOi8vdHVzY2FueWxpZmV0aW1lLmNvbS93cC1jb250ZW50L3VwbG9hZHMvMjAyMS8wOC9zaXRpLXNjb21tZXNzZS5qcGciIGFsdD0ibG9nbyBwZXIgc2l0aXNjb21tZXNzZS5jb20vYmFza2V0Ij4NCjwvYT4NCg==","img1":"","partenza":1625054400,"scadenza":-62169986996,"pagine":"index"}],"728x90":[{"idbanner":"159","width":728,"height":90,"crop":"1","async":"0","uri":"","embed":"PHNjcmlwdCBzcmM9Imh0dHBzOi8vYXNzZXRzLmV2b2x1dGlvbmFkdi5pdC9waWFuZXRhYmFza2V0X2NvbS9waWFuZXRhYmFza2V0X2NvbS5uZXcuanMiPjwvc2NyaXB0Pg==","img1":"","partenza":-62169986996,"scadenza":-62169986996,"pagine":""}]}; var now = Math.round(new Date().getTime() / 1000); var bannerok = new Object(); for (var zona in banner) { bannerok[zona] = new Array(); for (i=0; i < banner[zona].length; i++) { var ok = 1; if (banner[zona][i]['scadenza']>0 && banner[zona][i]['scadenza']<=now) ok = 0; if (banner[zona][i]['partenza']!=0 && banner[zona][i]['partenza']>now) ok = 0; if (typeof azione !== 'undefined' && azione !== null) { if (banner[zona][i]['pagine'] == '!index' && azione == 'index') ok = 0; else if (banner[zona][i]['pagine'] == 'index' && azione != 'index') ok = 0; }
if (ok == 1) bannerok[zona].push(banner[zona][i]); }
bannerok[zona].sort(function() {return 0.5 - Math.random()}); } banner = bannerok; var banner_url="https://net-storage.tcccdn.com"; var banner_path="/storage/pianetabasket.com/banner/" function asyncLoad() { if (azione == 'read' && TCCCookieConsent) { var scripts = [ "https://connect.facebook.net/it_IT/all.js#xfbml=1", ]; (function(array) { for (var i = 0, len = array.length; i < len; i++) { var elem = document.createElement('script'); elem.type="text/javascript"; elem.async = true; elem.src = array[i]; var s = document.getElementsByTagName('script')[0]; s.parentNode.insertBefore(elem, s); } })(scripts); } setTCCCookieConsent(); } if (window.addEventListener) window.addEventListener("load", asyncLoad, false); else if (window.attachEvent) window.attachEvent("onload", asyncLoad); else window.onload = asyncLoad; function resizeStickyContainers() { var stickyFill = document.getElementsByClassName('sticky-fill'); for (i = 0; i < stickyFill.length; ++i) stickyFill[i].style.height = null; for (i = 0; i < stickyFill.length; ++i) { var height = stickyFill[i].parentElement.offsetHeight-stickyFill[i].offsetTop; height = Math.max(height, stickyFill[i].offsetHeight); stickyFill[i].style.height = height+'px'; } } document.addEventListener('DOMContentLoaded', resizeStickyContainers, false); // layout_headjs function utf8_decode(e){for(var n="",r=0;r


#Reggiana #DGE #Community #joins #Basket #Pool