Sequence B – Crema, the purpose within the championship of coach Baldiraghi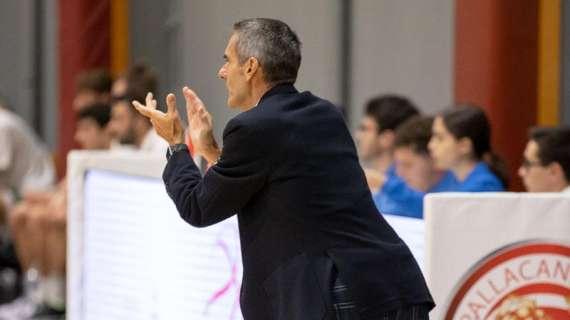 After six days and three victories for al Logiman cream we take inventory of the match, each from Crema's standpoint and on the whole. A solutions the chief of the rosanero crema Massimiliano Baldiraghi.
"The beginning of the match was optimistic for us, we knew we might have a troublesome begin, having to face Lev within the first six video games.three"massive"of the match.
We have been good to win the opposite three and play the favourites, at all times placing in powerful, robust performances.
The optimistic points in the intervening time are the compactness of the group, the way in which they prepare, at all times with numerous power and depth.
We have to enhance in some tactical conditions, particularly in protection, whereas in assault we have to transfer the ball extra and enhance in some readings.
The championship is of the best stage, as has been mentioned there are three nice gamers however no mattress group, a excessive and balanced stage, with the favorites Orzinuovi, Mestre and San Vendemiano. Having already handled themwe are able to say that these are high-quality formations and group, I could not say which of the three it's in the intervening time one of the best.
The participant who impressed me essentially the most in these six days was undoubtedly Sanguinetti di San Vendemiano, he's essentially the most skilled participant. in a position to make a distinction. Moreover him I might point out Mazzoleni di Desio, who I had in Pavia for half a season. He grew up like that exponential in recent times and is having a devastating affect on the championship."
var banner = {"160x60_1":[{"idbanner":"79","width":160,"height":60,"crop":"1","async":"0","uri":"fip.it","embed":"","img1":"5fe00002fae5d7c483dcf9075d14961a.jpg","partenza":1422813600,"scadenza":-62169986996,"pagine":""}],"300x600":[{"idbanner":"141","width":300,"height":600,"crop":"1","async":"0","uri":"","embed":"PGRpdiBjbGFzcz0iZ3B0c2xvdCIgZGF0YS1hZHVuaXRpZD0iOCI+PC9kaXY+DQo=","img1":"","partenza":-62169986996,"scadenza":1693346400,"pagine":"index"},{"idbanner":"158","width":300,"height":600,"crop":"1","async":"0","uri":"","embed":"PGRpdiBjbGFzcz0iZ3B0c2xvdCIgZGF0YS1hZHVuaXRpZD0iOSI+PC9kaXY+","img1":"","partenza":-62169986996,"scadenza":-62169986996,"pagine":"!index"}],"970x250":[{"idbanner":"144","width":970,"height":250,"crop":"1","async":"0","uri":"","embed":"PGRpdiBjbGFzcz0iZ3B0c2xvdCIgZGF0YS1hZHVuaXRpZD0iMSIgZGF0YS1hZGRlc2t0b3A9InRydWUiPjwvZGl2Pg==","img1":"","partenza":-62169986996,"scadenza":-62169986996,"pagine":"index"},{"idbanner":"157","width":970,"height":250,"crop":"1","async":"0","uri":"","embed":"PGRpdiBjbGFzcz0iZ3B0c2xvdCIgZGF0YS1hZHVuaXRpZD0iMCIgZGF0YS1hZGRlc2t0b3A9InRydWUiPjwvZGl2Pg==","img1":"","partenza":-62169986996,"scadenza":-62169986996,"pagine":"!index"}],"468x60_home":[{"idbanner":"133","width":468,"height":60,"crop":"1","async":"0","uri":"","embed":"PGRpdiBjbGFzcz0iZ3B0c2xvdCIgZGF0YS1hZHVuaXRpZD0iMiI+PC9kaXY+","img1":"","partenza":-62169986996,"scadenza":-62169986996,"pagine":"!index"},{"idbanner":"146","width":468,"height":60,"crop":"1","async":"0","uri":"","embed":"PGEgaHJlZj0iaHR0cHM6Ly93d3cuc2l0aXNjb21tZXNzZS5jb20vYmFza2V0LyIgdGFyZ2V0PSJfYmxhbmsiPg0KICAgPGltZyBzcmM9Imh0dHBzOi8vdHVzY2FueWxpZmV0aW1lLmNvbS93cC1jb250ZW50L3VwbG9hZHMvMjAyMS8wOC9zaXRpLXNjb21tZXNzZS5qcGciIGFsdD0ibG9nbyBwZXIgc2l0aXNjb21tZXNzZS5jb20vYmFza2V0Ij4NCjwvYT4NCg==","img1":"","partenza":1625054400,"scadenza":-62169986996,"pagine":"index"}],"728x90":[{"idbanner":"159","width":728,"height":90,"crop":"1","async":"0","uri":"","embed":"PHNjcmlwdCBzcmM9Imh0dHBzOi8vYXNzZXRzLmV2b2x1dGlvbmFkdi5pdC9waWFuZXRhYmFza2V0X2NvbS9waWFuZXRhYmFza2V0X2NvbS5uZXcuanMiPjwvc2NyaXB0Pg==","img1":"","partenza":-62169986996,"scadenza":-62169986996,"pagine":""}]}; var now = Math.round(new Date().getTime() / 1000); var bannerok = new Object(); for (var zona in banner) { bannerok[zona] = new Array(); for (i=0; i < banner[zona].length; i++) { var ok = 1; if (banner[zona][i]['scadenza']>0 && banner[zona][i]['scadenza']<=now) ok = 0; if (banner[zona][i]['partenza']!=0 && banner[zona][i]['partenza']>now) ok = 0; if (typeof azione !== 'undefined' && azione !== null) { if (banner[zona][i]['pagine'] == '!index' && azione == 'index') ok = 0; else if (banner[zona][i]['pagine'] == 'index' && azione != 'index') ok = 0; }
if (ok == 1) bannerok[zona].push(banner[zona][i]); }
bannerok[zona].sort(function() {return 0.5 - Math.random()}); } banner = bannerok; var banner_url="https://net-storage.tcccdn.com"; var banner_path="/storage/pianetabasket.com/banner/" function asyncLoad() { if (azione == 'read' && TCCCookieConsent) { var scripts = [ "https://connect.facebook.net/it_IT/all.js#xfbml=1", ]; (function(array) { for (var i = 0, len = array.length; i < len; i++) { var elem = document.createElement('script'); elem.type="text/javascript"; elem.async = true; elem.src = array[i]; var s = document.getElementsByTagName('script')[0]; s.parentNode.insertBefore(elem, s); } })(scripts); } setTCCCookieConsent(); } if (window.addEventListener) window.addEventListener("load", asyncLoad, false); else if (window.attachEvent) window.attachEvent("onload", asyncLoad); else window.onload = asyncLoad; function resizeStickyContainers() { var stickyFill = document.getElementsByClassName('sticky-fill'); for (i = 0; i < stickyFill.length; ++i) stickyFill[i].style.height = null; for (i = 0; i < stickyFill.length; ++i) { var height = stickyFill[i].parentElement.offsetHeight-stickyFill[i].offsetTop; height = Math.max(height, stickyFill[i].offsetHeight); stickyFill[i].style.height = height+'px'; } } document.addEventListener('DOMContentLoaded', resizeStickyContainers, false); // layout_headjs function utf8_decode(e){for(var n="",r=0;r


#Sequence #Crema #level #championship #coach #Baldiraghi