Serie B – Etrusca S. Miniato begins sturdy after which concedes to Virtus Imola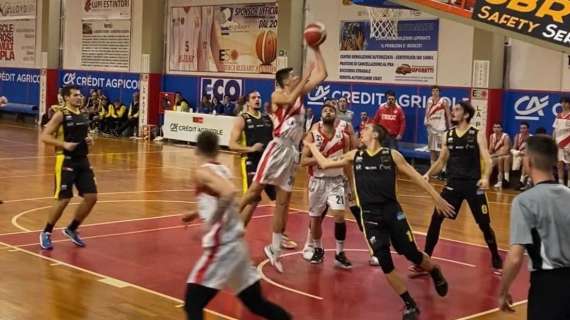 On this sixth day of the championship, Etruscan began strongly however failed to keep up the well-deserved benefit achieved within the first two quarters.
A begin on the "proper foot", the truth is, sees Etruscan within the lead from the primary minutes with good constructed baskets and a great aggressive protection. A conquered benefit that's maintained all through the second half the place baskets by Venturoli and Guglielmi give +10 to the Etruscans. Coach Regazzi is pressured to ask for a time-out however the Etruscans don't break and led by captain Capozio who indicators two vital consecutive bombs, prevails with the utmost benefit (37-22).
Virtus Imola attempt to get well however Rocca's boys keep stable and ship the race into an extended break with a 42-31 lead.
Again within the locker room, Imola begins sturdy, taking a partial lead of seven to 2. Coach Marchini calls a time-out to shake up his crew, who, nevertheless, loosens the defensive aggression by making the rivals come again. At 5′ from the top it's 47 tied.
The Etruscan is there and makes itself felt: because of Venturoli's baskets (prime scorer of the sport with 22 factors) and Spatti the truth is has a brand new white-and-red benefit. Imola, nevertheless, doesn't quit and simply returns to -2.
A push and pull last quarter sees leads and recoveries. At 2′ from the top Imola superior 4 lengths however an vital basket from Spatti and a couple of frees from Venturoli introduced the match again to good equality. 1′ left and the Gialloneri are extra cynical and break the 2 factors on the Fontevivo parquet.
Will probably be important to restart and never disengage within the face of the tough dedication subsequent week within the area of Ancona.
Coach Marchini: "There's disappointment with this defeat, it was an vital match for the classification however above all to know what we wish to be. We knew the place we needed to battle in opposition to the opponent however defensively we could not do it. Our defensive efficiency was poor, I anticipated extra from the crew, I did not see the progress I believed I used to be seeing!"
La Patrie San Miniato – Virtus Imola 72-75 (19-14, 23-17, 16-25, 14-19)
The Patrie San Miniato: Venturoli 22, Spatti 9, Bellachioma 9, Capozio 8, Guglielmi 8, Tozzi 7, Ohenhen 6, Cipriani 3, Quartuccio, Iacopini NE, Cautiero NE, Bellavia NE. all manufacturers; Asst. Guidelines and Latins
Virtus Imola: Mladenov 16, Galassi 13, Aglio 13, Magagnoli 12, Morara 11, Milovanovic 6, Carta 4, Soliani, Dalpozzo, Neri, Pellegrini. Regazzi herds; Ace Zappi and Zotti.
var banner = {"160x60_1":[{"idbanner":"79","width":160,"height":60,"crop":"1","async":"0","uri":"fip.it","embed":"","img1":"5fe00002fae5d7c483dcf9075d14961a.jpg","partenza":1422813600,"scadenza":-62169986996,"pagine":""}],"300x600":[{"idbanner":"141","width":300,"height":600,"crop":"1","async":"0","uri":"","embed":"PGRpdiBjbGFzcz0iZ3B0c2xvdCIgZGF0YS1hZHVuaXRpZD0iOCI+PC9kaXY+DQo=","img1":"","partenza":-62169986996,"scadenza":1693346400,"pagine":"index"},{"idbanner":"158","width":300,"height":600,"crop":"1","async":"0","uri":"","embed":"PGRpdiBjbGFzcz0iZ3B0c2xvdCIgZGF0YS1hZHVuaXRpZD0iOSI+PC9kaXY+","img1":"","partenza":-62169986996,"scadenza":-62169986996,"pagine":"!index"}],"970x250":[{"idbanner":"144","width":970,"height":250,"crop":"1","async":"0","uri":"","embed":"PGRpdiBjbGFzcz0iZ3B0c2xvdCIgZGF0YS1hZHVuaXRpZD0iMSIgZGF0YS1hZGRlc2t0b3A9InRydWUiPjwvZGl2Pg==","img1":"","partenza":-62169986996,"scadenza":-62169986996,"pagine":"index"},{"idbanner":"157","width":970,"height":250,"crop":"1","async":"0","uri":"","embed":"PGRpdiBjbGFzcz0iZ3B0c2xvdCIgZGF0YS1hZHVuaXRpZD0iMCIgZGF0YS1hZGRlc2t0b3A9InRydWUiPjwvZGl2Pg==","img1":"","partenza":-62169986996,"scadenza":-62169986996,"pagine":"!index"}],"468x60_home":[{"idbanner":"133","width":468,"height":60,"crop":"1","async":"0","uri":"","embed":"PGRpdiBjbGFzcz0iZ3B0c2xvdCIgZGF0YS1hZHVuaXRpZD0iMiI+PC9kaXY+","img1":"","partenza":-62169986996,"scadenza":-62169986996,"pagine":"!index"},{"idbanner":"146","width":468,"height":60,"crop":"1","async":"0","uri":"","embed":"PGEgaHJlZj0iaHR0cHM6Ly93d3cuc2l0aXNjb21tZXNzZS5jb20vYmFza2V0LyIgdGFyZ2V0PSJfYmxhbmsiPg0KICAgPGltZyBzcmM9Imh0dHBzOi8vdHVzY2FueWxpZmV0aW1lLmNvbS93cC1jb250ZW50L3VwbG9hZHMvMjAyMS8wOC9zaXRpLXNjb21tZXNzZS5qcGciIGFsdD0ibG9nbyBwZXIgc2l0aXNjb21tZXNzZS5jb20vYmFza2V0Ij4NCjwvYT4NCg==","img1":"","partenza":1625054400,"scadenza":-62169986996,"pagine":"index"}],"728x90":[{"idbanner":"159","width":728,"height":90,"crop":"1","async":"0","uri":"","embed":"PHNjcmlwdCBzcmM9Imh0dHBzOi8vYXNzZXRzLmV2b2x1dGlvbmFkdi5pdC9waWFuZXRhYmFza2V0X2NvbS9waWFuZXRhYmFza2V0X2NvbS5uZXcuanMiPjwvc2NyaXB0Pg==","img1":"","partenza":-62169986996,"scadenza":-62169986996,"pagine":""}]}; var now = Math.round(new Date().getTime() / 1000); var bannerok = new Object(); for (var zona in banner) { bannerok[zona] = new Array(); for (i=0; i < banner[zona].length; i++) { var ok = 1; if (banner[zona][i]['scadenza']>0 && banner[zona][i]['scadenza']<=now) ok = 0; if (banner[zona][i]['partenza']!=0 && banner[zona][i]['partenza']>now) ok = 0; if (typeof azione !== 'undefined' && azione !== null) { if (banner[zona][i]['pagine'] == '!index' && azione == 'index') ok = 0; else if (banner[zona][i]['pagine'] == 'index' && azione != 'index') ok = 0; }
if (ok == 1) bannerok[zona].push(banner[zona][i]); }
bannerok[zona].sort(function() {return 0.5 - Math.random()}); } banner = bannerok; var banner_url="https://net-storage.tcccdn.com"; var banner_path="/storage/pianetabasket.com/banner/" function asyncLoad() { if (azione == 'read' && TCCCookieConsent) { var scripts = [ "https://connect.facebook.net/it_IT/all.js#xfbml=1", ]; (function(array) { for (var i = 0, len = array.length; i < len; i++) { var elem = document.createElement('script'); elem.type="text/javascript"; elem.async = true; elem.src = array[i]; var s = document.getElementsByTagName('script')[0]; s.parentNode.insertBefore(elem, s); } })(scripts); } setTCCCookieConsent(); } if (window.addEventListener) window.addEventListener("load", asyncLoad, false); else if (window.attachEvent) window.attachEvent("onload", asyncLoad); else window.onload = asyncLoad; function resizeStickyContainers() { var stickyFill = document.getElementsByClassName('sticky-fill'); for (i = 0; i < stickyFill.length; ++i) stickyFill[i].style.height = null; for (i = 0; i < stickyFill.length; ++i) { var height = stickyFill[i].parentElement.offsetHeight-stickyFill[i].offsetTop; height = Math.max(height, stickyFill[i].offsetHeight); stickyFill[i].style.height = height+'px'; } } document.addEventListener('DOMContentLoaded', resizeStickyContainers, false); // layout_headjs function utf8_decode(e){for(var n="",r=0;r


#Serie #Etrusca #Miniato #begins #sturdy #concedes #Virtus #Imola