Serie B – Etruscan S. Miniato beats Jesi after further time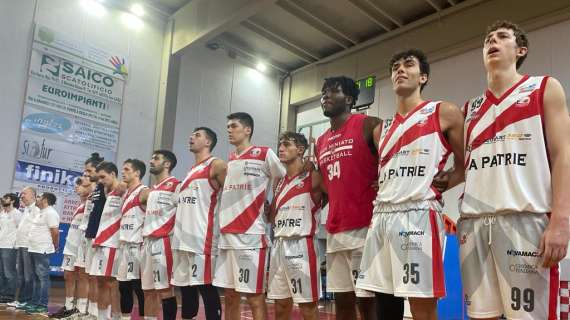 A photograph-finish victory however effectively deserved given the 43′ wherein the Etruscan stayed forward! A victory that helps morale and compensates for the week's work.
Nice begin for coach Marchini's boys who put a partial 12 to 2 within the first 4 minutes of the sport however fail to keep up the momentum with Jesi going again to -1 at 14-13 slightly too carelessly, slightly too as a result of he was penalized for too many whistled fouls (in the midst of the fraction it's already a bonus for the friends and after 20′ there are 23 free kicks launched by Jesi). Captain Capozio holds up and boosts the workforce's morale. It's then a bomb from Guglielmi to shut the primary fraction 26-20.
Within the second quarter the purple and whites tighten their defensive shirts leaving solely 15 factors to the Marches and Guglielmi's bomb on the finish sends each groups to an extended break at 45-35.
Getting back from the locker room, San Miniato will get the utmost benefit with +12 however cannot get away from their opponents. If on the one hand it's Tozzi who's the protagonist, on the opposite it's Marulli who presents himself because the protagonist. After 30′ Etruscan wins 65-54 however the recreation is way from over.
It is the final 5 minutes of the quarter-finals to be deadly within the Etruscan with Jesi who with a partial 10-4 completed with the penetration of Merletto reaches the boys of Marchini in 76 in whole. Denied a timeout for the house workforce, Tozzi's shot with 5″ on the clock misses the basket.
When inertia appears to be on the facet of the friends, San Miniato unleashes a interval of nice vitality and wins two factors as vital and deserved. The following delicate match on the Fiorenzuola area is Sunday, October 23.
Coach Marchini: "I knew it will be a tough recreation due to the standard of the opponent, in reality we needed to beat them 3 or 4 instances, however they positively deserved it. It is the fitting reward for the work the workforce is doing through the week and I feel it is vital for the conceit of a younger group like ours. Within the subsequent two video games away from house it is going to be important to begin once more with what we did at present, making an attempt to take away a little bit of naivety."
La Patrie San Miniato – Normal contractor Jesi 86-83 (d1ts) (26-20, 19-15, 20-19, 11-22, 10-7)
El Patrie San Miniato: Bellavia NE, Guglielmi 9, Spatti 12, Cipriani 6, Iacopini NE, Bellachioma 8, Quartuccio 3, Capozio 7, Venturoli 12, Ohenhen 10, Cautiero, Tozzi 19. All. manufacturers; Vice-rules and Latins.
Normal contractor Jesi: Marulli 21, Merletto 20, Ferraro 15, Filippini 14, Cicconi massi 7, Rocchi 4, Patrick Gatti 2, Valentini, Ginesi NE, Vita NE. Ghizzinardi herds; Deputy Francioni and Vitelli
var banner = {"160x60_1":[{"idbanner":"79","width":160,"height":60,"crop":"1","async":"0","uri":"fip.it","embed":"","img1":"5fe00002fae5d7c483dcf9075d14961a.jpg","partenza":1422813600,"scadenza":-62169986996,"pagine":""}],"300x600":[{"idbanner":"141","width":300,"height":600,"crop":"1","async":"0","uri":"","embed":"PGRpdiBjbGFzcz0iZ3B0c2xvdCIgZGF0YS1hZHVuaXRpZD0iOCI+PC9kaXY+DQo=","img1":"","partenza":-62169986996,"scadenza":1693346400,"pagine":"index"},{"idbanner":"158","width":300,"height":600,"crop":"1","async":"0","uri":"","embed":"PGRpdiBjbGFzcz0iZ3B0c2xvdCIgZGF0YS1hZHVuaXRpZD0iOSI+PC9kaXY+","img1":"","partenza":-62169986996,"scadenza":-62169986996,"pagine":"!index"}],"970x250":[{"idbanner":"144","width":970,"height":250,"crop":"1","async":"0","uri":"","embed":"PGRpdiBjbGFzcz0iZ3B0c2xvdCIgZGF0YS1hZHVuaXRpZD0iMSIgZGF0YS1hZGRlc2t0b3A9InRydWUiPjwvZGl2Pg==","img1":"","partenza":-62169986996,"scadenza":-62169986996,"pagine":"index"},{"idbanner":"157","width":970,"height":250,"crop":"1","async":"0","uri":"","embed":"PGRpdiBjbGFzcz0iZ3B0c2xvdCIgZGF0YS1hZHVuaXRpZD0iMCIgZGF0YS1hZGRlc2t0b3A9InRydWUiPjwvZGl2Pg==","img1":"","partenza":-62169986996,"scadenza":-62169986996,"pagine":"!index"}],"468x60_home":[{"idbanner":"133","width":468,"height":60,"crop":"1","async":"0","uri":"","embed":"PGRpdiBjbGFzcz0iZ3B0c2xvdCIgZGF0YS1hZHVuaXRpZD0iMiI+PC9kaXY+","img1":"","partenza":-62169986996,"scadenza":-62169986996,"pagine":"!index"},{"idbanner":"146","width":468,"height":60,"crop":"1","async":"0","uri":"","embed":"PGEgaHJlZj0iaHR0cHM6Ly93d3cuc2l0aXNjb21tZXNzZS5jb20vYmFza2V0LyIgdGFyZ2V0PSJfYmxhbmsiPg0KICAgPGltZyBzcmM9Imh0dHBzOi8vdHVzY2FueWxpZmV0aW1lLmNvbS93cC1jb250ZW50L3VwbG9hZHMvMjAyMS8wOC9zaXRpLXNjb21tZXNzZS5qcGciIGFsdD0ibG9nbyBwZXIgc2l0aXNjb21tZXNzZS5jb20vYmFza2V0Ij4NCjwvYT4NCg==","img1":"","partenza":1625054400,"scadenza":-62169986996,"pagine":"index"}],"728x90":[{"idbanner":"159","width":728,"height":90,"crop":"1","async":"0","uri":"","embed":"PHNjcmlwdCBzcmM9Imh0dHBzOi8vYXNzZXRzLmV2b2x1dGlvbmFkdi5pdC9waWFuZXRhYmFza2V0X2NvbS9waWFuZXRhYmFza2V0X2NvbS5uZXcuanMiPjwvc2NyaXB0Pg==","img1":"","partenza":-62169986996,"scadenza":-62169986996,"pagine":""}]}; var now = Math.round(new Date().getTime() / 1000); var bannerok = new Object(); for (var zona in banner) { bannerok[zona] = new Array(); for (i=0; i < banner[zona].length; i++) { var ok = 1; if (banner[zona][i]['scadenza']>0 && banner[zona][i]['scadenza']<=now) ok = 0; if (banner[zona][i]['partenza']!=0 && banner[zona][i]['partenza']>now) ok = 0; if (typeof azione !== 'undefined' && azione !== null) { if (banner[zona][i]['pagine'] == '!index' && azione == 'index') ok = 0; else if (banner[zona][i]['pagine'] == 'index' && azione != 'index') ok = 0; }
if (ok == 1) bannerok[zona].push(banner[zona][i]); }
bannerok[zona].sort(function() {return 0.5 - Math.random()}); } banner = bannerok; var banner_url="https://net-storage.tcccdn.com"; var banner_path="/storage/pianetabasket.com/banner/" function asyncLoad() { if (azione == 'read' && TCCCookieConsent) { var scripts = [ "https://connect.facebook.net/it_IT/all.js#xfbml=1", ]; (function(array) { for (var i = 0, len = array.length; i < len; i++) { var elem = document.createElement('script'); elem.type="text/javascript"; elem.async = true; elem.src = array[i]; var s = document.getElementsByTagName('script')[0]; s.parentNode.insertBefore(elem, s); } })(scripts); } setTCCCookieConsent(); } if (window.addEventListener) window.addEventListener("load", asyncLoad, false); else if (window.attachEvent) window.attachEvent("onload", asyncLoad); else window.onload = asyncLoad; function resizeStickyContainers() { var stickyFill = document.getElementsByClassName('sticky-fill'); for (i = 0; i < stickyFill.length; ++i) stickyFill[i].style.height = null; for (i = 0; i < stickyFill.length; ++i) { var height = stickyFill[i].parentElement.offsetHeight-stickyFill[i].offsetTop; height = Math.max(height, stickyFill[i].offsetHeight); stickyFill[i].style.height = height+'px'; } } document.addEventListener('DOMContentLoaded', resizeStickyContainers, false); // layout_headjs function utf8_decode(e){for(var n="",r=0;r


#Serie #Etruscan #Miniato #beats #Jesi #further #time