Serie B – Faenza Blacks win derby with Tigers Romagna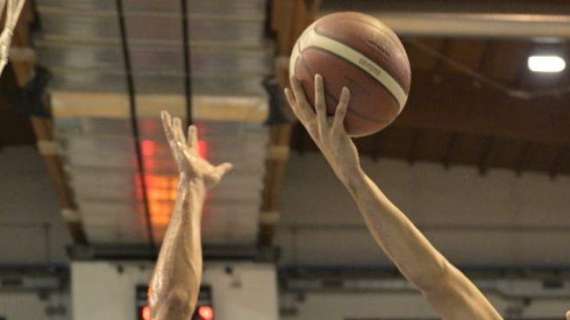 The Blacks win the derby with Tigers Romagna and stay in second place within the standings together with solely Florence, simply two factors behind leaders Rieti. A golden success that got here on the finish of a recreation that was at all times in command even if the Cervians have been good at by no means giving up. Spotlight the Serie B debut of Belmonte and the doorway to the sphere within the remaining of Ragazzini (who touched the basket twice), whereas Nkot Nkot didn't enter on account of a bodily downside.
The Raggisolaris instantly attacked the sport, making Tigers Romagna troublesome due to their protection and penetrating assault. The 16-4 lead quickly turned 23-8 and Molinaro was the large star, scoring 13 factors within the first quarter alone. The inertia of the match doesn't change, however the one distinction with the primary interval is the protagonists. On this event it's Aromando and Voltolini who lead the assault and on the break the benefit of the Faentini is an eloquent 44-29.
When he returned to the sphere, Faenza made it 49-31 with a three-pointer from Voltolini, then there was a decline that was extra psychological than technical and the Tigers of Rome took benefit of it. The hole narrows to 49-54 forcing Garelli to name a timeout which is greater than exhilarating. Instantly comes a fast response and a 25-4 break that closes the accounts. The three-pointers are important: Pastore's 57-49 and Vico's scored a second from the top of 24" with the assistance of the 'desk' (60-49). A basket that represents the blow of elimination for the younger Tigers and actually shortly after the Blacks leap to 79-53, making the final a part of the race downhill.
Blacks Faenza 83 – Tigers Romagna 58 (23-11; 44-29; 62-49)
BLACKS FAENZA: Bandini 2, Siberna 1, Vico 8, Poggi G. 10, Voltolini 20, Molinaro 13, Petrucci 4, Aromando 20, Ragazzini, Pastore 5, Belmonte Nkot Nkot ne. Coach: Garelli.
TIGERS ROMAGNA: Brighi 14, Lovisotto 15, Frigoli, Stella ne, Favaretto, Veronesi, Pierucci, Bracci 6, Poggi F., Chiapparini, Rossi, Tomcic 8. All .: Conti
Referees: Occhiuzzi – Bragagnolo
notes Capturing from 2: FA: 21/41, CE: 22/46; 3-point taking pictures: FA: 7/12, CE: 4/15; Free throws: FA: 20/24, CE: 2/5; Complete rebounds: FA: 31, CE: 22.
Sanctioned for fouls: Lovisotto
var banner = {"160x60_1":[{"idbanner":"79","width":160,"height":60,"crop":"1","async":"0","uri":"fip.it","embed":"","img1":"5fe00002fae5d7c483dcf9075d14961a.jpg","partenza":1422813600,"scadenza":-62169986996,"pagine":""}],"300x600":[{"idbanner":"141","width":300,"height":600,"crop":"1","async":"0","uri":"","embed":"PGRpdiBjbGFzcz0iZ3B0c2xvdCIgZGF0YS1hZHVuaXRpZD0iOCI+PC9kaXY+DQo=","img1":"","partenza":-62169986996,"scadenza":1693346400,"pagine":"index"},{"idbanner":"158","width":300,"height":600,"crop":"1","async":"0","uri":"","embed":"PGRpdiBjbGFzcz0iZ3B0c2xvdCIgZGF0YS1hZHVuaXRpZD0iOSI+PC9kaXY+","img1":"","partenza":-62169986996,"scadenza":-62169986996,"pagine":"!index"}],"970x250":[{"idbanner":"144","width":970,"height":250,"crop":"1","async":"0","uri":"","embed":"PGRpdiBjbGFzcz0iZ3B0c2xvdCIgZGF0YS1hZHVuaXRpZD0iMSIgZGF0YS1hZGRlc2t0b3A9InRydWUiPjwvZGl2Pg==","img1":"","partenza":-62169986996,"scadenza":-62169986996,"pagine":"index"},{"idbanner":"157","width":970,"height":250,"crop":"1","async":"0","uri":"","embed":"PGRpdiBjbGFzcz0iZ3B0c2xvdCIgZGF0YS1hZHVuaXRpZD0iMCIgZGF0YS1hZGRlc2t0b3A9InRydWUiPjwvZGl2Pg==","img1":"","partenza":-62169986996,"scadenza":-62169986996,"pagine":"!index"}],"468x60_home":[{"idbanner":"133","width":468,"height":60,"crop":"1","async":"0","uri":"","embed":"PGRpdiBjbGFzcz0iZ3B0c2xvdCIgZGF0YS1hZHVuaXRpZD0iMiI+PC9kaXY+","img1":"","partenza":-62169986996,"scadenza":-62169986996,"pagine":"!index"},{"idbanner":"146","width":468,"height":60,"crop":"1","async":"0","uri":"","embed":"PGEgaHJlZj0iaHR0cHM6Ly93d3cuc2l0aXNjb21tZXNzZS5jb20vYmFza2V0LyIgdGFyZ2V0PSJfYmxhbmsiPg0KICAgPGltZyBzcmM9Imh0dHBzOi8vdHVzY2FueWxpZmV0aW1lLmNvbS93cC1jb250ZW50L3VwbG9hZHMvMjAyMS8wOC9zaXRpLXNjb21tZXNzZS5qcGciIGFsdD0ibG9nbyBwZXIgc2l0aXNjb21tZXNzZS5jb20vYmFza2V0Ij4NCjwvYT4NCg==","img1":"","partenza":1625054400,"scadenza":-62169986996,"pagine":"index"}],"728x90":[{"idbanner":"159","width":728,"height":90,"crop":"1","async":"0","uri":"","embed":"PHNjcmlwdCBzcmM9Imh0dHBzOi8vYXNzZXRzLmV2b2x1dGlvbmFkdi5pdC9waWFuZXRhYmFza2V0X2NvbS9waWFuZXRhYmFza2V0X2NvbS5uZXcuanMiPjwvc2NyaXB0Pg==","img1":"","partenza":-62169986996,"scadenza":-62169986996,"pagine":""}]}; var now = Math.round(new Date().getTime() / 1000); var bannerok = new Object(); for (var zona in banner) { bannerok[zona] = new Array(); for (i=0; i < banner[zona].length; i++) { var ok = 1; if (banner[zona][i]['scadenza']>0 && banner[zona][i]['scadenza']<=now) ok = 0; if (banner[zona][i]['partenza']!=0 && banner[zona][i]['partenza']>now) ok = 0; if (typeof azione !== 'undefined' && azione !== null) { if (banner[zona][i]['pagine'] == '!index' && azione == 'index') ok = 0; else if (banner[zona][i]['pagine'] == 'index' && azione != 'index') ok = 0; }
if (ok == 1) bannerok[zona].push(banner[zona][i]); }
bannerok[zona].sort(function() {return 0.5 - Math.random()}); } banner = bannerok; var banner_url="https://net-storage.tcccdn.com"; var banner_path="/storage/pianetabasket.com/banner/" function asyncLoad() { if (azione == 'read' && TCCCookieConsent) { var scripts = [ "https://connect.facebook.net/it_IT/all.js#xfbml=1", ]; (function(array) { for (var i = 0, len = array.length; i < len; i++) { var elem = document.createElement('script'); elem.type="text/javascript"; elem.async = true; elem.src = array[i]; var s = document.getElementsByTagName('script')[0]; s.parentNode.insertBefore(elem, s); } })(scripts); } setTCCCookieConsent(); } if (window.addEventListener) window.addEventListener("load", asyncLoad, false); else if (window.attachEvent) window.attachEvent("onload", asyncLoad); else window.onload = asyncLoad; function resizeStickyContainers() { var stickyFill = document.getElementsByClassName('sticky-fill'); for (i = 0; i < stickyFill.length; ++i) stickyFill[i].style.height = null; for (i = 0; i < stickyFill.length; ++i) { var height = stickyFill[i].parentElement.offsetHeight-stickyFill[i].offsetTop; height = Math.max(height, stickyFill[i].offsetHeight); stickyFill[i].style.height = height+'px'; } } document.addEventListener('DOMContentLoaded', resizeStickyContainers, false); // layout_headjs function utf8_decode(e){for(var n="",r=0;r


#Serie #Faenza #Blacks #win #derby #Tigers #Romagna