Serie B – Faenza Blacks win the massive recreation with Fabriano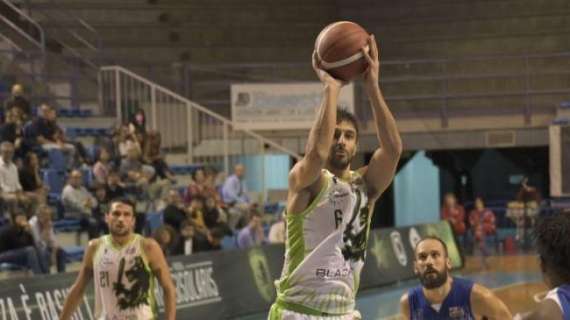 The right afternoon. Les Negres win the massive match with Fabriano and transfer up the classification, reaching the second group which is simply two factors away from the highest occupied by Rieti. In entrance of Ristopro comes a hit son of character, as a result of the workforce has suffered from many photographs towards a rival who has confirmed to be of wonderful stage, all the time managing to keep up excessive focus. The energy of the group was seen above all within the emotional closing the place everybody gave their contribution.
In a PalaCattani social gathering gown, the 2 groups compete head to head and at very excessive charges, a lot in order that within the first half little is achieved as a result of many losses. The blacks begin robust, they take the 14-8 however undergo an excessive amount of rebound, permitting many seconds of capturing that Fabriano doesn't reap the benefits of. The sport all the time goes to the sting of stability and the turning level comes with the timeout referred to as by Garelli after the workforce had suffered one other decide and roll completed by Pope (29-28). It's the episode that illuminates the Raggisolaris who're good to put a break instantly for 41-33, then Fabriano fixes the hole to 37-41 on the interval.
Pushed by the group, the blacks attempt to place the extension with the shot from exterior, reaching 51-39 because of Pastore's triple, however Fabriano responds like an ideal workforce with a 10-0 break, reopening the accounts. Thus begins a point-to-point match that's solely determined within the closing. Petrucci tries to interrupt the stability by inventing a 3 shot on the fringe of the siren from 24" to 52" from the tip of the sport for 74-70, however Fabriano doesn't hand over and with Papa he sews once more. as much as 75-76 at 8". Ristopro solely has to commit a scientific foul: Vico makes a transparent path from the road and it is 78-75. The protection will shut the accounts, giving Pope a really tough shot that truly does not even hit the iron. The PalaCattani can explode with pleasure like this.
Blacks Faenza 78 – Ristopro Fabriano 75 (19-14; 41-37; 56-54)
BLACKS FAENZA: Bandini, Siberna 13, Vico 7, Poggi 10, Voltolini 2, Molinaro 12, Petrucci 13, Aromando 10, Ragazzini ne, Pastore 11, Belmonte ne, Nkot Nkot ne. Coach: Garelli.
RISTOPRO FABRIANO: Pope 20, Centanni 10, Stanic 14, Fall 9, Verri 11, Petracca 8, Gianoli, Carsetti ne, Gulini 3, Azzano. Coach: Aniello
Referees: Zancolò – Zuccolo
observe Header Date 2: FAE: 31/17, FAB: 17/40; Heading Date 3: FAE: 11/29, FAB: 9/23; Three kilos: FAE: 11/12, FAB: 14/16; Complete refund: FAE: 34, FAB: 38.
var banner = {"160x60_1":[{"idbanner":"79","width":160,"height":60,"crop":"1","async":"0","uri":"fip.it","embed":"","img1":"5fe00002fae5d7c483dcf9075d14961a.jpg","partenza":1422813600,"scadenza":-62169986996,"pagine":""}],"300x600":[{"idbanner":"141","width":300,"height":600,"crop":"1","async":"0","uri":"","embed":"PGRpdiBjbGFzcz0iZ3B0c2xvdCIgZGF0YS1hZHVuaXRpZD0iOCI+PC9kaXY+DQo=","img1":"","partenza":-62169986996,"scadenza":1693346400,"pagine":"index"},{"idbanner":"158","width":300,"height":600,"crop":"1","async":"0","uri":"","embed":"PGRpdiBjbGFzcz0iZ3B0c2xvdCIgZGF0YS1hZHVuaXRpZD0iOSI+PC9kaXY+","img1":"","partenza":-62169986996,"scadenza":-62169986996,"pagine":"!index"}],"970x250":[{"idbanner":"144","width":970,"height":250,"crop":"1","async":"0","uri":"","embed":"PGRpdiBjbGFzcz0iZ3B0c2xvdCIgZGF0YS1hZHVuaXRpZD0iMSIgZGF0YS1hZGRlc2t0b3A9InRydWUiPjwvZGl2Pg==","img1":"","partenza":-62169986996,"scadenza":-62169986996,"pagine":"index"},{"idbanner":"157","width":970,"height":250,"crop":"1","async":"0","uri":"","embed":"PGRpdiBjbGFzcz0iZ3B0c2xvdCIgZGF0YS1hZHVuaXRpZD0iMCIgZGF0YS1hZGRlc2t0b3A9InRydWUiPjwvZGl2Pg==","img1":"","partenza":-62169986996,"scadenza":-62169986996,"pagine":"!index"}],"468x60_home":[{"idbanner":"133","width":468,"height":60,"crop":"1","async":"0","uri":"","embed":"PGRpdiBjbGFzcz0iZ3B0c2xvdCIgZGF0YS1hZHVuaXRpZD0iMiI+PC9kaXY+","img1":"","partenza":-62169986996,"scadenza":-62169986996,"pagine":"!index"},{"idbanner":"146","width":468,"height":60,"crop":"1","async":"0","uri":"","embed":"PGEgaHJlZj0iaHR0cHM6Ly93d3cuc2l0aXNjb21tZXNzZS5jb20vYmFza2V0LyIgdGFyZ2V0PSJfYmxhbmsiPg0KICAgPGltZyBzcmM9Imh0dHBzOi8vdHVzY2FueWxpZmV0aW1lLmNvbS93cC1jb250ZW50L3VwbG9hZHMvMjAyMS8wOC9zaXRpLXNjb21tZXNzZS5qcGciIGFsdD0ibG9nbyBwZXIgc2l0aXNjb21tZXNzZS5jb20vYmFza2V0Ij4NCjwvYT4NCg==","img1":"","partenza":1625054400,"scadenza":-62169986996,"pagine":"index"}],"728x90":[{"idbanner":"159","width":728,"height":90,"crop":"1","async":"0","uri":"","embed":"PHNjcmlwdCBzcmM9Imh0dHBzOi8vYXNzZXRzLmV2b2x1dGlvbmFkdi5pdC9waWFuZXRhYmFza2V0X2NvbS9waWFuZXRhYmFza2V0X2NvbS5uZXcuanMiPjwvc2NyaXB0Pg==","img1":"","partenza":-62169986996,"scadenza":-62169986996,"pagine":""}]}; var now = Math.round(new Date().getTime() / 1000); var bannerok = new Object(); for (var zona in banner) { bannerok[zona] = new Array(); for (i=0; i < banner[zona].length; i++) { var ok = 1; if (banner[zona][i]['scadenza']>0 && banner[zona][i]['scadenza']<=now) ok = 0; if (banner[zona][i]['partenza']!=0 && banner[zona][i]['partenza']>now) ok = 0; if (typeof azione !== 'undefined' && azione !== null) { if (banner[zona][i]['pagine'] == '!index' && azione == 'index') ok = 0; else if (banner[zona][i]['pagine'] == 'index' && azione != 'index') ok = 0; }
if (ok == 1) bannerok[zona].push(banner[zona][i]); }
bannerok[zona].sort(function() {return 0.5 - Math.random()}); } banner = bannerok; var banner_url="https://net-storage.tcccdn.com"; var banner_path="/storage/pianetabasket.com/banner/" function asyncLoad() { if (azione == 'read' && TCCCookieConsent) { var scripts = [ "https://connect.facebook.net/it_IT/all.js#xfbml=1", ]; (function(array) { for (var i = 0, len = array.length; i < len; i++) { var elem = document.createElement('script'); elem.type="text/javascript"; elem.async = true; elem.src = array[i]; var s = document.getElementsByTagName('script')[0]; s.parentNode.insertBefore(elem, s); } })(scripts); } setTCCCookieConsent(); } if (window.addEventListener) window.addEventListener("load", asyncLoad, false); else if (window.attachEvent) window.attachEvent("onload", asyncLoad); else window.onload = asyncLoad; function resizeStickyContainers() { var stickyFill = document.getElementsByClassName('sticky-fill'); for (i = 0; i < stickyFill.length; ++i) stickyFill[i].style.height = null; for (i = 0; i < stickyFill.length; ++i) { var height = stickyFill[i].parentElement.offsetHeight-stickyFill[i].offsetTop; height = Math.max(height, stickyFill[i].offsetHeight); stickyFill[i].style.height = height+'px'; } } document.addEventListener('DOMContentLoaded', resizeStickyContainers, false); // layout_headjs function utf8_decode(e){for(var n="",r=0;r


#Serie #Faenza #Blacks #win #huge #recreation #Fabriano