Serie B – Legnano Knights: Final shot goes out, Sangiorgese wins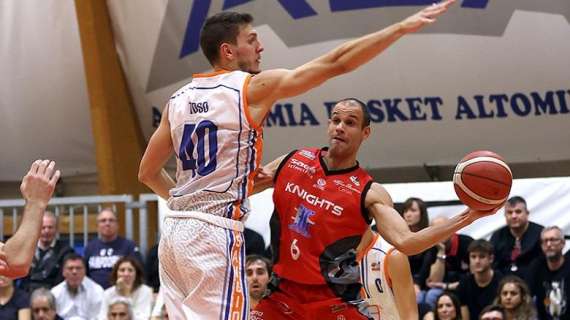 The Knights take Halloween a bit too critically and play an thrilling sport on the PalaBertelli, additionally having the ball to win, however on the finish of a slightly grotesque sport.
The primary quarter begins with a handicap for the 3G, with Sangiorgio who, after the preliminary 2-4, locations an 11-0 run due to baskets by Bloise, Bertocco and Bianchi.
Legnano asks for the penalty and on the finish of the timeout, we see a couple of extra baskets, however on the finish of the primary half, the distinction stays virtually unchanged with Sangiorgio main by 17-8.
At the beginning of the second quarter, a hearth from Terenzi, Drocker and Antonietti introduced Legnano again to 19-14, however the entire quarter traveled with Legnano missing offense and Sangiorgio prepared to attain with every try of the Knights to get again to the sport
In the course of the sport the rating is sort of low and the rating is 31-22.
The beginning of the third interval is scarier than Nightmare with the Knights down 14 factors below the blows of Bloise and Bianchi. Dazed and injured, Legnano wakes up and within the 5 minutes from 25′ to 30′, the partial is in favor of the white-and-reds who place an 0-8 that takes them to 42-36 on the third siren of the match
The final quarter is undoubtedly probably the most fought with the Knights who instantly tied with Leardini's factors and likewise managed to place their noses forward at 44-45 with Casini's triple.
With 6 minutes to play, Knights and Sangiorgio alternate a sequence of baskets that hold the rating all the time tied or with a small benefit for the locals. Testa and Bloise scored 56-52; Sacchettini scores from beneath, however within the final shot the Knights miss the large goal and the derby belongs to Sangiorgio.
Horror film percentages for Legnano taking pictures 19% from 3 and customarily not exhibiting the offensive fluidity seen main as much as the Tremendous Cup. Certainly losses are all the time a continuing current in defeats; additionally on this case 15, too many for a way they got here out.
Essential week for the attainable reinsertion of Mazzantini and for the fragile problem with Gema Montecatini subsequent week on the PalaBorsani
SANGIORGESE BASKETBALL LTC GROUP – 3G ELECTRONICS LEGNANO KNIGHTS 56-54 (17-8, 14-14, 11-14, 14-18)
LTC Group Sangiorgese Basket: Sebastiano Bianchi 11 (4/6, 1/3), Nicolò Bertocco 10 (2/4, 2/4), Filippo Testa 9 (0/3, 3/6), Giacomo Bloise 8 (2 / 4, 1/4), Francesco Toso 5 (2/5, 0/0), Leonardo Biancotto 4 (2/2, 0/0), Daniele Pesenato 4 (2/4, 0/0), Matteo Airaghi 3 ( 0/1, 1/3), Carlo Cappelletti 2 (1/3, 0/1), Matteo Cassinerio 0 (0/0, 0/0), Lorenzo Mana 0 (0/0, 0/0), Lorenzo Cardani 0 (0/0, 0/0)
Free throws: 2/9 – Rebounds: 32 6 + 26 (Matteo Airaghi 9) – Help: 11 (Giacomo Bloise 5)
3G Electronics Legnano Knights: Michael Sacchettini 18 (8/13, 0/0), Giacomo Leardini 10 (2/3, 1/3), Gian Marco Drocker 7 (3/4, 0/4), Diego Terenzi 6 (3 / 4, 0/4), Juan Marcos Casini 6 (0/0, 2/4), Luca Antonietti 5 (1/3, 1/2), Tommaso Marino 2 (0/2, 0/4), Francesco Amorelli 0 (0/0, 0/0), Saverio Mazzantini 0 (0/0, 0/0), Alessandro Ferrario 0 (0/0, 0/0), Riccardo Cucchi 0 (0/0, 0/0), Matteo Bassani 0 (0/0, 0/0)
Free throws: 8/10 – Rebounds: 32 4 + 28 (Giacomo Leardini 9) – Help: 15 (Juan Marcos Casini 3)
var banner = {"160x60_1":[{"idbanner":"79","width":160,"height":60,"crop":"1","async":"0","uri":"fip.it","embed":"","img1":"5fe00002fae5d7c483dcf9075d14961a.jpg","partenza":1422813600,"scadenza":-62169986996,"pagine":""}],"300x600":[{"idbanner":"141","width":300,"height":600,"crop":"1","async":"0","uri":"","embed":"PGRpdiBjbGFzcz0iZ3B0c2xvdCIgZGF0YS1hZHVuaXRpZD0iOCI+PC9kaXY+DQo=","img1":"","partenza":-62169986996,"scadenza":1693346400,"pagine":"index"},{"idbanner":"158","width":300,"height":600,"crop":"1","async":"0","uri":"","embed":"PGRpdiBjbGFzcz0iZ3B0c2xvdCIgZGF0YS1hZHVuaXRpZD0iOSI+PC9kaXY+","img1":"","partenza":-62169986996,"scadenza":-62169986996,"pagine":"!index"}],"970x250":[{"idbanner":"144","width":970,"height":250,"crop":"1","async":"0","uri":"","embed":"PGRpdiBjbGFzcz0iZ3B0c2xvdCIgZGF0YS1hZHVuaXRpZD0iMSIgZGF0YS1hZGRlc2t0b3A9InRydWUiPjwvZGl2Pg==","img1":"","partenza":-62169986996,"scadenza":-62169986996,"pagine":"index"},{"idbanner":"157","width":970,"height":250,"crop":"1","async":"0","uri":"","embed":"PGRpdiBjbGFzcz0iZ3B0c2xvdCIgZGF0YS1hZHVuaXRpZD0iMCIgZGF0YS1hZGRlc2t0b3A9InRydWUiPjwvZGl2Pg==","img1":"","partenza":-62169986996,"scadenza":-62169986996,"pagine":"!index"}],"468x60_home":[{"idbanner":"133","width":468,"height":60,"crop":"1","async":"0","uri":"","embed":"PGRpdiBjbGFzcz0iZ3B0c2xvdCIgZGF0YS1hZHVuaXRpZD0iMiI+PC9kaXY+","img1":"","partenza":-62169986996,"scadenza":-62169986996,"pagine":"!index"},{"idbanner":"146","width":468,"height":60,"crop":"1","async":"0","uri":"","embed":"PGEgaHJlZj0iaHR0cHM6Ly93d3cuc2l0aXNjb21tZXNzZS5jb20vYmFza2V0LyIgdGFyZ2V0PSJfYmxhbmsiPg0KICAgPGltZyBzcmM9Imh0dHBzOi8vdHVzY2FueWxpZmV0aW1lLmNvbS93cC1jb250ZW50L3VwbG9hZHMvMjAyMS8wOC9zaXRpLXNjb21tZXNzZS5qcGciIGFsdD0ibG9nbyBwZXIgc2l0aXNjb21tZXNzZS5jb20vYmFza2V0Ij4NCjwvYT4NCg==","img1":"","partenza":1625054400,"scadenza":-62169986996,"pagine":"index"}],"728x90":[{"idbanner":"159","width":728,"height":90,"crop":"1","async":"0","uri":"","embed":"PHNjcmlwdCBzcmM9Imh0dHBzOi8vYXNzZXRzLmV2b2x1dGlvbmFkdi5pdC9waWFuZXRhYmFza2V0X2NvbS9waWFuZXRhYmFza2V0X2NvbS5uZXcuanMiPjwvc2NyaXB0Pg==","img1":"","partenza":-62169986996,"scadenza":-62169986996,"pagine":""}]}; var now = Math.round(new Date().getTime() / 1000); var bannerok = new Object(); for (var zona in banner) { bannerok[zona] = new Array(); for (i=0; i < banner[zona].length; i++) { var ok = 1; if (banner[zona][i]['scadenza']>0 && banner[zona][i]['scadenza']<=now) ok = 0; if (banner[zona][i]['partenza']!=0 && banner[zona][i]['partenza']>now) ok = 0; if (typeof azione !== 'undefined' && azione !== null) { if (banner[zona][i]['pagine'] == '!index' && azione == 'index') ok = 0; else if (banner[zona][i]['pagine'] == 'index' && azione != 'index') ok = 0; }
if (ok == 1) bannerok[zona].push(banner[zona][i]); }
bannerok[zona].sort(function() {return 0.5 - Math.random()}); } banner = bannerok; var banner_url="https://net-storage.tcccdn.com"; var banner_path="/storage/pianetabasket.com/banner/" function asyncLoad() { if (azione == 'read' && TCCCookieConsent) { var scripts = [ "https://connect.facebook.net/it_IT/all.js#xfbml=1", ]; (function(array) { for (var i = 0, len = array.length; i < len; i++) { var elem = document.createElement('script'); elem.type="text/javascript"; elem.async = true; elem.src = array[i]; var s = document.getElementsByTagName('script')[0]; s.parentNode.insertBefore(elem, s); } })(scripts); } setTCCCookieConsent(); } if (window.addEventListener) window.addEventListener("load", asyncLoad, false); else if (window.attachEvent) window.attachEvent("onload", asyncLoad); else window.onload = asyncLoad; function resizeStickyContainers() { var stickyFill = document.getElementsByClassName('sticky-fill'); for (i = 0; i < stickyFill.length; ++i) stickyFill[i].style.height = null; for (i = 0; i < stickyFill.length; ++i) { var height = stickyFill[i].parentElement.offsetHeight-stickyFill[i].offsetTop; height = Math.max(height, stickyFill[i].offsetHeight); stickyFill[i].style.height = height+'px'; } } document.addEventListener('DOMContentLoaded', resizeStickyContainers, false); // layout_headjs function utf8_decode(e){for(var n="",r=0;r


#Serie #Legnano #Knights #shot #Sangiorgese #wins