Serie B – Legnano, Montecatini comes on Sunday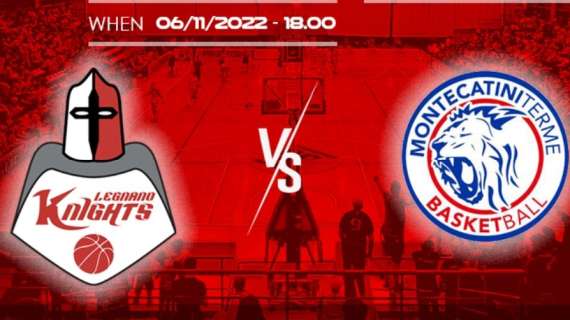 Three video games, three defeats.
The previous couple of weeks have been lived Legnano rhyme with "issue". Outcomes that do not come and a recreation that does not appear to take off, however in spite of everything, solely 5 championship days have handed and the common season is lengthy. Very lengthy.
The PalaBorsani arrives on Egg yolk Montecatini that after these first outings is 2 factors forward of the Knights.
It isn't a straightforward take a look at, however coach Elianantonio's boys should use it to regain the polish wanted to remain on the prime of the rankings.
Montecatini's power lies not solely within the gamers who spend extra minutes on the court docket, but in addition in those that come off the bench and make a cloth distinction. Two above all, Guerra and Savoldelli.
And if the primary was an element within the final match, that's to say, the derby gained in opposition to Fabo, the second is definitely not in the perfect bodily situation. Within the pit of the final exit, this is a component that Legnano is aware of very effectively, having been one of many components within the victory of Bergamo within the first spherical of the final playoffs.
The headliner is Tommaso Molteni, born in 1999, who performed time beyond regulation within the final two video games and averaged 13 factors in 33 minutes of use. His development goes hand in hand with that of the workforce, so it will likely be necessary to comprise him and never let him acquire confidence.
The exterior battery consists of Luca Digno, Bruno Duranti and Lorenzo Neri. Digno spent final season between Empoli and Vicenza and this season he desires to grow to be a component of nice confidence. Regardless of his age, he's proving to be able to assuming duties of a sure magnitude. Duranti, final yr in Reggio Calabria, travels in double figures. It lacks continuity within the conclusions of the arc, however manages to make up for it effectively with two percentages approaching 55%.
Neri is one other participant that Legnano is aware of fairly effectively, having worn the Omegna shirt final season. 11 factors on common, versatile and with a superb character, boasts crucial percentages from the sphere of play.
Below the basket, the nice expertise of Luca Infante. His affect is barely partially learn within the statistics, as a result of regardless of the years, there are issues he nonetheless does very effectively. In troublesome occasions you can't do with out him, and coach Origlio by no means underestimates that facet.
Of nice significance, the contribution from the bench of Fernando Marengo. He travels in nearly double figures and might play a number of roles, a trait that goes a great distance.
To finish the rotations are Christian Ghiarè and Paolo Zanini.
Appointment on Sunday, November 6, on the PalaBorsani in Castellanza, with duo ball at 6:00 p.m.
SITUATION OF THE KNIGHTS. Mazzantini on the way in which again however he will definitely not have minutes on this recreation. No specific drawback for the opposite knights
REFEREES
1st Referee: SCHENA COSIMO from CASTELLANA GROTTE (BA)
2nd Referee: IAIA ANGELO di BRINDISI (BR)
LOCATION AND SOCIAL. Dwell tweeting on the finish of quarters. Fb and Instagram updates. Monday the commentary, images and movies of the race on our web site
TV AND MEDIA. Dwell broadcast on LNP TV PASS from 17:55
var banner = {"160x60_1":[{"idbanner":"79","width":160,"height":60,"crop":"1","async":"0","uri":"fip.it","embed":"","img1":"5fe00002fae5d7c483dcf9075d14961a.jpg","partenza":1422813600,"scadenza":-62169986996,"pagine":""}],"300x600":[{"idbanner":"141","width":300,"height":600,"crop":"1","async":"0","uri":"","embed":"PGRpdiBjbGFzcz0iZ3B0c2xvdCIgZGF0YS1hZHVuaXRpZD0iOCI+PC9kaXY+DQo=","img1":"","partenza":-62169986996,"scadenza":1693346400,"pagine":"index"},{"idbanner":"158","width":300,"height":600,"crop":"1","async":"0","uri":"","embed":"PGRpdiBjbGFzcz0iZ3B0c2xvdCIgZGF0YS1hZHVuaXRpZD0iOSI+PC9kaXY+","img1":"","partenza":-62169986996,"scadenza":-62169986996,"pagine":"!index"}],"970x250":[{"idbanner":"144","width":970,"height":250,"crop":"1","async":"0","uri":"","embed":"PGRpdiBjbGFzcz0iZ3B0c2xvdCIgZGF0YS1hZHVuaXRpZD0iMSIgZGF0YS1hZGRlc2t0b3A9InRydWUiPjwvZGl2Pg==","img1":"","partenza":-62169986996,"scadenza":-62169986996,"pagine":"index"},{"idbanner":"157","width":970,"height":250,"crop":"1","async":"0","uri":"","embed":"PGRpdiBjbGFzcz0iZ3B0c2xvdCIgZGF0YS1hZHVuaXRpZD0iMCIgZGF0YS1hZGRlc2t0b3A9InRydWUiPjwvZGl2Pg==","img1":"","partenza":-62169986996,"scadenza":-62169986996,"pagine":"!index"}],"468x60_home":[{"idbanner":"133","width":468,"height":60,"crop":"1","async":"0","uri":"","embed":"PGRpdiBjbGFzcz0iZ3B0c2xvdCIgZGF0YS1hZHVuaXRpZD0iMiI+PC9kaXY+","img1":"","partenza":-62169986996,"scadenza":-62169986996,"pagine":"!index"},{"idbanner":"146","width":468,"height":60,"crop":"1","async":"0","uri":"","embed":"PGEgaHJlZj0iaHR0cHM6Ly93d3cuc2l0aXNjb21tZXNzZS5jb20vYmFza2V0LyIgdGFyZ2V0PSJfYmxhbmsiPg0KICAgPGltZyBzcmM9Imh0dHBzOi8vdHVzY2FueWxpZmV0aW1lLmNvbS93cC1jb250ZW50L3VwbG9hZHMvMjAyMS8wOC9zaXRpLXNjb21tZXNzZS5qcGciIGFsdD0ibG9nbyBwZXIgc2l0aXNjb21tZXNzZS5jb20vYmFza2V0Ij4NCjwvYT4NCg==","img1":"","partenza":1625054400,"scadenza":-62169986996,"pagine":"index"}],"728x90":[{"idbanner":"159","width":728,"height":90,"crop":"1","async":"0","uri":"","embed":"PHNjcmlwdCBzcmM9Imh0dHBzOi8vYXNzZXRzLmV2b2x1dGlvbmFkdi5pdC9waWFuZXRhYmFza2V0X2NvbS9waWFuZXRhYmFza2V0X2NvbS5uZXcuanMiPjwvc2NyaXB0Pg==","img1":"","partenza":-62169986996,"scadenza":-62169986996,"pagine":""}]}; var now = Math.round(new Date().getTime() / 1000); var bannerok = new Object(); for (var zona in banner) { bannerok[zona] = new Array(); for (i=0; i < banner[zona].length; i++) { var ok = 1; if (banner[zona][i]['scadenza']>0 && banner[zona][i]['scadenza']<=now) ok = 0; if (banner[zona][i]['partenza']!=0 && banner[zona][i]['partenza']>now) ok = 0; if (typeof azione !== 'undefined' && azione !== null) { if (banner[zona][i]['pagine'] == '!index' && azione == 'index') ok = 0; else if (banner[zona][i]['pagine'] == 'index' && azione != 'index') ok = 0; }
if (ok == 1) bannerok[zona].push(banner[zona][i]); }
bannerok[zona].sort(function() {return 0.5 - Math.random()}); } banner = bannerok; var banner_url="https://net-storage.tcccdn.com"; var banner_path="/storage/pianetabasket.com/banner/" function asyncLoad() { if (azione == 'read' && TCCCookieConsent) { var scripts = [ "https://connect.facebook.net/it_IT/all.js#xfbml=1", ]; (function(array) { for (var i = 0, len = array.length; i < len; i++) { var elem = document.createElement('script'); elem.type="text/javascript"; elem.async = true; elem.src = array[i]; var s = document.getElementsByTagName('script')[0]; s.parentNode.insertBefore(elem, s); } })(scripts); } setTCCCookieConsent(); } if (window.addEventListener) window.addEventListener("load", asyncLoad, false); else if (window.attachEvent) window.attachEvent("onload", asyncLoad); else window.onload = asyncLoad; function resizeStickyContainers() { var stickyFill = document.getElementsByClassName('sticky-fill'); for (i = 0; i < stickyFill.length; ++i) stickyFill[i].style.height = null; for (i = 0; i < stickyFill.length; ++i) { var height = stickyFill[i].parentElement.offsetHeight-stickyFill[i].offsetTop; height = Math.max(height, stickyFill[i].offsetHeight); stickyFill[i].style.height = height+'px'; } } document.addEventListener('DOMContentLoaded', resizeStickyContainers, false); // layout_headjs function utf8_decode(e){for(var n="",r=0;r


#Serie #Legnano #Montecatini #Sunday