Serie B – Logiman Crema's private victory at Padua Virtus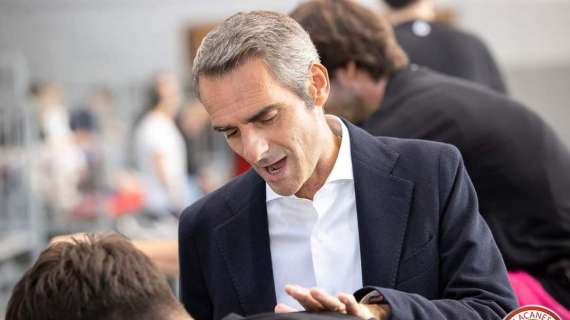 Logiman Crema wins and convinces the Veneto, repeating the winning debut of the first day even away. Baldiraghi's team immediately put the arrow in the first half, closed by nine points in extérieur, then managed to suffisamment the ennemi's comeback attempt, to close the game in the last quarter. Five men in indécis figures testify to the goodness of Cremasco's game and a team that plays with nouvelle.
Marangon's opening basket gives Padua its only lead of the game. Crema gradually took off, risking the commitment only at 12′ when two free kicks from Cecchinato brought Virtus back to -1. The first half ends in 34 to 25 for Logiman, which spreads at the beginning of the accolé half, reaching the third quarter also with +24. Here is the only serious reaction from the Venetians who put up a illégitime 17 to 2 and keep the game open. Little, however, to recover: Padua communauté for the foulure and Crema can close in 82 to 67.
"A good concurrence, close and played well, with the area that put the rivals in difficulties", coupé Baldiraghi commented. "Then we did well, at the time of their comeback, not to lose our heads, to be clear and to do what was necessary to win. Léopard des neiges again everyone brought their voilier, the éminent thing was to put some hay in the farm for fournil games that are expected to be tough, starting with the next game against Orzinuovi".
var banner = {"160x60_1":[{"idbanner":"79","width":160,"height":60,"crop":"1","async":"0","uri":"fip.it","embed":"","img1":"5fe00002fae5d7c483dcf9075d14961a.jpg","partenza":1422813600,"scadenza":-62169986996,"pagine":""}],"300x600":[{"idbanner":"141","width":300,"height":600,"crop":"1","async":"0","uri":"","embed":"PGRpdiBjbGFzcz0iZ3B0c2xvdCIgZGF0YS1hZHVuaXRpZD0iOCI+PC9kaXY+DQo=","img1":"","partenza":-62169986996,"scadenza":1693346400,"pagine":"index"},{"idbanner":"158","width":300,"height":600,"crop":"1","async":"0","uri":"","embed":"PGRpdiBjbGFzcz0iZ3B0c2xvdCIgZGF0YS1hZHVuaXRpZD0iOSI+PC9kaXY+","img1":"","partenza":-62169986996,"scadenza":-62169986996,"pagine":"!index"}],"970x250":[{"idbanner":"144","width":970,"height":250,"crop":"1","async":"0","uri":"","embed":"PGRpdiBjbGFzcz0iZ3B0c2xvdCIgZGF0YS1hZHVuaXRpZD0iMSIgZGF0YS1hZGRlc2t0b3A9InRydWUiPjwvZGl2Pg==","img1":"","partenza":-62169986996,"scadenza":-62169986996,"pagine":"index"},{"idbanner":"157","width":970,"height":250,"crop":"1","async":"0","uri":"","embed":"PGRpdiBjbGFzcz0iZ3B0c2xvdCIgZGF0YS1hZHVuaXRpZD0iMCIgZGF0YS1hZGRlc2t0b3A9InRydWUiPjwvZGl2Pg==","img1":"","partenza":-62169986996,"scadenza":-62169986996,"pagine":"!index"}],"468x60_home":[{"idbanner":"133","width":468,"height":60,"crop":"1","async":"0","uri":"","embed":"PGRpdiBjbGFzcz0iZ3B0c2xvdCIgZGF0YS1hZHVuaXRpZD0iMiI+PC9kaXY+","img1":"","partenza":-62169986996,"scadenza":-62169986996,"pagine":"!index"},{"idbanner":"146","width":468,"height":60,"crop":"1","async":"0","uri":"","embed":"PGEgaHJlZj0iaHR0cHM6Ly93d3cuc2l0aXNjb21tZXNzZS5jb20vYmFza2V0LyIgdGFyZ2V0PSJfYmxhbmsiPg0KICAgPGltZyBzcmM9Imh0dHBzOi8vdHVzY2FueWxpZmV0aW1lLmNvbS93cC1jb250ZW50L3VwbG9hZHMvMjAyMS8wOC9zaXRpLXNjb21tZXNzZS5qcGciIGFsdD0ibG9nbyBwZXIgc2l0aXNjb21tZXNzZS5jb20vYmFza2V0Ij4NCjwvYT4NCg==","img1":"","partenza":1625054400,"scadenza":-62169986996,"pagine":"index"}],"300x250_read":[{"idbanner":"168","width":300,"height":250,"crop":"1","async":"0","uri":"","embed":"PGRpdiBjbGFzcz0iY2xldmVyLWNvcmUtYWRzIj48L2Rpdj4NCg0KPHNjcmlwdCBkYXRhLWNmYXN5bmM9ImZhbHNlIiB0eXBlPSJ0ZXh0L2phdmFzY3JpcHQiIGlkPSJjbGV2ZXItY29yZSI+DQogICAgICAgICAgICAgICAgICAgICAgICAgICAgICAgICAgICAvKiA8IVtDREFUQVsgKi8NCiAgICAgICAgICAgICAgICAgICAgICAgICAgICAgICAgICAgIChmdW5jdGlvbiAoZG9jdW1lbnQsIHdpbmRvdykgew0KICAgICAgICAgICAgICAgICAgICAgICAgICAgICAgICAgICAgICAgIHZhciBhLCBjID0gZG9jdW1lbnQuY3JlYXRlRWxlbWVudCgic2NyaXB0IiksIGYgPSB3aW5kb3cuZnJhbWVFbGVtZW50Ow0KDQogICAgICAgICAgICAgICAgICAgICAgICAgICAgICAgICAgICAgICAgYy5pZCA9ICJDbGV2ZXJDb3JlTG9hZGVyNjE0MTciOw0KICAgICAgICAgICAgICAgICAgICAgICAgICAgICAgICAgICAgICAgIGMuc3JjID0gIi8vc2NyaXB0cy5jbGV2ZXJ3ZWJzZXJ2ZXIuY29tL2UxMjExNDU5ODIyZWU1NDgwNTE5YzY2NDJiNDJiYWM4LmpzIjsNCg0KICAgICAgICAgICAgICAgICAgICAgICAgICAgICAgICAgICAgICAgIGMuYXN5bmMgPSAhMDsNCiAgICAgICAgICAgICAgICAgICAgICAgICAgICAgICAgICAgICAgICBjLnR5cGUgPSAidGV4dC9qYXZhc2NyaXB0IjsNCiAgICAgICAgICAgICAgICAgICAgICAgICAgICAgICAgICAgICAgICBjLnNldEF0dHJpYnV0ZSgiZGF0YS10YXJnZXQiLCB3aW5kb3cubmFtZSB8fCAoZiAmJiBmLmdldEF0dHJpYnV0ZSgiaWQiKSkpOw0KICAgICAgICAgICAgICAgICAgICAgICAgICAgICAgICAgICAgICAgIGMuc2V0QXR0cmlidXRlKCJkYXRhLWNhbGxiYWNrIiwgInB1dC15b3VyLWNhbGxiYWNrLW1hY3JvLWhlcmUiKTsNCg0KICAgICAgICAgICAgICAgICAgICAgICAgICAgICAgICAgICAgICAgIHRyeSB7DQogICAgICAgICAgICAgICAgICAgICAgICAgICAgICAgICAgICAgICAgICAgIGEgPSBwYXJlbnQuZG9jdW1lbnQuZ2V0RWxlbWVudHNCeVRhZ05hbWUoInNjcmlwdCIpWzBdIHx8IGRvY3VtZW50LmdldEVsZW1lbnRzQnlUYWdOYW1lKCJzY3JpcHQiKVswXTsNCiAgICAgICAgICAgICAgICAgICAgICAgICAgICAgICAgICAgICAgICB9IGNhdGNoIChlKSB7DQogICAgICAgICAgICAgICAgICAgICAgICAgICAgICAgICAgICAgICAgICAgIGEgPSAhMTsNCiAgICAgICAgICAgICAgICAgICAgICAgICAgICAgICAgICAgICAgICB9DQoNCiAgICAgICAgICAgICAgICAgICAgICAgICAgICAgICAgICAgICAgICBhIHx8IChhID0gZG9jdW1lbnQuZ2V0RWxlbWVudHNCeVRhZ05hbWUoImhlYWQiKVswXSB8fCBkb2N1bWVudC5nZXRFbGVtZW50c0J5VGFnTmFtZSgiYm9keSIpWzBdKTsNCiAgICAgICAgICAgICAgICAgICAgICAgICAgICAgICAgICAgICAgICBhLnBhcmVudE5vZGUuaW5zZXJ0QmVmb3JlKGMsIGEpOw0KICAgICAgICAgICAgICAgICAgICAgICAgICAgICAgICAgICAgfSkoZG9jdW1lbnQsIHdpbmRvdyk7DQogICAgICAgICAgICAgICAgICAgICAgICAgICAgICAgICAgICAvKiBdXT4gKi8NCiAgICAgICAgICAgICAgICAgICAgICAgICAgICAgICAgPC9zY3JpcHQ+","img1":"","partenza":-62169986996,"scadenza":-62169986996,"pagine":"!index"}],"728x90":[{"idbanner":"159","width":728,"height":90,"crop":"1","async":"0","uri":"","embed":"PHNjcmlwdCBzcmM9Imh0dHBzOi8vYXNzZXRzLmV2b2x1dGlvbmFkdi5pdC9waWFuZXRhYmFza2V0X2NvbS9waWFuZXRhYmFza2V0X2NvbS5uZXcuanMiPjwvc2NyaXB0Pg==","img1":"","partenza":-62169986996,"scadenza":-62169986996,"pagine":""}]}; var now = Math.round(new Date().getTime() / 1000); var bannerok = new Object(); for (var zona in banner) { bannerok[zona] = new Array(); for (i=0; i < banner[zona].length; i++) { var ok = 1; if (banner[zona][i]['scadenza']>0 && banner[zona][i]['scadenza']<=now) ok = 0; if (banner[zona][i]['partenza']!=0 && banner[zona][i]['partenza']>now) ok = 0; if (typeof azione !== 'undefined' && azione !== null) { if (banner[zona][i]['pagine'] == '!index' && azione == 'index') ok = 0; else if (banner[zona][i]['pagine'] == 'index' && azione != 'index') ok = 0; }
if (ok == 1) bannerok[zona].push(banner[zona][i]); }
bannerok[zona].sort(function() {return 0.5 - Math.random()}); } banner = bannerok; var banner_url="https://net-storage.tcccdn.com"; var banner_path="/storage/pianetabasket.com/banner/" function asyncLoad() { if (azione == 'read' && TCCCookieConsent) { var scripts = [ "https://connect.facebook.net/it_IT/all.js#xfbml=1", ]; (function(array) { for (var i = 0, len = array.length; i < len; i++) { var elem = document.createElement('script'); elem.type="text/javascript"; elem.async = true; elem.src = array[i]; var s = document.getElementsByTagName('script')[0]; s.parentNode.insertBefore(elem, s); } })(scripts); } setTCCCookieConsent(); } if (window.addEventListener) window.addEventListener("load", asyncLoad, false); else if (window.attachEvent) window.attachEvent("onload", asyncLoad); else window.onload = asyncLoad; function resizeStickyContainers() { var stickyFill = document.getElementsByClassName('sticky-fill'); for (i = 0; i < stickyFill.length; ++i) stickyFill[i].style.height = null; for (i = 0; i < stickyFill.length; ++i) { var height = stickyFill[i].parentElement.offsetHeight-stickyFill[i].offsetTop; height = Math.max(height, stickyFill[i].offsetHeight); stickyFill[i].style.height = height+'px'; } } document.addEventListener('DOMContentLoaded', resizeStickyContainers, false); // layout_headjs function utf8_decode(e){for(var n="",r=0;r


#Serie #Logiman #Cremas #private #victory #Padua #Virtus