Serie B – Nice victory for Faenza Blacks at Aurora Jesi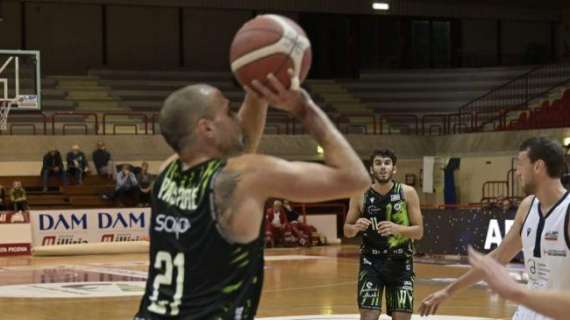 Black masterpiece! Because of an ideal choral efficiency and unbelievable psychological energy, the Raggisolaris broke by way of the troublesome area of Jesi, by no means violated through the season. One other instance of the expansion of the group. This success extends the constructive streak to 4 and permits us to stay in second place along with Florence, two factors behind Rieti.
The victory is devoted to Bandini, protagonist of a fortuitous collision through the sport that precipitated a small minimize on his eyebrow, which didn't enable him to exit on the sphere. The sport is prepared for Sunday's derby towards Andrea Costa Imola!
Jesi instantly exhibits that he has nice offensive potential scoring 4 triples within the first quarter alone, however Black isn't any much less. Pastore, in reality, made two heavy baskets that allowed his staff to right the distinction from 11-18 to 17-18, prelude to 17-20 on the finish of the primary quarter. Within the second interval, the quick sport of the Marches places black in difficulties, they appeared too confused in assault and never cautious in protection. For 4 very lengthy minutes no factors arrive and Jesi stretches to 30-19. Garelli calls a time-out and when he returns to the sphere the staff is reworked. Poggi opens the break 10-0 (29-30) and tries to flee once more, however now the Raggisolaris have entered the sport.
Poggi scores the free for 40-40 then the Normal Contractor goes to 51-43 after which black begins to play good and particularly to be extra aggressive in protection. The staff received plenty of free throws and the lead (57-56) got here from the road because of a 2/2 by Aromando. Jesi doesn't discover factors for five minutes, whereas Faenza dominates beneath the basket and scores repeatedly. Aromando from the underside and Pastore from the surface are the primary offensive terminals, giving a bonus of about 6/7 factors maintained by the assaults of the rivals till within the thirty ninth minute Vico scores the triple for 77-67 from greater than seven meters, bringing down the curtain. .
Normal contractor Jesi 68 – Blacks Faenza 79
(20-17; 38-33; 56-53)
JESI GENERAL CONTRACTOR: Ferraro 5, Giulietti ne, Moretti ne, Konteh ne, Filippini 17, Merletto 13, Ginesi ne, Cicconi Massi, Valentini, Marulli 13, Rocchi 14, Gatti 6. All .: Ghizzinardi
BLACKS FAENZA: Bandini, Siberna 8, Vico 10, Poggi 10, Voltolini 5, Molinaro 6, Petrucci 6, Aromando 13, Pastore 21, Nkot Nkot ne. Coach: Garelli.
Referees: Cassiano – Gai
notes Shot from 2: JE: 14/30, FA: 17/37; 3-pointers: JE: 9/25, FA: 9/22; Free throws: JE: 13/14, FA: 18/23; Whole rebounds: JE: 35, FA: 34.
var banner = {"160x60_1":[{"idbanner":"79","width":160,"height":60,"crop":"1","async":"0","uri":"fip.it","embed":"","img1":"5fe00002fae5d7c483dcf9075d14961a.jpg","partenza":1422813600,"scadenza":-62169986996,"pagine":""}],"300x600":[{"idbanner":"141","width":300,"height":600,"crop":"1","async":"0","uri":"","embed":"PGRpdiBjbGFzcz0iZ3B0c2xvdCIgZGF0YS1hZHVuaXRpZD0iOCI+PC9kaXY+DQo=","img1":"","partenza":-62169986996,"scadenza":1693346400,"pagine":"index"},{"idbanner":"158","width":300,"height":600,"crop":"1","async":"0","uri":"","embed":"PGRpdiBjbGFzcz0iZ3B0c2xvdCIgZGF0YS1hZHVuaXRpZD0iOSI+PC9kaXY+","img1":"","partenza":-62169986996,"scadenza":-62169986996,"pagine":"!index"}],"970x250":[{"idbanner":"144","width":970,"height":250,"crop":"1","async":"0","uri":"","embed":"PGRpdiBjbGFzcz0iZ3B0c2xvdCIgZGF0YS1hZHVuaXRpZD0iMSIgZGF0YS1hZGRlc2t0b3A9InRydWUiPjwvZGl2Pg==","img1":"","partenza":-62169986996,"scadenza":-62169986996,"pagine":"index"},{"idbanner":"157","width":970,"height":250,"crop":"1","async":"0","uri":"","embed":"PGRpdiBjbGFzcz0iZ3B0c2xvdCIgZGF0YS1hZHVuaXRpZD0iMCIgZGF0YS1hZGRlc2t0b3A9InRydWUiPjwvZGl2Pg==","img1":"","partenza":-62169986996,"scadenza":-62169986996,"pagine":"!index"}],"468x60_home":[{"idbanner":"133","width":468,"height":60,"crop":"1","async":"0","uri":"","embed":"PGRpdiBjbGFzcz0iZ3B0c2xvdCIgZGF0YS1hZHVuaXRpZD0iMiI+PC9kaXY+","img1":"","partenza":-62169986996,"scadenza":-62169986996,"pagine":"!index"},{"idbanner":"146","width":468,"height":60,"crop":"1","async":"0","uri":"","embed":"PGEgaHJlZj0iaHR0cHM6Ly93d3cuc2l0aXNjb21tZXNzZS5jb20vYmFza2V0LyIgdGFyZ2V0PSJfYmxhbmsiPg0KICAgPGltZyBzcmM9Imh0dHBzOi8vdHVzY2FueWxpZmV0aW1lLmNvbS93cC1jb250ZW50L3VwbG9hZHMvMjAyMS8wOC9zaXRpLXNjb21tZXNzZS5qcGciIGFsdD0ibG9nbyBwZXIgc2l0aXNjb21tZXNzZS5jb20vYmFza2V0Ij4NCjwvYT4NCg==","img1":"","partenza":1625054400,"scadenza":-62169986996,"pagine":"index"}],"728x90":[{"idbanner":"159","width":728,"height":90,"crop":"1","async":"0","uri":"","embed":"PHNjcmlwdCBzcmM9Imh0dHBzOi8vYXNzZXRzLmV2b2x1dGlvbmFkdi5pdC9waWFuZXRhYmFza2V0X2NvbS9waWFuZXRhYmFza2V0X2NvbS5uZXcuanMiPjwvc2NyaXB0Pg==","img1":"","partenza":-62169986996,"scadenza":-62169986996,"pagine":""}]}; var now = Math.round(new Date().getTime() / 1000); var bannerok = new Object(); for (var zona in banner) { bannerok[zona] = new Array(); for (i=0; i < banner[zona].length; i++) { var ok = 1; if (banner[zona][i]['scadenza']>0 && banner[zona][i]['scadenza']<=now) ok = 0; if (banner[zona][i]['partenza']!=0 && banner[zona][i]['partenza']>now) ok = 0; if (typeof azione !== 'undefined' && azione !== null) { if (banner[zona][i]['pagine'] == '!index' && azione == 'index') ok = 0; else if (banner[zona][i]['pagine'] == 'index' && azione != 'index') ok = 0; }
if (ok == 1) bannerok[zona].push(banner[zona][i]); }
bannerok[zona].sort(function() {return 0.5 - Math.random()}); } banner = bannerok; var banner_url="https://net-storage.tcccdn.com"; var banner_path="/storage/pianetabasket.com/banner/" function asyncLoad() { if (azione == 'read' && TCCCookieConsent) { var scripts = [ "https://connect.facebook.net/it_IT/all.js#xfbml=1", ]; (function(array) { for (var i = 0, len = array.length; i < len; i++) { var elem = document.createElement('script'); elem.type="text/javascript"; elem.async = true; elem.src = array[i]; var s = document.getElementsByTagName('script')[0]; s.parentNode.insertBefore(elem, s); } })(scripts); } setTCCCookieConsent(); } if (window.addEventListener) window.addEventListener("load", asyncLoad, false); else if (window.attachEvent) window.attachEvent("onload", asyncLoad); else window.onload = asyncLoad; function resizeStickyContainers() { var stickyFill = document.getElementsByClassName('sticky-fill'); for (i = 0; i < stickyFill.length; ++i) stickyFill[i].style.height = null; for (i = 0; i < stickyFill.length; ++i) { var height = stickyFill[i].parentElement.offsetHeight-stickyFill[i].offsetTop; height = Math.max(height, stickyFill[i].offsetHeight); stickyFill[i].style.height = height+'px'; } } document.addEventListener('DOMContentLoaded', resizeStickyContainers, false); // layout_headjs function utf8_decode(e){for(var n="",r=0;r


#Serie #Nice #victory #Faenza #Blacks #Aurora #Jesi