Serie B – Oleggio's Sharks cannot discover a smile towards Gallarate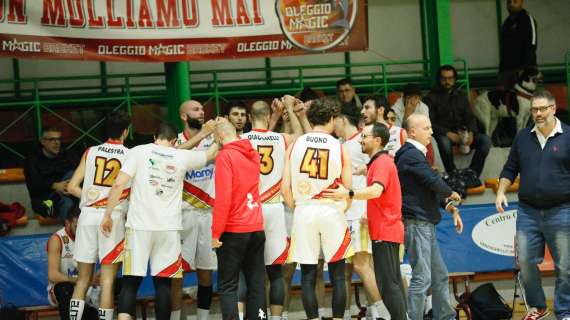 It is a Wednesday night time that does not carry a smile to the Sharks court docket. In anticipation of the seventh day of the championship, Oleggio Magic Basket loses to Esse Photo voltaic Gallarate by 70-78. The Sharks, already suffering from bodily issues for Buono and Colussa, additionally needed to cope with others that got here to Ingrosso and Giacomelli in the course of the recreation. Return to the sector on November 20 at Sangiorgese's home.
Sharks within the discipline with Buono, Maruca, Giacomelli, Colussa and Ingrosso; Gallarate with Hidalgo, De Bettin, Filippi, Gravaghi and Antonelli. After the preliminary 2-2, Gallarate instantly tries to place the arrow with Gravaghi (2-7), Buono and Seck are good at lowering distances (8-11). It's good to hold the tools on the shoulder (from the road first it's 15-17, then 17-21). The primary last sees the company in entrance even when Maruca shortens (19-26). Solely quantity 10 and Restelli, each from the bow, signal 25-28, Esse Photo voltaic however is able to combat again and 25-32 is a break for the Sharks. Gallarate by 25-34, Giacomelli, Seck and Ingrosso give the group gasoline and the rating exhibits 35-36. Within the last moments, the scenario heats up and Maruca scores a basket from greater than half the sector to offer the Sharks the primary lead (40-39).
Within the return, a point-to-point battle takes place and the groups take management once more, Ingrosso makes a three-pointer for 45-43, Gravaghi responds with an encore after which Giacomelli once more for 48-49. Colussa is launched and likewise takes the additional shot (53-49), Clerici, nevertheless, additionally lights up from the bow and Gallarate regains the benefit (53-59). Maruca nonetheless thinks about shortening (55-59). Coach Nava remembers his group when the rating reads 57-66, Gallarate leads and the Sharks keep within the wake conserving hope alive (62-72). Lower than two minutes from the tip, Maruca and Giacomelli signal the 70-76, simply lacking and sadly the basket, as occurred in the course of the night, doesn't need to know. The top reads 70-78.
Oleggio Magic Basket – Esse Photo voltaic Gallarate: 70-78 (19-26; 40-39; 55-59)
Oleggio: Ingrosso 8, Giacomelli 10, Colussa 9, Restelli 8, Ballarin, Maruca 19, Health club, Introini ne, Guardigli 3, Temporali, Seck 4, Buono 9. All. Ship
Gallarate: Hidalgo 12, De Bettin 11, Ielmini, Passerini 9, Antonelli 12, Clerici 11, Filippi 6, Bresolin 2, Gravaghi 11, Calzavara 4. All Gambaro.
var banner = {"160x60_1":[{"idbanner":"79","width":160,"height":60,"crop":"1","async":"0","uri":"fip.it","embed":"","img1":"5fe00002fae5d7c483dcf9075d14961a.jpg","partenza":1422813600,"scadenza":-62169986996,"pagine":""}],"300x600":[{"idbanner":"141","width":300,"height":600,"crop":"1","async":"0","uri":"","embed":"PGRpdiBjbGFzcz0iZ3B0c2xvdCIgZGF0YS1hZHVuaXRpZD0iOCI+PC9kaXY+DQo=","img1":"","partenza":-62169986996,"scadenza":1693346400,"pagine":"index"},{"idbanner":"158","width":300,"height":600,"crop":"1","async":"0","uri":"","embed":"PGRpdiBjbGFzcz0iZ3B0c2xvdCIgZGF0YS1hZHVuaXRpZD0iOSI+PC9kaXY+","img1":"","partenza":-62169986996,"scadenza":-62169986996,"pagine":"!index"}],"970x250":[{"idbanner":"144","width":970,"height":250,"crop":"1","async":"0","uri":"","embed":"PGRpdiBjbGFzcz0iZ3B0c2xvdCIgZGF0YS1hZHVuaXRpZD0iMSIgZGF0YS1hZGRlc2t0b3A9InRydWUiPjwvZGl2Pg==","img1":"","partenza":-62169986996,"scadenza":-62169986996,"pagine":"index"},{"idbanner":"157","width":970,"height":250,"crop":"1","async":"0","uri":"","embed":"PGRpdiBjbGFzcz0iZ3B0c2xvdCIgZGF0YS1hZHVuaXRpZD0iMCIgZGF0YS1hZGRlc2t0b3A9InRydWUiPjwvZGl2Pg==","img1":"","partenza":-62169986996,"scadenza":-62169986996,"pagine":"!index"}],"468x60_home":[{"idbanner":"133","width":468,"height":60,"crop":"1","async":"0","uri":"","embed":"PGRpdiBjbGFzcz0iZ3B0c2xvdCIgZGF0YS1hZHVuaXRpZD0iMiI+PC9kaXY+","img1":"","partenza":-62169986996,"scadenza":-62169986996,"pagine":"!index"},{"idbanner":"146","width":468,"height":60,"crop":"1","async":"0","uri":"","embed":"PGEgaHJlZj0iaHR0cHM6Ly93d3cuc2l0aXNjb21tZXNzZS5jb20vYmFza2V0LyIgdGFyZ2V0PSJfYmxhbmsiPg0KICAgPGltZyBzcmM9Imh0dHBzOi8vdHVzY2FueWxpZmV0aW1lLmNvbS93cC1jb250ZW50L3VwbG9hZHMvMjAyMS8wOC9zaXRpLXNjb21tZXNzZS5qcGciIGFsdD0ibG9nbyBwZXIgc2l0aXNjb21tZXNzZS5jb20vYmFza2V0Ij4NCjwvYT4NCg==","img1":"","partenza":1625054400,"scadenza":-62169986996,"pagine":"index"}],"728x90":[{"idbanner":"159","width":728,"height":90,"crop":"1","async":"0","uri":"","embed":"PHNjcmlwdCBzcmM9Imh0dHBzOi8vYXNzZXRzLmV2b2x1dGlvbmFkdi5pdC9waWFuZXRhYmFza2V0X2NvbS9waWFuZXRhYmFza2V0X2NvbS5uZXcuanMiPjwvc2NyaXB0Pg==","img1":"","partenza":-62169986996,"scadenza":-62169986996,"pagine":""}]}; var now = Math.round(new Date().getTime() / 1000); var bannerok = new Object(); for (var zona in banner) { bannerok[zona] = new Array(); for (i=0; i < banner[zona].length; i++) { var ok = 1; if (banner[zona][i]['scadenza']>0 && banner[zona][i]['scadenza']<=now) ok = 0; if (banner[zona][i]['partenza']!=0 && banner[zona][i]['partenza']>now) ok = 0; if (typeof azione !== 'undefined' && azione !== null) { if (banner[zona][i]['pagine'] == '!index' && azione == 'index') ok = 0; else if (banner[zona][i]['pagine'] == 'index' && azione != 'index') ok = 0; }
if (ok == 1) bannerok[zona].push(banner[zona][i]); }
bannerok[zona].sort(function() {return 0.5 - Math.random()}); } banner = bannerok; var banner_url="https://net-storage.tcccdn.com"; var banner_path="/storage/pianetabasket.com/banner/" function asyncLoad() { if (azione == 'read' && TCCCookieConsent) { var scripts = [ "https://connect.facebook.net/it_IT/all.js#xfbml=1", ]; (function(array) { for (var i = 0, len = array.length; i < len; i++) { var elem = document.createElement('script'); elem.type="text/javascript"; elem.async = true; elem.src = array[i]; var s = document.getElementsByTagName('script')[0]; s.parentNode.insertBefore(elem, s); } })(scripts); } setTCCCookieConsent(); } if (window.addEventListener) window.addEventListener("load", asyncLoad, false); else if (window.attachEvent) window.attachEvent("onload", asyncLoad); else window.onload = asyncLoad; function resizeStickyContainers() { var stickyFill = document.getElementsByClassName('sticky-fill'); for (i = 0; i < stickyFill.length; ++i) stickyFill[i].style.height = null; for (i = 0; i < stickyFill.length; ++i) { var height = stickyFill[i].parentElement.offsetHeight-stickyFill[i].offsetTop; height = Math.max(height, stickyFill[i].offsetHeight); stickyFill[i].style.height = height+'px'; } } document.addEventListener('DOMContentLoaded', resizeStickyContainers, false); // layout_headjs function utf8_decode(e){for(var n="",r=0;r


#Serie #Oleggios #Sharks #discover #smile #Gallarate