Serie B – Ristopro Fabriano flies over the impediment Tigers Romagna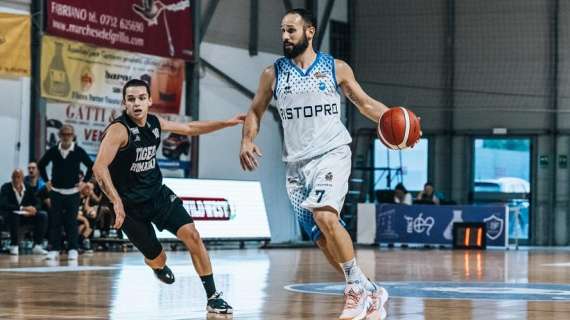 The third day of the Previous Wild West Collection B is held at PalaChemiba in Cerreto D'Esi; Ristopro, after the rectified defeat in Imola, faces Tigers Romagna, nonetheless dry on this championship. The standard sea of ​​followers current to help coach Aniello's boys, makes the match even hotter.
The primary quarter opens with a wonderful protection by the biancoblu, who hold the visitors to simply 4 factors for five', reaching 9-4 with Fall's 2+1. The Tigers mild up and, because of some fouls from Janus, the guests shut the hole with baskets from Lovisotto. 17-16 the rating on the scoreboard after 10′.
Centanni opened the second half with two consecutive 3-pointers, the primary of the sport for the cardboard makers, forcing coach Domizioli to name a timeout. The primary basket of the Romanian gamers solely arrived within the fortnight, whereas on the opposite facet of the sector Azzano and Stanic broke by the protection of Juventus. 38-27 on the interval.
When returning to the parquet it's a onerous and compact Janus: tight protection and good attacking choices permit coach Aniello's boys to take management of the sport. Stanic and Verri are powerful for the visitors (each 19 factors and prime scorers of the night); Tigers attempt to maintain the sport with Lovisotto and Brighi, however the rating is 56-42 after three quarters.
Solely within the final fraction did the bianco blues rating 25, a stone too huge for the Romanian rear guard; Centanni's +20 triple just about closes the sport with 5′ to play. It is a occasion at PalaChemiba, Ristopro wins its second recreation at house 81-55 and reaches 4 factors within the standings. Now in the direction of Sunday 23 October: switch to Faenza.
Ristopro Fabriano – Tigers Romagna 81-55 (17-16, 21-11, 18-15, 25-13)
Ristopro Fabriano: Nicolas Stanic 19 (6/6, 1/4), Patrizio Verri 19 (3/3, 1/3), Simone Centanni 11 (1/4, 3/9), Francesco Papa 11 (4/10, 1/2), Riccardo Azzano 7 (3/3, 0/2), Yande Fall 6 (2/4, 0/0), Gianmarco Gulini 5 (1/4, 1/1), Andrea Petracca 3 (0 / 0, 1/2), Alessandro Gianoli 0 (0/0, 0/0), Daniel Onesta 0 (0/0, 0/0), Alex Carsetti 0 (0/0, 0/0), Tommaso Patrizi 0 ( 0/0, 0/0)
Free throws: 17/24 – Rebounds: 34 7 + 27 (Francesco Papa 10) – Assists: 15 (Nicolas manuel Stanic, Simone Centanni 5)
Tigers Romagna: Antonio Brighi 11 (2/5, 2/5), Isacco Lovisotto 11 (5/9, 0/2), Dorde Tomcic 9 (4/6, 0/2), Giacomo Frigoli 7 (1/1, 1/2), Jonas Bracci 7 (3/7, 0/1), Gianluca Pierucci 5 (1/3, 1/6), Giacomo Veronesi 3 (0/0, 1/3), Mattia Favaretto 2 (1 / 4, 0/3), Martino Ferrari 0 (0/0, 0/1), Francesco Poggi 0 (0/0, 0/0), Manuel Stella 0 (0/0, 0/0)
Free throws: 6/8 – Rebounds: 27 5 + 22 (Dorde Tomcic 9) – Help: 7 (Isacco Lovisotto, Mattia Favaretto 2)
var banner = {"160x60_1":[{"idbanner":"79","width":160,"height":60,"crop":"1","async":"0","uri":"fip.it","embed":"","img1":"5fe00002fae5d7c483dcf9075d14961a.jpg","partenza":1422813600,"scadenza":-62169986996,"pagine":""}],"300x600":[{"idbanner":"141","width":300,"height":600,"crop":"1","async":"0","uri":"","embed":"PGRpdiBjbGFzcz0iZ3B0c2xvdCIgZGF0YS1hZHVuaXRpZD0iOCI+PC9kaXY+DQo=","img1":"","partenza":-62169986996,"scadenza":1693346400,"pagine":"index"},{"idbanner":"158","width":300,"height":600,"crop":"1","async":"0","uri":"","embed":"PGRpdiBjbGFzcz0iZ3B0c2xvdCIgZGF0YS1hZHVuaXRpZD0iOSI+PC9kaXY+","img1":"","partenza":-62169986996,"scadenza":-62169986996,"pagine":"!index"}],"970x250":[{"idbanner":"144","width":970,"height":250,"crop":"1","async":"0","uri":"","embed":"PGRpdiBjbGFzcz0iZ3B0c2xvdCIgZGF0YS1hZHVuaXRpZD0iMSIgZGF0YS1hZGRlc2t0b3A9InRydWUiPjwvZGl2Pg==","img1":"","partenza":-62169986996,"scadenza":-62169986996,"pagine":"index"},{"idbanner":"157","width":970,"height":250,"crop":"1","async":"0","uri":"","embed":"PGRpdiBjbGFzcz0iZ3B0c2xvdCIgZGF0YS1hZHVuaXRpZD0iMCIgZGF0YS1hZGRlc2t0b3A9InRydWUiPjwvZGl2Pg==","img1":"","partenza":-62169986996,"scadenza":-62169986996,"pagine":"!index"}],"468x60_home":[{"idbanner":"133","width":468,"height":60,"crop":"1","async":"0","uri":"","embed":"PGRpdiBjbGFzcz0iZ3B0c2xvdCIgZGF0YS1hZHVuaXRpZD0iMiI+PC9kaXY+","img1":"","partenza":-62169986996,"scadenza":-62169986996,"pagine":"!index"},{"idbanner":"146","width":468,"height":60,"crop":"1","async":"0","uri":"","embed":"PGEgaHJlZj0iaHR0cHM6Ly93d3cuc2l0aXNjb21tZXNzZS5jb20vYmFza2V0LyIgdGFyZ2V0PSJfYmxhbmsiPg0KICAgPGltZyBzcmM9Imh0dHBzOi8vdHVzY2FueWxpZmV0aW1lLmNvbS93cC1jb250ZW50L3VwbG9hZHMvMjAyMS8wOC9zaXRpLXNjb21tZXNzZS5qcGciIGFsdD0ibG9nbyBwZXIgc2l0aXNjb21tZXNzZS5jb20vYmFza2V0Ij4NCjwvYT4NCg==","img1":"","partenza":1625054400,"scadenza":-62169986996,"pagine":"index"}],"728x90":[{"idbanner":"159","width":728,"height":90,"crop":"1","async":"0","uri":"","embed":"PHNjcmlwdCBzcmM9Imh0dHBzOi8vYXNzZXRzLmV2b2x1dGlvbmFkdi5pdC9waWFuZXRhYmFza2V0X2NvbS9waWFuZXRhYmFza2V0X2NvbS5uZXcuanMiPjwvc2NyaXB0Pg==","img1":"","partenza":-62169986996,"scadenza":-62169986996,"pagine":""}]}; var now = Math.round(new Date().getTime() / 1000); var bannerok = new Object(); for (var zona in banner) { bannerok[zona] = new Array(); for (i=0; i < banner[zona].length; i++) { var ok = 1; if (banner[zona][i]['scadenza']>0 && banner[zona][i]['scadenza']<=now) ok = 0; if (banner[zona][i]['partenza']!=0 && banner[zona][i]['partenza']>now) ok = 0; if (typeof azione !== 'undefined' && azione !== null) { if (banner[zona][i]['pagine'] == '!index' && azione == 'index') ok = 0; else if (banner[zona][i]['pagine'] == 'index' && azione != 'index') ok = 0; }
if (ok == 1) bannerok[zona].push(banner[zona][i]); }
bannerok[zona].sort(function() {return 0.5 - Math.random()}); } banner = bannerok; var banner_url="https://net-storage.tcccdn.com"; var banner_path="/storage/pianetabasket.com/banner/" function asyncLoad() { if (azione == 'read' && TCCCookieConsent) { var scripts = [ "https://connect.facebook.net/it_IT/all.js#xfbml=1", ]; (function(array) { for (var i = 0, len = array.length; i < len; i++) { var elem = document.createElement('script'); elem.type="text/javascript"; elem.async = true; elem.src = array[i]; var s = document.getElementsByTagName('script')[0]; s.parentNode.insertBefore(elem, s); } })(scripts); } setTCCCookieConsent(); } if (window.addEventListener) window.addEventListener("load", asyncLoad, false); else if (window.attachEvent) window.attachEvent("onload", asyncLoad); else window.onload = asyncLoad; function resizeStickyContainers() { var stickyFill = document.getElementsByClassName('sticky-fill'); for (i = 0; i < stickyFill.length; ++i) stickyFill[i].style.height = null; for (i = 0; i < stickyFill.length; ++i) { var height = stickyFill[i].parentElement.offsetHeight-stickyFill[i].offsetTop; height = Math.max(height, stickyFill[i].offsetHeight); stickyFill[i].style.height = height+'px'; } } document.addEventListener('DOMContentLoaded', resizeStickyContainers, false); // layout_headjs function utf8_decode(e){for(var n="",r=0;r


#Serie #Ristopro #Fabriano #flies #impediment #Tigers #Romagna