Serie B – Victory of the nice knights over Gema Montecatini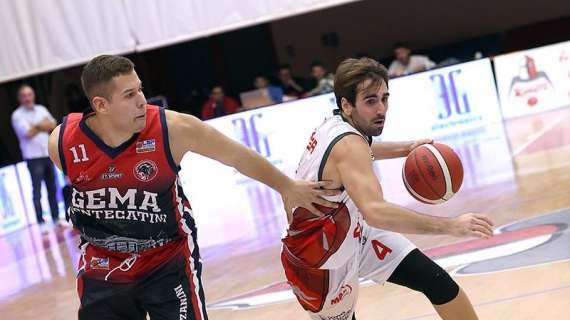 Legnano raises his head on the ground of the PalaBorsani after 3 performances which have left a lot to be desired and as soon as once more snatches the pink reportage.
The sport, nevertheless, begins uphill for coach Eliantonio's males, as a result of within the first quarter Montecatini is doing very properly to prevail and create lots in assault; 16-22 the partial of the primary fraction and an excessive amount of vulnerability of the Legnanese protection. Guerra enters the sphere and scores 6 factors (12 in the long run) in an amen that, in truth, cuts the legs of the locals. Infante manages to make the distinction within the field, forcing lengthy opponents to go removed from the basket to disclaim the shot of the lengthy class '82.
The second quarter is for Legnano to cease a mini hemorrhage and get well the inertia of the sport, placing on paper a partial 25-14. Intense sport, very excessive tempo and groups that need to react to each mistake by exhibiting nice basketball. Going into the break forward may be very helpful for Legnano to method the third quarter in the absolute best method.
Ten minutes into the primary leg (25-10), with Montecatini struggling to seek out options in assault and solidity in defence. Tommaso Marino presses the accelerator and takes his teammates to a different degree (14 factors and 6 assists), setting the tempo and managing their bodily efficiency in the absolute best method. Casini from the bow turns into the protagonist of an incredible race (3/4 of three factors) and Sacchettini as soon as once more proves to be an actual chief, with perspective and with information. On the finish of the sport there will probably be 18 factors and seven rebounds for him, and figuring out that his return to Legnano was a sensible choice to say the least.
The final interval is for the hosts to accredit the victory and provides oxygen to the busiest gamers, giving area to the youngest members of the squad. Montecatini tries to comprehend a response, however his arms are at all times too chilly to renew the race.
To underline Leardini's double-double (10 factors and 10 rebounds) with the credit despatched by Gian Marco Drocker, creator of 18 factors and a very good proportion from the sphere.
It ends 87-61, an necessary signal for Legnano who're making ready to face Libertas Livorno, already confronted and defeated within the Tremendous Cup, however who, as at all times, will show to be a high degree opponent.
3G ELECTRONICS LEGNANO KNIGHTS – GEM MONTECATINI 87-61 (16-22, 25-15, 25-10, 21-14)
3G Electronics Legnano Knights: Gian Marco Drocker 18 (6/6, 2/4), Michael Sacchettini 18 (8/13, 0/0), Tommaso Marino 14 (4/5, 1/3), Juan Marcos Casini 14 ( 1/4, 3/4), Giacomo Leardini 10 (3/7, 1/2), Diego Terenzi 7 (2/4, 1/4), Luca Antonietti 4 (2/4, 0/2), Saverio Mazzantini 2 (1/2, 0/1), Riccardo Cucchi 0 (0/0, 0/0), Francesco Amorelli 0 (0/0, 0/0), Alessandro Ferrario 0 (0/1, 0/0), Matteo Bassani 0 (0/1, 0/0)
Free throws: 9/10 – Rebounds: 33 4 + 29 (Giacomo Leardini 10) – Help: 17 (Tommaso Marino 6)
Gema Montecatini: Fernando Luis Marengo 12 (4/6, 0/2), Filippo Guerra 12 (5/12, 0/2), Tommaso Molteni 10 (5/11, 0/1), Luca Infante 9 (3/5 ). , 0/3), Bruno Giuseppe Duranti 8 (1/3, 2/3), Luca Digno 5 (1/3, 1/3), Lorenzo Neri 5 (2/3, 0/3), Paolo Zanini 0 ( 0/2, 0/0), Jacopo Cellerini 0 (0/1, 0/0), Federico Rinaldi 0 (0/0, 0/0), Nicola Savoldelli 0 (0/0, 0/0), Christian Ghiarè 0 (0/0, 0/0)
Free throws: 16/10 – Rebounds: 35 9 + 26 (Luca Infante 10) – Help: 6 (Tommaso Molteni, Luca Digno 2)
var banner = {"160x60_1":[{"idbanner":"79","width":160,"height":60,"crop":"1","async":"0","uri":"fip.it","embed":"","img1":"5fe00002fae5d7c483dcf9075d14961a.jpg","partenza":1422813600,"scadenza":-62169986996,"pagine":""}],"300x600":[{"idbanner":"141","width":300,"height":600,"crop":"1","async":"0","uri":"","embed":"PGRpdiBjbGFzcz0iZ3B0c2xvdCIgZGF0YS1hZHVuaXRpZD0iOCI+PC9kaXY+DQo=","img1":"","partenza":-62169986996,"scadenza":1693346400,"pagine":"index"},{"idbanner":"158","width":300,"height":600,"crop":"1","async":"0","uri":"","embed":"PGRpdiBjbGFzcz0iZ3B0c2xvdCIgZGF0YS1hZHVuaXRpZD0iOSI+PC9kaXY+","img1":"","partenza":-62169986996,"scadenza":-62169986996,"pagine":"!index"}],"970x250":[{"idbanner":"144","width":970,"height":250,"crop":"1","async":"0","uri":"","embed":"PGRpdiBjbGFzcz0iZ3B0c2xvdCIgZGF0YS1hZHVuaXRpZD0iMSIgZGF0YS1hZGRlc2t0b3A9InRydWUiPjwvZGl2Pg==","img1":"","partenza":-62169986996,"scadenza":-62169986996,"pagine":"index"},{"idbanner":"157","width":970,"height":250,"crop":"1","async":"0","uri":"","embed":"PGRpdiBjbGFzcz0iZ3B0c2xvdCIgZGF0YS1hZHVuaXRpZD0iMCIgZGF0YS1hZGRlc2t0b3A9InRydWUiPjwvZGl2Pg==","img1":"","partenza":-62169986996,"scadenza":-62169986996,"pagine":"!index"}],"468x60_home":[{"idbanner":"133","width":468,"height":60,"crop":"1","async":"0","uri":"","embed":"PGRpdiBjbGFzcz0iZ3B0c2xvdCIgZGF0YS1hZHVuaXRpZD0iMiI+PC9kaXY+","img1":"","partenza":-62169986996,"scadenza":-62169986996,"pagine":"!index"},{"idbanner":"146","width":468,"height":60,"crop":"1","async":"0","uri":"","embed":"PGEgaHJlZj0iaHR0cHM6Ly93d3cuc2l0aXNjb21tZXNzZS5jb20vYmFza2V0LyIgdGFyZ2V0PSJfYmxhbmsiPg0KICAgPGltZyBzcmM9Imh0dHBzOi8vdHVzY2FueWxpZmV0aW1lLmNvbS93cC1jb250ZW50L3VwbG9hZHMvMjAyMS8wOC9zaXRpLXNjb21tZXNzZS5qcGciIGFsdD0ibG9nbyBwZXIgc2l0aXNjb21tZXNzZS5jb20vYmFza2V0Ij4NCjwvYT4NCg==","img1":"","partenza":1625054400,"scadenza":-62169986996,"pagine":"index"}],"728x90":[{"idbanner":"159","width":728,"height":90,"crop":"1","async":"0","uri":"","embed":"PHNjcmlwdCBzcmM9Imh0dHBzOi8vYXNzZXRzLmV2b2x1dGlvbmFkdi5pdC9waWFuZXRhYmFza2V0X2NvbS9waWFuZXRhYmFza2V0X2NvbS5uZXcuanMiPjwvc2NyaXB0Pg==","img1":"","partenza":-62169986996,"scadenza":-62169986996,"pagine":""}]}; var now = Math.round(new Date().getTime() / 1000); var bannerok = new Object(); for (var zona in banner) { bannerok[zona] = new Array(); for (i=0; i < banner[zona].length; i++) { var ok = 1; if (banner[zona][i]['scadenza']>0 && banner[zona][i]['scadenza']<=now) ok = 0; if (banner[zona][i]['partenza']!=0 && banner[zona][i]['partenza']>now) ok = 0; if (typeof azione !== 'undefined' && azione !== null) { if (banner[zona][i]['pagine'] == '!index' && azione == 'index') ok = 0; else if (banner[zona][i]['pagine'] == 'index' && azione != 'index') ok = 0; }
if (ok == 1) bannerok[zona].push(banner[zona][i]); }
bannerok[zona].sort(function() {return 0.5 - Math.random()}); } banner = bannerok; var banner_url="https://net-storage.tcccdn.com"; var banner_path="/storage/pianetabasket.com/banner/" function asyncLoad() { if (azione == 'read' && TCCCookieConsent) { var scripts = [ "https://connect.facebook.net/it_IT/all.js#xfbml=1", ]; (function(array) { for (var i = 0, len = array.length; i < len; i++) { var elem = document.createElement('script'); elem.type="text/javascript"; elem.async = true; elem.src = array[i]; var s = document.getElementsByTagName('script')[0]; s.parentNode.insertBefore(elem, s); } })(scripts); } setTCCCookieConsent(); } if (window.addEventListener) window.addEventListener("load", asyncLoad, false); else if (window.attachEvent) window.attachEvent("onload", asyncLoad); else window.onload = asyncLoad; function resizeStickyContainers() { var stickyFill = document.getElementsByClassName('sticky-fill'); for (i = 0; i < stickyFill.length; ++i) stickyFill[i].style.height = null; for (i = 0; i < stickyFill.length; ++i) { var height = stickyFill[i].parentElement.offsetHeight-stickyFill[i].offsetTop; height = Math.max(height, stickyFill[i].offsetHeight); stickyFill[i].style.height = height+'px'; } } document.addEventListener('DOMContentLoaded', resizeStickyContainers, false); // layout_headjs function utf8_decode(e){for(var n="",r=0;r


#Serie #Victory #nice #knights #Gema #Montecatini