Serie B – Virtus Pozzuoli stunning within the center, defeated with honor at residence to Corato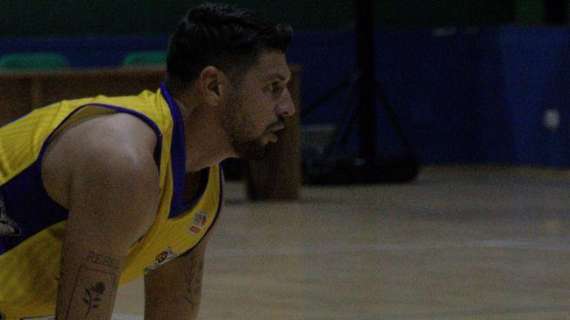 The younger Virtus Bava Pozzuoli is defeated by Pala Losito on the finish of a match by which the gialloblù, after main the primary quarter, unite on the sting of the sirens after which pay for the entire match a nasty second set with the Gialloblù to chase for thirty minutes. The Phlegraeans, nevertheless, closed with 4 males in double figures and in addition reopened the race within the last with no luck. The primary basket is from Tamani, then, due to baskets from Sirakov and Mehmedoviq, the Putolans handle to achieve 15-21 at 7′ with Corato who, with a four-point motion from Gatta, closes the primary set with a 23-23. Within the second set, Pozzuoli is ten factors behind at 14′ (33-23). The gialloblù managed to get again to -5 due to a triple from Sirakov (33-28) however the younger males of Tagliaferri and Spinelli made many errors each in assault and protection permitting the Apulians to put the break (45-31). at 20′). Within the third quarter, the gialloblù attempt to shut the shirts in protection however regardless of responding in variety to Corato, the distinction will increase (65-48). Within the final set, boosted by two consecutive three-pointers from Venier and Mehmedoviq's factors, Phlegrean's staff managed to achieve -9 at 34′ (67-58), reopening the match. Within the last, nevertheless, the house staff discovered the factors within the basket that condemn Pozzuoli to their sixth defeat of the season.
INDUSTRIAL ADRIATIC CORATO-VIRTUS BAVA POZZUOLI 86-72
ADRIATICA INDUSTRIALE CORATO: Del Tedesco, Sgarlato, Infante 8, Vukosavljevic, Gambarota 13, Artioli 6, Stella 14, Idiaru 12, Battaglia 20, Gatta 13. All Verile
VIRTUS BAVA POZZUOLI: Miaffo, Sirakov 11, Scotto Lavina, Mehmedoviq 15, Tamani 13, Cucco 9, Spinelli, Thiam 10, Greggi 4, Simonetti 2, Venier 6, Cagnacci 2. All. Tagliaferri
REFEREES: Zancolò – Bragagnolo
Partial NOTES 23-23, 45-31, 65-48. 2-point shot: Corato 26/11 – Pozzuoli 17/30. 3-point taking pictures: Corato 18/37 – Pozzuoli 8/20. Free kicks: Corato 10/12 – Pozzuoli 14/18. Rebounds: Corato 35 (Gambarota 7) – Pozzuoli 28 (Mehmedoviq, Thiam 6). Excluded for five fouls: none.
var banner = {"160x60_1":[{"idbanner":"79","width":160,"height":60,"crop":"1","async":"0","uri":"fip.it","embed":"","img1":"5fe00002fae5d7c483dcf9075d14961a.jpg","partenza":1422813600,"scadenza":-62169986996,"pagine":""}],"300x600":[{"idbanner":"141","width":300,"height":600,"crop":"1","async":"0","uri":"","embed":"PGRpdiBjbGFzcz0iZ3B0c2xvdCIgZGF0YS1hZHVuaXRpZD0iOCI+PC9kaXY+DQo=","img1":"","partenza":-62169986996,"scadenza":1693346400,"pagine":"index"},{"idbanner":"158","width":300,"height":600,"crop":"1","async":"0","uri":"","embed":"PGRpdiBjbGFzcz0iZ3B0c2xvdCIgZGF0YS1hZHVuaXRpZD0iOSI+PC9kaXY+","img1":"","partenza":-62169986996,"scadenza":-62169986996,"pagine":"!index"}],"970x250":[{"idbanner":"144","width":970,"height":250,"crop":"1","async":"0","uri":"","embed":"PGRpdiBjbGFzcz0iZ3B0c2xvdCIgZGF0YS1hZHVuaXRpZD0iMSIgZGF0YS1hZGRlc2t0b3A9InRydWUiPjwvZGl2Pg==","img1":"","partenza":-62169986996,"scadenza":-62169986996,"pagine":"index"},{"idbanner":"157","width":970,"height":250,"crop":"1","async":"0","uri":"","embed":"PGRpdiBjbGFzcz0iZ3B0c2xvdCIgZGF0YS1hZHVuaXRpZD0iMCIgZGF0YS1hZGRlc2t0b3A9InRydWUiPjwvZGl2Pg==","img1":"","partenza":-62169986996,"scadenza":-62169986996,"pagine":"!index"}],"468x60_home":[{"idbanner":"133","width":468,"height":60,"crop":"1","async":"0","uri":"","embed":"PGRpdiBjbGFzcz0iZ3B0c2xvdCIgZGF0YS1hZHVuaXRpZD0iMiI+PC9kaXY+","img1":"","partenza":-62169986996,"scadenza":-62169986996,"pagine":"!index"},{"idbanner":"146","width":468,"height":60,"crop":"1","async":"0","uri":"","embed":"PGEgaHJlZj0iaHR0cHM6Ly93d3cuc2l0aXNjb21tZXNzZS5jb20vYmFza2V0LyIgdGFyZ2V0PSJfYmxhbmsiPg0KICAgPGltZyBzcmM9Imh0dHBzOi8vdHVzY2FueWxpZmV0aW1lLmNvbS93cC1jb250ZW50L3VwbG9hZHMvMjAyMS8wOC9zaXRpLXNjb21tZXNzZS5qcGciIGFsdD0ibG9nbyBwZXIgc2l0aXNjb21tZXNzZS5jb20vYmFza2V0Ij4NCjwvYT4NCg==","img1":"","partenza":1625054400,"scadenza":-62169986996,"pagine":"index"}],"728x90":[{"idbanner":"159","width":728,"height":90,"crop":"1","async":"0","uri":"","embed":"PHNjcmlwdCBzcmM9Imh0dHBzOi8vYXNzZXRzLmV2b2x1dGlvbmFkdi5pdC9waWFuZXRhYmFza2V0X2NvbS9waWFuZXRhYmFza2V0X2NvbS5uZXcuanMiPjwvc2NyaXB0Pg==","img1":"","partenza":-62169986996,"scadenza":-62169986996,"pagine":""}]}; var now = Math.round(new Date().getTime() / 1000); var bannerok = new Object(); for (var zona in banner) { bannerok[zona] = new Array(); for (i=0; i < banner[zona].length; i++) { var ok = 1; if (banner[zona][i]['scadenza']>0 && banner[zona][i]['scadenza']<=now) ok = 0; if (banner[zona][i]['partenza']!=0 && banner[zona][i]['partenza']>now) ok = 0; if (typeof azione !== 'undefined' && azione !== null) { if (banner[zona][i]['pagine'] == '!index' && azione == 'index') ok = 0; else if (banner[zona][i]['pagine'] == 'index' && azione != 'index') ok = 0; }
if (ok == 1) bannerok[zona].push(banner[zona][i]); }
bannerok[zona].sort(function() {return 0.5 - Math.random()}); } banner = bannerok; var banner_url="https://net-storage.tcccdn.com"; var banner_path="/storage/pianetabasket.com/banner/" function asyncLoad() { if (azione == 'read' && TCCCookieConsent) { var scripts = [ "https://connect.facebook.net/it_IT/all.js#xfbml=1", ]; (function(array) { for (var i = 0, len = array.length; i < len; i++) { var elem = document.createElement('script'); elem.type="text/javascript"; elem.async = true; elem.src = array[i]; var s = document.getElementsByTagName('script')[0]; s.parentNode.insertBefore(elem, s); } })(scripts); } setTCCCookieConsent(); } if (window.addEventListener) window.addEventListener("load", asyncLoad, false); else if (window.attachEvent) window.attachEvent("onload", asyncLoad); else window.onload = asyncLoad; function resizeStickyContainers() { var stickyFill = document.getElementsByClassName('sticky-fill'); for (i = 0; i < stickyFill.length; ++i) stickyFill[i].style.height = null; for (i = 0; i < stickyFill.length; ++i) { var height = stickyFill[i].parentElement.offsetHeight-stickyFill[i].offsetTop; height = Math.max(height, stickyFill[i].offsetHeight); stickyFill[i].style.height = height+'px'; } } document.addEventListener('DOMContentLoaded', resizeStickyContainers, false); // layout_headjs function utf8_decode(e){for(var n="",r=0;r


#Serie #Virtus #Pozzuoli #stunning #center #defeated #honor #residence #Corato