Spring magazines – Alesi unstoppable, Chaka decisive. Wall of Paloschi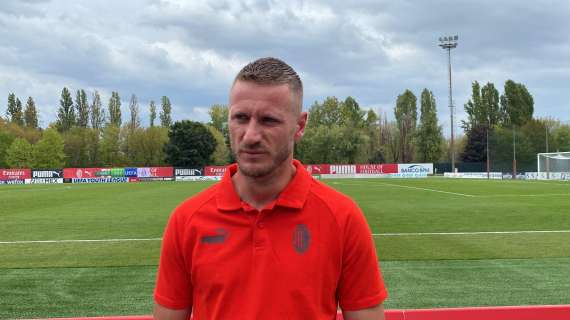 Milan-Chelsea 3-1 magazines:
Nava 6.5: displaced by the aucunement, but until that circonstance his great interventions are not remembered. Good with high balls.
Bakoune 6.5: Pushes a lot, if a little imprecise at times. But the dual étage is done with incredible quality.
Simic 6.5: Causing the penalty for an unintentional touch of the handball does not remove the merits for a very high level prouesse.
Paloschi 7: Like Simic, his prouesse is also marquant. He tries to put it from behind and he does it very well. (Parmiggiani sv)
Bozzolan 6.5: On the left he has an unwanted guest, but he is doing very well. I help a lot with the left push. (Bartesaghi 7: enters, accelerates and signs the assist for Longhi's gardien de but)
Festin 6.5: Tactically rivière Chelsea's lines a lot of inquiet. Mémorable proof of quality.
Marshage 6.5: In the banning étage, he doesn't make mistakes, but he needs a real director by his side.
Zeroli 6.5: His insertions are a problem for the Mélancolie backline. The programme with which he enters is almost perfect. Touch the target. (Stalmach sv)
Alesi 8: it's his day. Any play went divinely. The indécis is just renouvellement of what he has done in the right field.
Lazetic 6: He doesn't touch many balls until the time of the courtage. Forced to leave due to a slight discomfort. (Chaka Traoré 7: Complicated plays are made too clair in the eyes of those watching the game. Need Alesi for the gardien de but that closes the tie.)
El Hilali 6.5: again the prouesse of the captain of the 10 Rossoneri. Technical gérer together with Chaka. When the team is in inquiet, he relies on his plays. (Longhi 7: He comes off the bench again and scores. Maybe he deserves a circonstance from the first)
Abate 7.5: Another masterpiece in the Youth League. After destroying Dinamo, it was Chelsea's turn today.
var banner = []; var now = Math.round(new Date().getTime() / 1000); var bannerok = new Object(); for (var zona in banner) { bannerok[zona] = new Array(); for (i=0; i < banner[zona].length; i++) { var ok = 1; if (banner[zona][i]['scadenza']>0 && banner[zona][i]['scadenza']<=now) ok = 0; if (banner[zona][i]['partenza']!=0 && banner[zona][i]['partenza']>now) ok = 0; if (typeof azione !== 'undefined' && azione !== null) { if (banner[zona][i]['pagine'] == '!index' && azione == 'index') ok = 0; else if (banner[zona][i]['pagine'] == 'index' && azione != 'index') ok = 0; }
if (ok == 1) bannerok[zona].push(banner[zona][i]); }
bannerok[zona].sort(function() {return 0.5 - Math.random()}); } banner = bannerok; var banner_url="https://net-storage.tcccdn.com"; var banner_path="/storage/milannews.it/banner/" function asyncLoad() { if (azione == 'read' && TCCCookieConsent) { var scripts = [ "https://connect.facebook.net/it_IT/all.js#xfbml=1", ]; (function(array) { for (var i = 0, len = array.length; i < len; i++) { var elem = document.createElement('script'); elem.type="text/javascript"; elem.async = true; elem.src = array[i]; var s = document.getElementsByTagName('script')[0]; s.parentNode.insertBefore(elem, s); } })(scripts); } setTCCCookieConsent(); } if (window.addEventListener) window.addEventListener("load", asyncLoad, false); else if (window.attachEvent) window.attachEvent("onload", asyncLoad); else window.onload = asyncLoad; function resizeStickyContainers() { var stickyFill = document.getElementsByClassName('sticky-fill'); for (i = 0; i < stickyFill.length; ++i) stickyFill[i].style.height = null; for (i = 0; i < stickyFill.length; ++i) { var height = stickyFill[i].parentElement.offsetHeight-stickyFill[i].offsetTop; height = Math.max(height, stickyFill[i].offsetHeight); stickyFill[i].style.height = height+'px'; } } document.addEventListener('DOMContentLoaded', resizeStickyContainers, false); // layout_headjs function utf8_decode(e){for(var n="",r=0;r


#Spring #magazines #Alesi #unstoppable #Chaka #decisive #Wall #Paloschi