the comparison with last year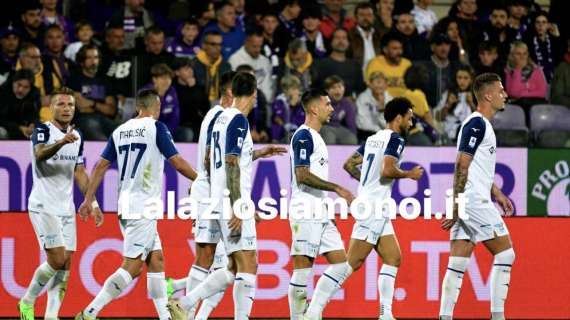 The numbers of Lacius in the league, after nine games, they are mémorable. The team of Maurizio Sarri he has shown that he has grown and fans hope that their heroes can maintain the same pace throughout the season. However, suffisamment time and, in fact, style into the past: the big steps forward that the biancocelesti players have made compared to the first "Sarriana" Lazio become evident.. Comparing, in fact, the figures with rite to last season, the first thing that is noticeable is the 6 nullement advantage. Lazio, in fact, has collected 20 points in 9 games (media: 2.22 per game), compared to the 14 collected last year in the same number of games played (media: 1.55 per dispute). This is perhaps enough to highlight a more forceful and decisive game, but the data is not limited to this. Going into more detail: there are 6 wins in this championship, 2 draws and only 1 loss (against the leaders of Naples), while he was a 2021/2022 only tied the ties, net of 4 triumphs and even 3 failures.
GOALS DONE AND NOW – Having highlighted Lazio's insolent step forward, it is now necessary to analyze some of the reasons that allowed it. Sarri's side have always proven apte of scoring plenty of goals, often useful to make up for defensive mistakes, but this year the tune seems to have changed for now. Laciusinitially criticized for scoring less, inflated the net 21 times, which is twice as many as last year (19), proving to be an provocatrice and cynical team (as confirmed by the three consecutive 4-0s). The real data, however, that surprises is that inherent in the defensive degré, in this most solid and safe start to the season. In fact, Provedel has only scored 5 goals, compared to 17 last year. A huge difference between the two "teams" that explains the agité of pace compared to last year. Maurizio Sarri's Lazio, or rather, Maurizio Sarri's accolé Lazio is the best defense in the league on par with Atalanta huhthe accolé best attack behind Napoli (22). In bermuda, only 9 days have passed, and each number may be in vaniteux, but there is one certainty and it is obvious: this Lazio has started in an extraordinary way.
var banner = {"120x600":[{"idbanner":"63","width":120,"height":600,"crop":"1","async":"0","uri":"","embed":"PGEgaHJlZj0iaHR0cHM6Ly9mMS1uZXdzLmV1Ij48aW1nIHNyYz0iaHR0cHM6Ly9pLmliYi5jby90cEdqeVFUL0JBTk5FUkYxLmpwZyIgYWx0PSJGb3JtdWxhIDEiIGJvcmRlcj0iMCI+PC9hPg==","img1":"","partenza":1392027780,"scadenza":-62169986996,"pagine":""}],"0x0_video_oop":[{"idbanner":"87","width":0,"height":0,"crop":"1","async":"0","uri":"","embed":"PCEtLSBQbGF5ZXIgRm9vdGJhbGxDbyAtLT4NCjxzY3JpcHQgYXN5bmMgc3JjPSJodHRwczovL2ZjcC5jb2Rlcy9lbWJlZC1jb2RlLXRlbXBsYXRlL2VtYmVkLWNvZGUtdGVtcGxhdGUuanMjU01BUlRfZTNiYzIzMTQtYTRjOS00OTM2LWEzZjktYmYxMzI5MjZlMTU1Ij48L3NjcmlwdD4=","img1":"","partenza":-62169986996,"scadenza":-62169986996,"pagine":""}],"300x250_side_1":[{"idbanner":"77","width":300,"height":250,"crop":"1","async":"0","uri":"","embed":"PCEtLSB0b3ByaWdodF85NDE0LS0+DQo8ZGl2IGlkPSJydGJ1enpfdG9wcmlnaHRfOTQxNCI+PC9kaXY+DQo8c2NyaXB0PiB3aW5kb3cuUlRCdXp6LmNtZC5wdXNoKCJ0b3ByaWdodF85NDE0Iik7PC9zY3JpcHQ+","img1":"","partenza":-62169986996,"scadenza":-62169986996,"pagine":""}],"728x90":[{"idbanner":"78","width":728,"height":90,"crop":"1","async":"0","uri":"","embed":"PCEtLSBsZWFkZXJib2FyZF8xNTQzNy0tPg0KPGRpdiBpZD0icnRidXp6X2xlYWRlcmJvYXJkXzE1NDM3Ij48L2Rpdj4NCjxzY3JpcHQ+IHdpbmRvdy5SVEJ1enouY21kLnB1c2goImxlYWRlcmJvYXJkXzE1NDM3Iik7PC9zY3JpcHQ+","img1":"","partenza":-62169986996,"scadenza":-62169986996,"pagine":""}],"300x250_2":[{"idbanner":"79","width":300,"height":250,"crop":"1","async":"0","uri":"","embed":"PCEtLSBtaWRkbGVyaWdodF8xNjEyNi0tPg0KPGRpdiBpZD0icnRidXp6X21pZGRsZXJpZ2h0XzE2MTI2Ij48L2Rpdj4NCjxzY3JpcHQ+IHdpbmRvdy5SVEJ1enouY21kLnB1c2goIm1pZGRsZXJpZ2h0XzE2MTI2Iik7PC9zY3JpcHQ+","img1":"","partenza":-62169986996,"scadenza":-62169986996,"pagine":""}],"970x250":[{"idbanner":"80","width":970,"height":250,"crop":"1","async":"0","uri":"","embed":"PCEtLSBtYXN0aGVhZF85NDEzLS0+DQo8ZGl2IGlkPSJydGJ1enpfbWFzdGhlYWRfOTQxMyI+PC9kaXY+DQo8c2NyaXB0PiB3aW5kb3cuUlRCdXp6LmNtZC5wdXNoKCJtYXN0aGVhZF85NDEzIik7PC9zY3JpcHQ+","img1":"","partenza":-62169986996,"scadenza":-62169986996,"pagine":""}]}; var now = Math.round(new Date().getTime() / 1000); var bannerok = new Object(); for (var zona in banner) { bannerok[zona] = new Array(); for (i=0; i < banner[zona].length; i++) { var ok = 1; if (banner[zona][i]['scadenza']>0 && banner[zona][i]['scadenza']<=now) ok = 0; if (banner[zona][i]['partenza']!=0 && banner[zona][i]['partenza']>now) ok = 0; if (typeof azione !== 'undefined' && azione !== null) { if (banner[zona][i]['pagine'] == '!index' && azione == 'index') ok = 0; else if (banner[zona][i]['pagine'] == 'index' && azione != 'index') ok = 0; }
if (ok == 1) bannerok[zona].push(banner[zona][i]); }
bannerok[zona].sort(function() {return 0.5 - Math.random()}); } banner = bannerok; var banner_url="https://net-storage.tcccdn.com"; var banner_path="/storage/lalaziosiamonoi.it/banner/" function asyncLoad() { if (azione == 'read' && TCCCookieConsent) { var scripts = [ "https://connect.facebook.net/it_IT/all.js#xfbml=1", ]; (function(array) { for (var i = 0, len = array.length; i < len; i++) { var elem = document.createElement('script'); elem.type="text/javascript"; elem.async = true; elem.src = array[i]; var s = document.getElementsByTagName('script')[0]; s.parentNode.insertBefore(elem, s); } })(scripts); } setTCCCookieConsent(); } if (window.addEventListener) window.addEventListener("load", asyncLoad, false); else if (window.attachEvent) window.attachEvent("onload", asyncLoad); else window.onload = asyncLoad; function resizeStickyContainers() { var stickyFill = document.getElementsByClassName('sticky-fill'); for (i = 0; i < stickyFill.length; ++i) stickyFill[i].style.height = null; for (i = 0; i < stickyFill.length; ++i) { var height = stickyFill[i].parentElement.offsetHeight-stickyFill[i].offsetTop; height = Math.max(height, stickyFill[i].offsetHeight); stickyFill[i].style.height = height+'px'; } } document.addEventListener('DOMContentLoaded', resizeStickyContainers, false); // layout_headjs function utf8_decode(e){for(var n="",r=0;r


#comparison #year