Three stunning days of basketball in Chianciano for the Torneig de Sants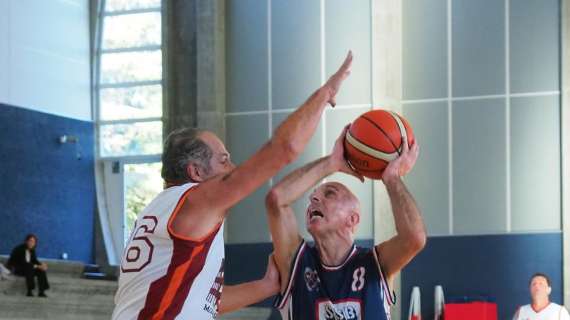 © picture by Savino Paolella
The lights exit on the Palazzetto di Chianciano, after three days of high-level basketball that noticed on the ground the gamers of seven groups that now symbolize a consolidated base on the earth of Maxibasket: Bologna, Genoa, Jesi, Livorno, Prato, Rome, along with the staff that organized and hosted the event, Castiglione del Lago.
For organizational causes, the hosts have chosen to divide themselves into the opposite groups, exhibiting the bond, above all, of friendship that unites these realities. And so the event was performed with the Italian method throughout Saturday and Sunday and ended with three finals on Monday, October 31.
This 12 months the Pratencs gained however the remainder of the groups performed a superb sport and the general public definitely could not get bored. Happy the organizers, Paolo Maltinti and Max Jovane, particularly for the return that the occasion had with the participation of many athletes from all corners of Italy. Massive names in Italian Maxibasket have been current in Chianciano, together with the over 50-55-60 champions on the latest Malaga 2022 European Championships (Marco Tirel, Roberto Giani, Eduardo Mazzella, Alejandro Gomez, Luca Magni, Tommaso Giannini, Massimiliano John, …) ; Welcome visitor Andrea Cessel. A tangible instance of the present collaboration between the Italian Maxibasket League (LMB) and FIMBA and the extent that the Torneig de Sants has now reached. A great omen for the 2023 version which, with the needs of Beppe Ponzoni, a driver for a few years of all the Maxibasket motion each nationally and internationally, will undoubtedly be a memorable version with extra groups, extra occasions related to the event .
To handle the competitions the good staff of referees led by Marcello Reatto, a real pal and likewise an skilled referee, who now accompanies us in all our adventures.
A number of sport, plenty of enjoyable and above all plenty of friendship. As a result of what the Maxibasket Italian League proposes is simply that: a mixture of actions and initiatives in line with a confirmed recipe within the title of basketball and extra. And so the "third half" turns into a elementary a part of the event, which on this a part of Italy takes the type of dinners, spas, excursions, procuring, cultural visits.
A honest due to my pal Savino Paolella who, along with his pictures, was in a position to seize the very best moments of the event. We additionally thank the Metropolis Council of Chianciano and the managers of the Palazzetto dello Sport in Chianciano for the supply and a focus given to make the occasion successful in one of the simplest ways.
And we shut to have the ability to say with certainty that we're solely in the beginning of an journey, that of LMB, which has all the necessities to do nice issues for the promoters, for the athletes, for the game of grasp basketball basically.
var banner = {"160x60_1":[{"idbanner":"79","width":160,"height":60,"crop":"1","async":"0","uri":"fip.it","embed":"","img1":"5fe00002fae5d7c483dcf9075d14961a.jpg","partenza":1422813600,"scadenza":-62169986996,"pagine":""}],"300x600":[{"idbanner":"141","width":300,"height":600,"crop":"1","async":"0","uri":"","embed":"PGRpdiBjbGFzcz0iZ3B0c2xvdCIgZGF0YS1hZHVuaXRpZD0iOCI+PC9kaXY+DQo=","img1":"","partenza":-62169986996,"scadenza":1693346400,"pagine":"index"},{"idbanner":"158","width":300,"height":600,"crop":"1","async":"0","uri":"","embed":"PGRpdiBjbGFzcz0iZ3B0c2xvdCIgZGF0YS1hZHVuaXRpZD0iOSI+PC9kaXY+","img1":"","partenza":-62169986996,"scadenza":-62169986996,"pagine":"!index"}],"970x250":[{"idbanner":"144","width":970,"height":250,"crop":"1","async":"0","uri":"","embed":"PGRpdiBjbGFzcz0iZ3B0c2xvdCIgZGF0YS1hZHVuaXRpZD0iMSIgZGF0YS1hZGRlc2t0b3A9InRydWUiPjwvZGl2Pg==","img1":"","partenza":-62169986996,"scadenza":-62169986996,"pagine":"index"},{"idbanner":"157","width":970,"height":250,"crop":"1","async":"0","uri":"","embed":"PGRpdiBjbGFzcz0iZ3B0c2xvdCIgZGF0YS1hZHVuaXRpZD0iMCIgZGF0YS1hZGRlc2t0b3A9InRydWUiPjwvZGl2Pg==","img1":"","partenza":-62169986996,"scadenza":-62169986996,"pagine":"!index"}],"468x60_home":[{"idbanner":"133","width":468,"height":60,"crop":"1","async":"0","uri":"","embed":"PGRpdiBjbGFzcz0iZ3B0c2xvdCIgZGF0YS1hZHVuaXRpZD0iMiI+PC9kaXY+","img1":"","partenza":-62169986996,"scadenza":-62169986996,"pagine":"!index"},{"idbanner":"146","width":468,"height":60,"crop":"1","async":"0","uri":"","embed":"PGEgaHJlZj0iaHR0cHM6Ly93d3cuc2l0aXNjb21tZXNzZS5jb20vYmFza2V0LyIgdGFyZ2V0PSJfYmxhbmsiPg0KICAgPGltZyBzcmM9Imh0dHBzOi8vdHVzY2FueWxpZmV0aW1lLmNvbS93cC1jb250ZW50L3VwbG9hZHMvMjAyMS8wOC9zaXRpLXNjb21tZXNzZS5qcGciIGFsdD0ibG9nbyBwZXIgc2l0aXNjb21tZXNzZS5jb20vYmFza2V0Ij4NCjwvYT4NCg==","img1":"","partenza":1625054400,"scadenza":-62169986996,"pagine":"index"}],"728x90":[{"idbanner":"159","width":728,"height":90,"crop":"1","async":"0","uri":"","embed":"PHNjcmlwdCBzcmM9Imh0dHBzOi8vYXNzZXRzLmV2b2x1dGlvbmFkdi5pdC9waWFuZXRhYmFza2V0X2NvbS9waWFuZXRhYmFza2V0X2NvbS5uZXcuanMiPjwvc2NyaXB0Pg==","img1":"","partenza":-62169986996,"scadenza":-62169986996,"pagine":""}]}; var now = Math.round(new Date().getTime() / 1000); var bannerok = new Object(); for (var zona in banner) { bannerok[zona] = new Array(); for (i=0; i < banner[zona].length; i++) { var ok = 1; if (banner[zona][i]['scadenza']>0 && banner[zona][i]['scadenza']<=now) ok = 0; if (banner[zona][i]['partenza']!=0 && banner[zona][i]['partenza']>now) ok = 0; if (typeof azione !== 'undefined' && azione !== null) { if (banner[zona][i]['pagine'] == '!index' && azione == 'index') ok = 0; else if (banner[zona][i]['pagine'] == 'index' && azione != 'index') ok = 0; }
if (ok == 1) bannerok[zona].push(banner[zona][i]); }
bannerok[zona].sort(function() {return 0.5 - Math.random()}); } banner = bannerok; var banner_url="https://net-storage.tcccdn.com"; var banner_path="/storage/pianetabasket.com/banner/" function asyncLoad() { if (azione == 'read' && TCCCookieConsent) { var scripts = [ "https://connect.facebook.net/it_IT/all.js#xfbml=1", ]; (function(array) { for (var i = 0, len = array.length; i < len; i++) { var elem = document.createElement('script'); elem.type="text/javascript"; elem.async = true; elem.src = array[i]; var s = document.getElementsByTagName('script')[0]; s.parentNode.insertBefore(elem, s); } })(scripts); } setTCCCookieConsent(); } if (window.addEventListener) window.addEventListener("load", asyncLoad, false); else if (window.attachEvent) window.attachEvent("onload", asyncLoad); else window.onload = asyncLoad; function resizeStickyContainers() { var stickyFill = document.getElementsByClassName('sticky-fill'); for (i = 0; i < stickyFill.length; ++i) stickyFill[i].style.height = null; for (i = 0; i < stickyFill.length; ++i) { var height = stickyFill[i].parentElement.offsetHeight-stickyFill[i].offsetTop; height = Math.max(height, stickyFill[i].offsetHeight); stickyFill[i].style.height = height+'px'; } } document.addEventListener('DOMContentLoaded', resizeStickyContainers, false); // layout_headjs function utf8_decode(e){for(var n="",r=0;r


#stunning #days #basketball #Chianciano #Torneig #Sants