Vuelle Pesaro, Repesa "We did not deserve the victory"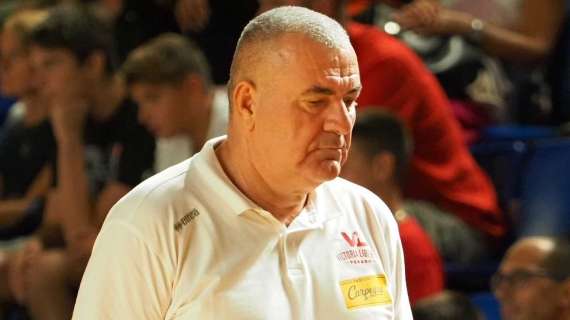 © photograph by SAVINO PAOLELLA
PalaEnergetica press room in Casale Monferrato for Carpegna coach Prosciutto Pesaro Jasmin Repesato touch upon the defeat in opposition to the hosts of Bertram Derthona in anticipation of the third day of Serie A.
The explanations for the defeat. From the primary day I've been batting in a single side: to present every part with satisfaction on the sector in order to not remorse it. Final week we might have misplaced in opposition to Venezia however we received as a result of we deserved it due to the method, vitality, focus and every part we gave. Right this moment, nonetheless, even when we obtained again into the sport, we had exhausted these energies and we did not should win."
euphoria. "I used to be anticipating a sport like this as a result of all week there was an excessive amount of discuss in regards to the success in opposition to Venice and I could not, even with my expertise, get the gamers again on observe."
Fallacious method. "Within the first half we obtained all of it improper: after I known as the primary time-out at 133 we nonetheless hadn't dedicated a single foul and that is unacceptable, in addition to making inexplicable errors each in assault and defence."
Thrown run "I stated within the dressing room that the response and attempting till the top is the one constructive factor tonight for me. However I'm wondering why we did not begin right away and it is an important query. First twenty minutes and the l 'the one answer now we have is to return to the health club to work arduous, to sweat to return again unhealthy, proud and related from all factors of view, ready for the following rival. As a result of from my perspective that is in Tortona it was a loss . night".
var banner = {"160x60_1":[{"idbanner":"79","width":160,"height":60,"crop":"1","async":"0","uri":"fip.it","embed":"","img1":"5fe00002fae5d7c483dcf9075d14961a.jpg","partenza":1422813600,"scadenza":-62169986996,"pagine":""}],"300x600":[{"idbanner":"141","width":300,"height":600,"crop":"1","async":"0","uri":"","embed":"PGRpdiBjbGFzcz0iZ3B0c2xvdCIgZGF0YS1hZHVuaXRpZD0iOCI+PC9kaXY+DQo=","img1":"","partenza":-62169986996,"scadenza":1693346400,"pagine":"index"},{"idbanner":"158","width":300,"height":600,"crop":"1","async":"0","uri":"","embed":"PGRpdiBjbGFzcz0iZ3B0c2xvdCIgZGF0YS1hZHVuaXRpZD0iOSI+PC9kaXY+","img1":"","partenza":-62169986996,"scadenza":-62169986996,"pagine":"!index"}],"970x250":[{"idbanner":"144","width":970,"height":250,"crop":"1","async":"0","uri":"","embed":"PGRpdiBjbGFzcz0iZ3B0c2xvdCIgZGF0YS1hZHVuaXRpZD0iMSIgZGF0YS1hZGRlc2t0b3A9InRydWUiPjwvZGl2Pg==","img1":"","partenza":-62169986996,"scadenza":-62169986996,"pagine":"index"},{"idbanner":"157","width":970,"height":250,"crop":"1","async":"0","uri":"","embed":"PGRpdiBjbGFzcz0iZ3B0c2xvdCIgZGF0YS1hZHVuaXRpZD0iMCIgZGF0YS1hZGRlc2t0b3A9InRydWUiPjwvZGl2Pg==","img1":"","partenza":-62169986996,"scadenza":-62169986996,"pagine":"!index"}],"468x60_home":[{"idbanner":"133","width":468,"height":60,"crop":"1","async":"0","uri":"","embed":"PGRpdiBjbGFzcz0iZ3B0c2xvdCIgZGF0YS1hZHVuaXRpZD0iMiI+PC9kaXY+","img1":"","partenza":-62169986996,"scadenza":-62169986996,"pagine":"!index"},{"idbanner":"146","width":468,"height":60,"crop":"1","async":"0","uri":"","embed":"PGEgaHJlZj0iaHR0cHM6Ly93d3cuc2l0aXNjb21tZXNzZS5jb20vYmFza2V0LyIgdGFyZ2V0PSJfYmxhbmsiPg0KICAgPGltZyBzcmM9Imh0dHBzOi8vdHVzY2FueWxpZmV0aW1lLmNvbS93cC1jb250ZW50L3VwbG9hZHMvMjAyMS8wOC9zaXRpLXNjb21tZXNzZS5qcGciIGFsdD0ibG9nbyBwZXIgc2l0aXNjb21tZXNzZS5jb20vYmFza2V0Ij4NCjwvYT4NCg==","img1":"","partenza":1625054400,"scadenza":-62169986996,"pagine":"index"}],"728x90":[{"idbanner":"159","width":728,"height":90,"crop":"1","async":"0","uri":"","embed":"PHNjcmlwdCBzcmM9Imh0dHBzOi8vYXNzZXRzLmV2b2x1dGlvbmFkdi5pdC9waWFuZXRhYmFza2V0X2NvbS9waWFuZXRhYmFza2V0X2NvbS5uZXcuanMiPjwvc2NyaXB0Pg==","img1":"","partenza":-62169986996,"scadenza":-62169986996,"pagine":""}]}; var now = Math.round(new Date().getTime() / 1000); var bannerok = new Object(); for (var zona in banner) { bannerok[zona] = new Array(); for (i=0; i < banner[zona].length; i++) { var ok = 1; if (banner[zona][i]['scadenza']>0 && banner[zona][i]['scadenza']<=now) ok = 0; if (banner[zona][i]['partenza']!=0 && banner[zona][i]['partenza']>now) ok = 0; if (typeof azione !== 'undefined' && azione !== null) { if (banner[zona][i]['pagine'] == '!index' && azione == 'index') ok = 0; else if (banner[zona][i]['pagine'] == 'index' && azione != 'index') ok = 0; }
if (ok == 1) bannerok[zona].push(banner[zona][i]); }
bannerok[zona].sort(function() {return 0.5 - Math.random()}); } banner = bannerok; var banner_url="https://net-storage.tcccdn.com"; var banner_path="/storage/pianetabasket.com/banner/" function asyncLoad() { if (azione == 'read' && TCCCookieConsent) { var scripts = [ "https://connect.facebook.net/it_IT/all.js#xfbml=1", ]; (function(array) { for (var i = 0, len = array.length; i < len; i++) { var elem = document.createElement('script'); elem.type="text/javascript"; elem.async = true; elem.src = array[i]; var s = document.getElementsByTagName('script')[0]; s.parentNode.insertBefore(elem, s); } })(scripts); } setTCCCookieConsent(); } if (window.addEventListener) window.addEventListener("load", asyncLoad, false); else if (window.attachEvent) window.attachEvent("onload", asyncLoad); else window.onload = asyncLoad; function resizeStickyContainers() { var stickyFill = document.getElementsByClassName('sticky-fill'); for (i = 0; i < stickyFill.length; ++i) stickyFill[i].style.height = null; for (i = 0; i < stickyFill.length; ++i) { var height = stickyFill[i].parentElement.offsetHeight-stickyFill[i].offsetTop; height = Math.max(height, stickyFill[i].offsetHeight); stickyFill[i].style.height = height+'px'; } } document.addEventListener('DOMContentLoaded', resizeStickyContainers, false); // layout_headjs function utf8_decode(e){for(var n="",r=0;r


#Vuelle #Pesaro #Repesa #didnt #deserve #victory